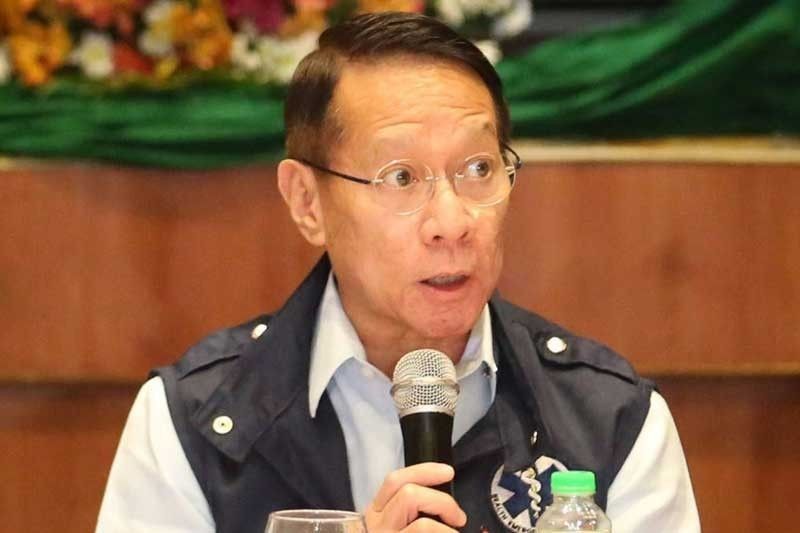 Fortunately, two of them have already tested negative for COVID-19, Health Secretary Francisco Duque III announced at a press conference yesterday.
Michael Varcas/ File
5 Pinoy repatriates show virus symptoms
MANILA, Philippines — Five of the 445 Filipinos repatriated from the Diamond Princess cruise ship in Japan and placed under quarantine in Capas, Tarlac last Tuesday have developed symptoms of the coronavirus disease 2019 (COVID-19), the Department of Health (DOH) said.
Fortunately, two of them have already tested negative for COVID-19, Health Secretary Francisco Duque III announced at a press conference yesterday.
Duque said the first three repatriates categorized last Wednesday as persons under investigation (PUIs) are all males, aged 39, 34 and 27. They had complained of "throat discomfort," but none had fever.
Two of them tested negative for COVID-19, but they all remain in a health facility for isolation and management.
Yesterday, two more repatriates were taken to the referral health facility also due to sore throat. Their specimens were collected and sent to the Research Institute for Tropical Medicine (RITM) for testing.
"While we are still waiting for the other test results, we assure the public that our referral hospitals are well-equipped and prepared to handle COVID-19 cases once they arise," Duque said.
He gave assurance the government's "health response team at the quarantine facility is being extra cautious to prevent further health risks."
OWWA assistance
Meanwhile, the Overseas Workers Welfare Administration (OWWA) said it will not extend financial assistance to the repatriates from Japan if they fail to complete the 14-day quarantine at New Clark City in Capas.
OWWA administrator Hans Leo Cacdac said that repatriates are not entitled to financial and transportation aid without a Certificate of Completion of Quarantine which is issued at the end of the isolation period.
Earlier, the OWWA announced cash assistance of P10,000 to each seafarer from the Diamond Princess.
OWWA is also providing the crew members transport service to their home regions and P20,000 worth of livelihood grant for those who decide to stay permanently in the county.
Duque said eight of the 10 Filipinos who contracted the virus aboard the ship and eventually recovered in Japan have returned to the Philippines.
One of the two others went to Singapore while the other one remained in Japan.
Duque said there was no need for any of them to undergo quarantine because they have fully recovered from the disease.
However, they would still be monitored closely by DOH's local epidemiology surveillance officers.
Asked about reports abroad that a COVID-19 patient who has recovered could be reinfected, Duque replied that there is no scientific basis for that.
Koreans from Daegu
Meanwhile, Health Assistant Secretary Ma. Rosario Vergeire said yesterday that the DOH and local health authorities in Cebu City are keeping a close watch on some Koreans who arrived there from Daegu City last Feb. 25.
Daegu in North Gyeongsang province is the epicenter of the COVID-19 outbreak in South Korea.
"All of these travelers were advised to stay in their hotels for quarantine but some of them opted to leave the country," Vergeire said.
The tourists went to two places in Cebu, so they are in two different hotels, she said.
The Philippine government has started banning foreign nationals coming from North Gyeongsang to avoid the spread of COVID-19.
In a four-page resolution released yesterday, the Inter-agency Task Force for Emerging and Infectious Diseases (IATF) said that any person coming North Gyeongsang is temporarily banned from entering the Philippines.
This includes travelers from Daegu City and Cheongdo county, where there are big concentrations of COVID-19 patients.
The task force said the ban covers those who have been to North Gyeongsang, Daegu and Cheongdo within 14 days immediately before they arrived in the Philippines.
However, Filipino citizens and their foreign spouses and children are exempted from the travel restrictions, along with holders of permanent resident visa and holders of diplomat visa issued by the Philippine government.
The IATF also stated: "Travel to South Korea shall be temporarily suspended, except for overseas Filipino workers (OFWs), whether returning or newly hired, upon execution of a declaration signifying their knowledge and understanding of the risks involved."
It added that any person who will be leaving abroad for study purposes and the permanent residents of South Korea are also allowed to travel. – With Robertzon Ramirez