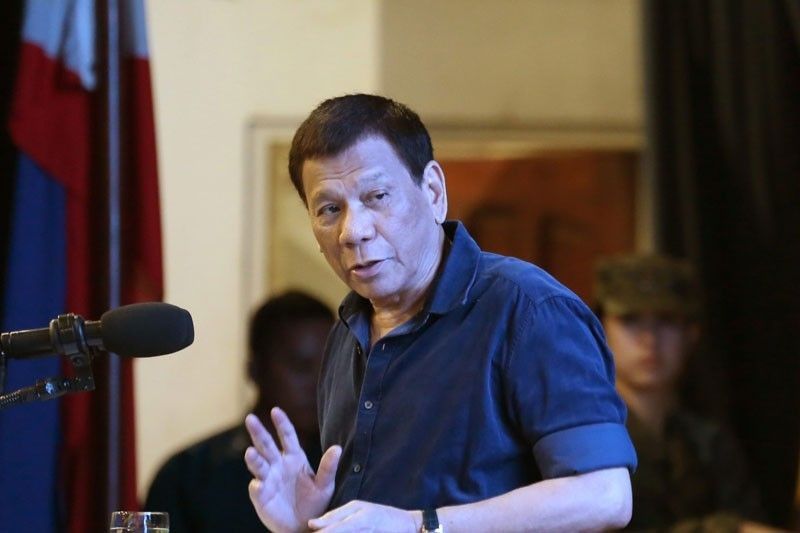 "We are grateful and humbled by President Duterte's acceptance of our apology," the company said in a statement. "We will coordinate with the President's office as it relates to his guidance on donating the refund to a charitable institution."
STAR/ File
Grateful TV network 'humbled' by Duterte acceptance of apology
MANILA, Philippines — ABS-CBN Corp. yesterday expressed its gratitude to President Duterte for accepting the television network's apology over a critical campaign commercial, adding that it would coordinate with his office to donate a refund for his unaired advertisements to charity.
"We are grateful and humbled by President Duterte's acceptance of our apology," the company said in a statement. "We will coordinate with the President's office as it relates to his guidance on donating the refund to a charitable institution."
?Malacañang, however, said there is no need for ABS-CBN to seek guidance from the President on donating the money he spent for a campaign ad that did not air.
Presidential spokesman Salvador Panelo said Duterte has allowed the network to choose the charity that would benefit from it.
"In the first place, there is no need for guidance. The President has given them blanket authority, just donate it to any charitable organization," Panelo said. "They have been given the discretion to choose."
ABS-CBN president and chief executive officer Carlo Katigbak on Monday apologized to Duterte for not airing his political ads in the 2016 elections.
Katigbak said the network merely complied with elections laws.
He added that due to an airtime limit, ABS-CBN failed to air around P7 million worth of Duterte's campaign ads. Of the amount, the network returned P4 million while the refund for the remaining P2.6 million was delayed and rejected by the President's camp.
Prior to the public apology, Duterte made public pronouncements opposing ABS-CBN's franchise renewal. Saying he is only human, the President accepted the apology on Wednesday and told the network to give the refund to "any charitable institution of their choice."
The media and entertainment company, which is seeking to renew its franchise from Congress, said it remains committed to "becoming a better organization and to continue to provide more meaningful service to Filipinos."
On Wednesday, Duterte said it is up to lawmakers to grant ABS-CBN a new license to operate.
ABS-CBN also reiterated that it follows all pertinent labor and civil code laws in the engagement of its workers.
It said the company, including its subsidiaries, provides jobs to 11,071 Filipinos through regular employment, project and program-based positions, independent contractors and on-camera talents.
Of the number, 5,918 people worked directly for the company as of end 2019, comprising 2,661 regular employees, 2,096 project-based seasonal workers, 1,069 independent contractors and on-camera talents and 92 project employees.
"The livelihood of these workers, regardless of their classification, will be affected by the closure of ABS-CBN. It will not just be the regular employees. The 11,071 jobs at risk reflect the true and full impact of the closure of ABS-CBN across all its businesses," the company said.
"This figure does not include jobs indirectly produced by the company through its hiring of third-party agencies such as security guards, cleaners and utility men. These people and their families, and the public we serve, remain our inspiration in undergoing this franchise renewal process," ABS-CBN added. - With Alexis Romero