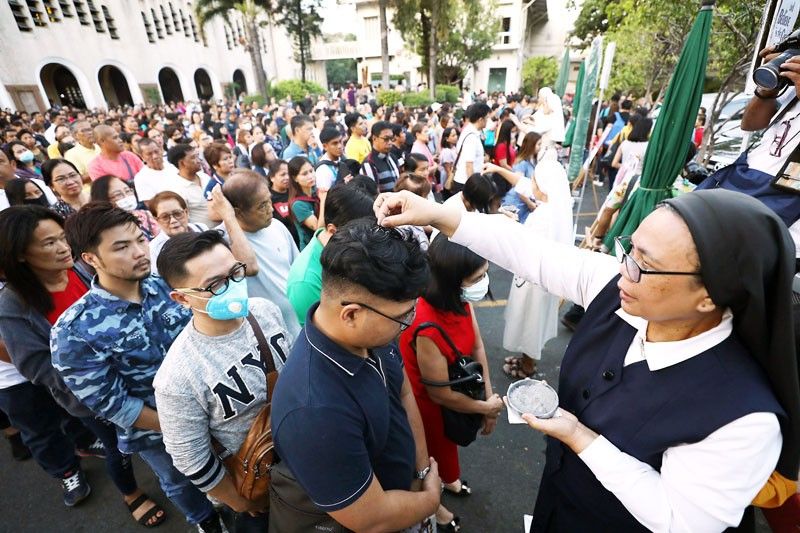 Nuns sprinkle ash on the heads of devotees during Ash Wednesday rites at Baclaran Church in Parañaque yesterday. Inset shows a boy with ash on his forehead as several churches stuck to the traditional way of marking crosses.
Miguel de Guzman and Michael Varcas
No contact on Ash Wednesday
MANILA, Philippines — The worldwide scare over the coronavirus disease (COVID-19) did not stop Catholics from attending Ash Wednesday rites yesterday across the country.
At the Baclaran Redemptorist Church in Parañaque City, however, the event was observed a bit differently: ash usually daubed as a cross on the foreheads of devotees was instead sprinkled on their heads as a precautionary measure against COVID-19.
While devotees wore face masks during mass, their voices were strong and full of life as they sang hymns and prayed.
Fifty-two-year-old Imelda Santelices, one of the devotees, said her faith "is still bigger than the virus."
Wearing a mask, Santelices said: "I am not afraid of the virus. I am just being cautious. My faith is stronger than anything."
Another devotee, 50-year-old construction worker Manuelito Samson, explained that his grueling eight-hour work shift did not stop him from attending the mass and taking in the Word of the Lord and the ash.
He said the COVID-19 is "small" compared to his willingness to continue going to the Holy Eucharist, which he does as often as he can.
While it seemed like another Ash Wednesday, the most visible difference was the sprinkling of the ash on the heads of devotees, priests and nuns.
"It was weird to have the ashes on the top of my head, but I was still blessed," a devotee named Jack said in Filipino.
"It was a bit peculiar for me to have the ashes that way, but I still felt the Lord through this," Jack told The STAR.
Santelices, on the other hand, said it was the first time she encountered such placing of the ash.
On Samson's part, he said the things burdening him were immediately lifted when his head was sprinkled with ash.
"I felt weightless. My sins were gone," he said.
The lines during the evening mass also ran outside the church, a usual practice in the celebration of Ash Wednesday.
"This is what the Jewish people did during their time as they ask for forgiveness and mercy from the Lord," the church said.
Despite this year's different approach, the church stressed that there is only one meaning of Ash Wednesday – that Catholics "repent and go back to the ways of the Lord."
The Catholic Bishops' Conference of the Philippines had earlier issued a precaution against COVID-19 ahead of the event so as not to surprise devotees.