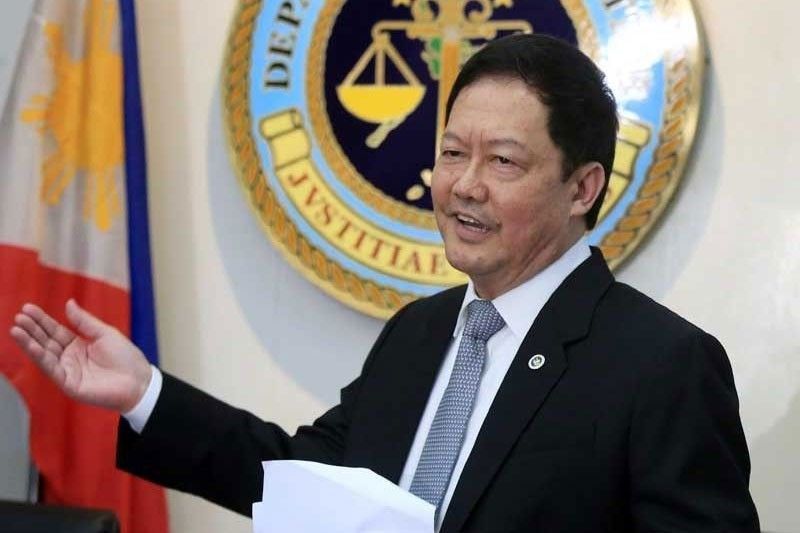 Guevarra said he supported the recommendation of Sen. Risa Hontiveros, who conducted the Senate hearing into the bribery racket allegedly being committed by some BI personnel at the airports.
Edd Gumban/File
DOJ chief backs BI lifestyle checks
MANILA, Philippines — Justice Secretary Menardo Guevarra yesterday expressed support for the proposed lifestyle check on the Bureau of Immigration employees suspected to be involved in the so-called "pastillas" racket wherein BI personnel accept bribes from Chinese nationals.
Guevarra said he supported the recommendation of Sen. Risa Hontiveros, who conducted the Senate hearing into the bribery racket allegedly being committed by some BI personnel at the airports.
He said lifestyle checks are conducted in government agencies such as the Bureau of Internal Revenue (BIR) and Bureau of Customs (BOC) to determine if officials and employees are living within their means.
"I support Senator Hontiveros' recommendation to conduct such a lifestyle check on suspected corrupt personnel of the BI, in the same way that lifestyle checks are conducted on suspected BIR, BOC and other government officials and employees," said Guevarra.
However, the justice chief clarified that the results of the lifestyle check alone could not be used to determine if government employees or officials are indeed corrupt.
"A lifestyle check is not conclusive, but only indicative, of a government employee's possible unethical conduct," he added.
Guevarra also said there was no need to issue another department order for the National Bureau of Investigation (NBI) to look into the pastillas scheme.
He explained the pastillas scheme would already be covered by an existing directive he gave to the NBI to look into allegations that there are immigration personnel involved in human trafficking activities and offering escort services.
"The investigation of the BI personnel's involvement in human trafficking, escort services, extortion and other illegal activities is already covered by existing department orders addressed to the NBI. I have asked the NBI chief to submit progress reports on these matters to me as soon as possible," Guevarra said.
During last Monday's hearing of the Senate committee on women, children, family relations and gender equity chaired by Hontiveros, it was disclosed there were Chinese nationals about to be employed by Philippine offshore gaming operators (POGOs), who were receiving special treatment from some BI personnel.
Each arriving Chinese national reportedly pays an additional P10,000 service fee, of which P2,000 is divided among officials from the BI's Travel Control and Enforcement Unit (TCEU), duty immigration supervisor and terminal heads.
The remaining P8,000 is given to tour operators and "syndicates" who will transport the Chinese nationals from the airport to the POGO hubs.
Airport probe
The Manila International Airport Authority (MIAA) is ready to support the ongoing investigation on the so-called pastillas scheme involving erring personnel of the BI who accept bribes from arriving Chinese nationals.
MIAA general manager Ed Monreal said his agency is ready to provide closed circuit television (CCTV) footage to investigators if they are available as airport officials expressed hope that the issue would be resolved.?"If they need something and it was covered by our CCTV... we don't have problem with that," Monreal told reporters yesterday in Malacañang.
Monreal, however, admitted that for now, the MIAA could only store footage for one week.
He said MIAA has an ongoing project that aims to improve its capacity to store videos.?MIAA, Monreal said, sympathizes with the immigration bureau, which is now hounded by the pastillas controversy. ?"Even if we are not directly involved, of course we sympathize with the bureau if that's the label attached to them, so we hope it will be resolved," he added.
Sen. Christopher "Bong" Go warned corrupt BI officials he would make them eat bribe money they receive from those who allegedly facilitate the entry of foreign nationals recruited to work in POGOs without the proper visas and permits.
Go issued the statement after a Senate inquiry uncovered the scheme dubbed pastillas because money is rolled in white office paper similar to the local sweet milk candy before distribution to corrupt officials.
"If these allegations are true, I will let you eat pastillas but with money inside. Just last week the President made someone eat and swallow P300," Go told reporters without elaborating. -With Alexis Romero, Paolo Romero