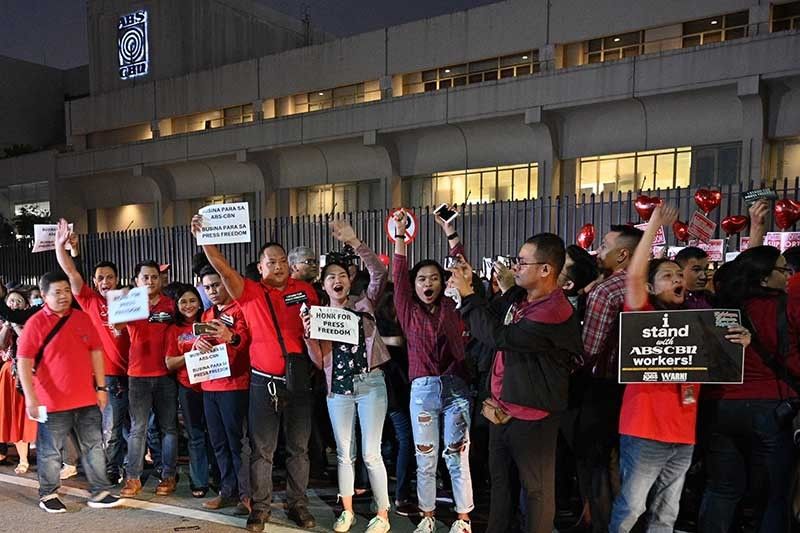 Employees of local broadcast giant ABS-CBN holding placards ask motorists to hink their cars during a protest in front of ABS-CBN building in Manila on February 14, 2020. Philippine government lawyers moved on February 10 to strip the nation's biggest media group of its operating franchise in what campaigners branded a fresh attack on press freedom under President Rodrigo Duterte.
AFP/Ted Aljibe
Withdraw gag order plea vs ABS-CBN, Amnesty International says
MANILA, Philippines — An international human rights watchdog called for the withdrawal of Solicitor General Jose Calida's "reprehensible" motion for the issuance of gag order on the government's petition for the revocation of franchise of network ABS-CBN.
Amnesty International Regional Director Nicholas Bequelin said that the gag order, "a clear attempt to silence critics," will set a "very dangerous precedent in violation of the right to freedom of expression."
In a release Tuesday night, Bequelin called the gag order plea filed by Philippine government's chief lawyer a request "to prevent people from freely discussing issues of public interest such as media freedom, and ongoing human rights violations in the country."
Calida filed a Very Urgent Motion for the Issuance of Gag Order Tuesday morning, the same day that the Supreme Court justices meet for a full court session.
He accused the network, whose franchise ending in a month and he wanted revoked, of engaging in "propaganda in clear attempt to elicit public sympathy, sway public opinion, and, ultimately influence the resolution of the case."
Calida listed explainers and reports of the network's journalists on his quo warranto petition, "commentaries" of ABS-CBN and posts by its talents and other personalities as "instances" where the broadcast company violated the sub judice rule.
The sub judice rule is defined by jurisprudence as a rule that "restricts comments and disclosures pertaining to judicial proceedings to avoid prejudging the issue, influencing the court, or obstructing the administration of justice."
Amnesty International's Bequelin slammed Calida's motion and said that "it is unacceptable for the authorities to blatantly attempt to restrict freedom of expression and then expect people in the Philippines to simply remain silent."
He said that it would be better for the Philippine government to listen and address the criticism it has been receiving instead of "resorting to legal theatrics to suppress human rights."
Calida's quo warranto vs ABS-CBN franchise
With a little over a month to renew its legislative franchise, Calida filed a quo warranto petition against ABS-CBN Corp. and asked the SC to revoke its franchise on February 11.
In a statement on the filing, Calida said: "We want to put an end to what we discovered to be highly abusive practices of ABS-CBN benefitting a greedy few at the expense of millions of its loyal subscribers. These practices have gone unnoticed or were disregarded for years."
ABS-CBN is due to file its comment on Calida's quo warranto petition on February 24.
As It Happens
LATEST UPDATE: March 5, 2020 - 11:42am
President Duterte threatens not to renew ABS-CBN's franchise, his latest in what critics call a string of verbal attacks against dissenting media.
March 5, 2020 - 11:42am
Labor unions with Bukluran ng Manggagawang Pilipino will march to the ABS-CBN compound in Quezon City on Friday, March 6, in a show of solidarity with the network's employees and talents, BMP says in a release.
Among those marching will be union members from St. Luke's Medical Center Bonifacio Global City and University of Santo Tomas Hospital, who BMP says "will extend their support and called on the Duterte administration to protect the workers facing job insecurity."
BMP "calls on workers to unite against the threat of unemployment as it may lead to desperate and futile actions such as the hostage-taking by former security guard Alchie Paray, which could only amplify the sorry plight of contractual workers but would not put an end to the anti-labor scourge of contractualization."
March 4, 2020 - 3:42pm
Speaker Alan Peter Cayetano announces that the House committee on franchises will start a hearing on the legislative franchise of broadcast giant ABS-CBN on March 10.
The hearing is set four days before the lower chamber of Congress goes on a recess on March 14. ABS-CBN's franchise will expire on May 4.
February 27, 2020 - 4:38pm
The House of Representatives missed its chance to lead the initiative to renew the ABS-CBN franchise, a think tank says.
"Today it can be said: The entire Duterte establishment except Congress has already endorsed the renewal of the ABS-CBN franchise. Its major pillars are now openly supporting the renewal for the sake of the network's employees —Senator Bong Go and Davao City Mayor Sara Duterte," Terry Ridon of Infrawatch PH says.
"President Rodrigo Duterte has also declared that the onus is on no one else but Congress. There is thus absolutely no more reason for Congress to delay deliberations. It is now time to decide whether to approve or reject the franchise. It has dropped the ball far too long, and it is now time to pick it up," Ridon a former House member and member of the panel on legislative franchises, says.
February 27, 2020 - 3:48pm
Media giant ABS-CBN says they are grateful to President Rodrigo Duterte for accepting their apology.
"We will coordinate with the President's office as it relates to his guidance on donating the refund to a charitable institution," the Kapamilya network says.
"ABS-CBN remains to becoming a better organization and to provide a more meaningful service to Filipinos," it adds.
February 27, 2020 - 1:47pm
The Department of Justice tells the National Telecommunications Commission that "there is sufficient equitable basis to allow broadcast entities to continue operating while the bills for the renewal of their respective franchise remain pending with Congress."
The NTC earlier sought guidance from the Justice department on the congressional franchise of ABS-CBN.

News5 reports that DOJ's legal guidance, signed by Justice Secretary Menardo Guevarra, adds that a "more stable legal environment could be created if Congress, by a concurrent resolution, would authorize the NTC to issue a provisional authority to these broadcasting companies."