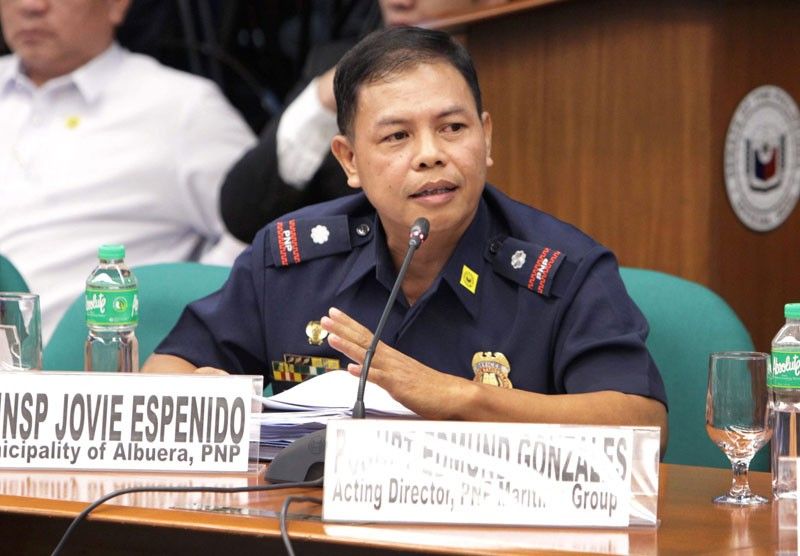 File photo shows Lt. Col. Jovie Espenido attending the Senate hearing on the killing of mayor Rolando Espinosa Sr. of Al-buera, Leyte.
Geremy Pintolo?
Espenido breaks silence, denies drug links
MANILA, Philippines — Lt. Col. Jovie Espenido broke his silence yesterday to deny involvement in the illegal drug trade, as he accused corrupt politicians and police officials of being responsible for his inclusion in the narco list of the administration.
Espenido did not name the politicians and police officials, but he claimed they were affected by his anti-crime crusade.
He said there was a possible failure of intelligence in the Philippine National Police (PNP), as there is no record in his 23-year career that linked him to illegal drugs.
Asked what could have happened, Espenido said some people might have approached police intelligence enforcers to have his name included in the narco list of policemen and politicians involved in illegal drugs.
Espenido expressed frustration that he was included in the drugs list despite a resolution from the PNP in 2017 clearing him of any involvement in illegal drugs and he now has to undergo another round of adjudication to prove his innocence.
"I don't have a heart of stone. I'm human like everyone else." he said in Filipino.
Espenido also felt abandoned by senior police officers who benefited from his accomplishments.
"I have senior officers but at the end of the day they don't even know me," he said.
Despite his current situation, Espenido remains supportive of President Duterte, who he described as the only President who is serious in ending the drug problem in the country.
"The President is very full of wisdom," he said.