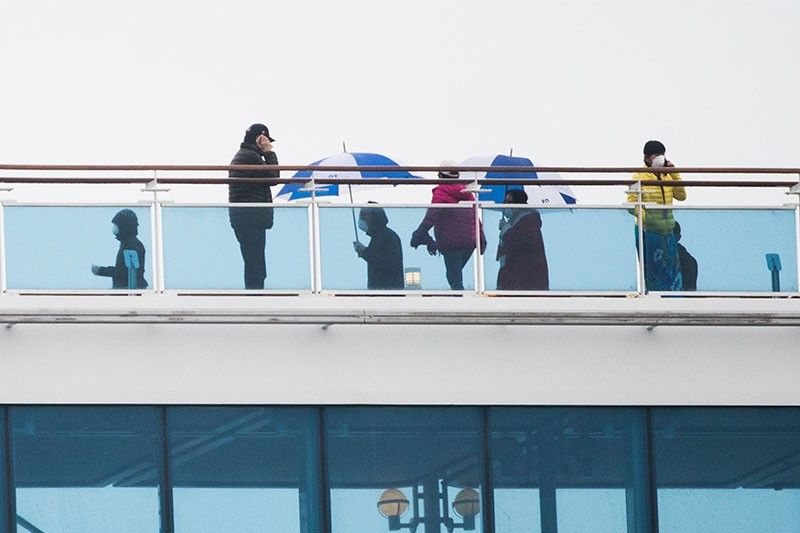 Passengers of the Diamond Princess cruise ship, who are quarantined due to fear of the new COVID-19 coronavirus, walk on the deck of the ferry docked at the Daikaku Pier Cruise Terminal in Yokohama port on February 16, 2020.
AFP/Behrouz Mehri
Number of infected Filipinos in quarantined cruise ship climbs to 35
MANILA, Philippines — Eight more Filipinos aboard a cruise ship quarantined off Japan tested positive for the coronavirus disease, the Department of Foreign Affairs said Tuesday.
This brings the total number of Filipinos aboard Diamond Princess who are infected by COVID-19 to 35.
In an interview on CNN Philippines, DFA Undersecretary Brigido Dulay said most of the infected Filipinos are "asymptomatic and healthy."
"Our embassy is in touch with them, each one of them. We want to make sure that they're okay, they're being taken care of," Dulay said.
The Inter-Agency Task Force for the Management of Emerging and Re-emerging Infectious Diseases will discuss plans for the evacuation of over 500 Filipinos aboard the cruise ship.
The total number of diagnosed aboard Diamond Princess rose to 454—the biggest cluster of infections outside China. Since February 3, passengers have been confined to their cabins for a 14-day quarantine period.
The coronavirus disease that emerged in central Chinese city of Wuhan late last year has spread to nearly 30 locations. It has infected more than 72,000 people and killed over 1,800.
As It Happens
LATEST UPDATE: April 9, 2020 - 9:19am
Follow this page for updates on a mysterious pneumonia outbreak that has struck dozens of people in China.
April 9, 2020 - 9:19am
The United States has recorded nearly 2,000 novel coronavirus deaths for a second day in a row, according to a tally by Johns Hopkins University as of 8:30 pm Wednesday (0030 GMT Thursday).
The record-breaking figure of 1,973 deaths (slightly higher than the previous day's toll of 1,939) brings the total number of US fatalities to 14,695. The US death toll now exceeds that of Spain, which has suffered 14,555 deaths, but has not surpassed Italy, whose toll stands at 17,669. — AFP
April 8, 2020 - 10:02pm
Global trade growth is expected to plummet by up to a third in 2020 due to the coronavirus pandemic, the World Trade Organization said Wednesday, warning that the numbers would be "ugly".
"World trade is expected to fall by between 13 percent and 32 percent in 2020 as the COVID-19 pandemic disrupts normal economic activity and life around the world," the WTO said in a statement.
There were a wide range of possibilities for how trade would be hit by the "unprecedented" health crisis, it added.
However, WTO chief Roberto Azevedo warned the downturn "may well be the deepest economic recession or downturn of our lifetimes".
In its main annual forecast, the 164-member WTO pointed out that trade had already been slowing in 2019, before the emergence of the novel coronavirus.
But the virus has now infected some 1.4 million people since late last year, killing more than 80,000 and forcing governments across the world to take radical measures.
More than half of humanity has been asked to stay at home and economic activity has ground to a virtual standstill in many places. -- AFP
April 8, 2020 - 7:09pm
The World Health Organization's European office says that despite seeing "positive signs" from some countries, it was too early to scale back measures aimed at containing the spread of the new coronavirus.
"Now is not the time to relax measures. It is the time to once again double and triple our collective efforts to drive towards suppression with the whole support of society," WHO regional director for Europe, Hans Kluge, says. ?— AFP
April 8, 2020 - 4:08pm
The Department of Health reports 106 new confirmed COVID-19 cases, bringing the tally to 3,870.
There are 23 new recoveries and five new fatalities, the DOH adds.
April 8, 2020 - 3:32pm
Voicing joy and excitement from behind face masks, tens of thousands of people fled Wuhan on Wednesday after a 76-day travel ban was lifted on the Chinese city where the coronavirus first emerged.
Previously quiet train and bus stations bustled as an exodus began from the city of 11 million, with some passengers wearing hazmat suits.
Hao Mei, a single parent from the nearby city of Enshi, said her two children had been home alone since she got stuck in Wuhan, where she works in a school kitchen.
"You have no idea! I was already up around 4 am. I felt so good. My kids are so excited. Mum is finally coming home," the 39-year-old told AFP as she waited to board a train.
"At the start of the lockdown, I cried every night. I was really miserable, because my little girl is still young, she's only 10."
Up to 55,000 people are expected to leave Wuhan on Wednesday just by train, according to government estimates. -- AFP