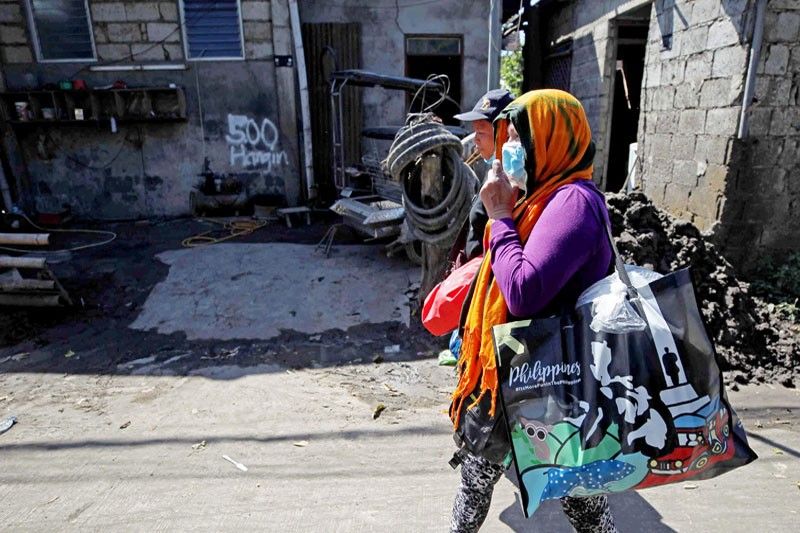 Taal Volcano is seen from Agoncillo town in Batangas yesterday as the government downgraded the alert level for Taal a month after it spewed ash in a phreatic explosion. Inset shows residents returning to their home in Barangay Pook in Agoncillo town.
Russell Palma
Taal alert level down to 2
(The Philippine Star) - February 15, 2020 - 12:00am
TAAL, Philippines — State volcanologists downgraded yesterday the alert status of Taal Volcano in Batangas to level 2, which signifies "decreased unrest," more than a month after it erupted and forced the evacuation of over 400,000 people.
The Philippine Institute of Volcanology and Seismology (Phivolcs), however, stressed that the downgrade should not be interpreted as cessation of unrest or that the threat of eruption has ceased.
"Sudden steam-driven or phreatic explosions, volcanic earthquakes, ashfall and lethal accumulations or expulsions of volcanic gas can occur and threaten areas within the Taal Volcano island and along its coast," the agency said in an advisory.
On Jan. 26, Phivolcs lowered the alert status of Taal from 4 (hazardous eruption imminent) to 3 (decreased tendency toward hazardous eruption).
"Since Jan. 26, Taal Volcano's condition in the succeeding three weeks has been characterized by less frequent volcanic earthquake activity, stabilizing ground deformation of the Taal Caldera and Taal Volcano Island (TVI) edifices and weak steam/gas emissions at the main crater," it said.
"The number and energy of tremor and low-frequency events associated with activity in the shallow magma and hydrothermal region beneath the TVI edifice have also diminished," Phivolcs noted.
"The overall ground deformation behavior of Taal Volcano for the above periods (between Jan. 13 and Feb. 11) indicates post-eruptive subsidence and relaxation of the edifice after the cessation of magma transport," it said.
It said the sulfur dioxide emitted by Taal averaged 62 tons per day since Jan. 26, which was consistent with a weakly degassing shallow magma source.
"Activity in the main crater has been characterized by the generation of weak steam-laden plumes, consistent with decreased magmatic unrest," the agency added.
At Alert Level 2, Phivolcs continued to prohibit the entry to Taal Volcano island, which is a permanent danger zone.
In a bulletin released by Batangas Gov. Hermilando Mandanas, they will continue delivering basic services to affected families and individuals living in the declared danger zones.
This included families still living in the provincial evacuation centers in Barangay Malainin and Barangay Talaibon in Ibaan, Batangas.
As of yesterday, 8,379 individuals, or 2,348 families, are still living at 69 evacuation areas in Batangas, Cavite and Quezon.
Mandanas said families staying in the interim evacuation areas will move to their permanent settlement areas – where the provincial government will also provide regular and stable livelihood – as soon as the housing facilities become available.
The province is currently finalizing policies and mechanics for cash assistance distribution.
Relocations
The Department of Human Settlements and Urban Development (DHSUD) has created a team that would lead the permanent relocation of about 5,000 families living within the Taal danger zone.
"We have just created a committee that would coordinate with the affected households for their relocation. We already have more than 5,000 housing units ready for occupancy," Human Settlements Secretary Eduardo del Rosario told reporters yesterday.
The creation of the committee came a week after President Duterte approved the proposal of the DHSUD to relocate residents living within Taal's seven-kilometer danger-zone radius to housing units originally alloted by the National Housing Authority for military and police personnel.
Del Rosario said the housing units will be given for free to residents who will agree to permanent relocation.
"About 5,000 to 6,000 housing units are needed for the relocation of these residents living within the Taal danger zone," Del Rosario said.
"As it turns out, there are 5,448 unoccupied housing units, which members of police and the military have decided to donate to the affected residents," he said.
The housing units are located in the provinces of Batangas, Cavite, Laguna and Quezon. Del Rosario assured the affected residents that the relocation sites have stable water and electricity.
Del Rosario said about 180 families are now occupying housing units in Barangay Talaibon in Ibaan town in Batangas.
"With the creation of the committee, we hope that more affected residents would be convinced to be relocated," Del Rosario said.
Taal Volcano's unrest last month affected more than 483,000 individuals or about 129,000 families, according to disaster management officials. – Helen Flores, Arnell Ozaeta, Elizabeth Marcelo