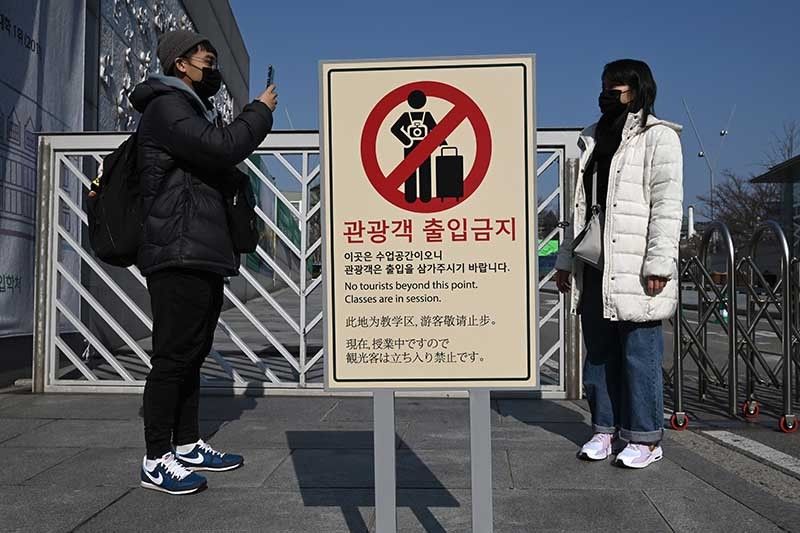 People wearing face masks take a photo next to a 'no tourists' sign amid concern over the spread of the SARS-like virus, at the main entrance of a university in Seoul on February 4, 2020. South Korea has confirmed 16 cases of the SARS-like virus so far and placed nearly 130 people in quarantine for detailed checks amid growing public alarm.
AFP/Jung Yeon-je
Korea temporarily suspends visa-free entry to Jeju amid nCoV threat
MANILA, Philippines — Visa-free travel to Jeju island in South Korea has been temporarily cancelled amid the deadly novel coronavirus (2019-nCoV) outbreak, the Bureau of Immigration said Friday.
In a release, Port Operations Divisions chief Grifton Medina said the Korean Embassy in Manila informed the bureau of the new travel ban policy on Monday that it was temporarily suspending the visa-free entry to the South Korean island.
The temporary suspension was announced a day after the Philippine government announced its first fatality due to the deadly virus. It was also the first death outside China, ground zero of the 2019-nCoV.
Medina said that immigration officers have already been instructed to not allow Filipinos bound for Jeju to depart "unless the passenger was issued a visa by the Korean embassy."
Immigration said that the suspension of the visa-free privileges for travelers bound to Jeju does not only cover Filipino travelers.
Jeju Tourism Organization said in a Facebook post that the South Korean island province will now require travel visas from 61 other countries as well.
"This temporary measure is aimed at stopping any new coronavirus infections in the province and mainland, by strengthening entry procedures," the post read.
The latest figures post that there are 24 confirmed cases of the 2019-nCoV in South Korea.
There are 31,161 people infected with the virus in China, with 636 deaths.
As It Happens
LATEST UPDATE: January 18, 2021 - 9:27pm
Follow this page for updates on a mysterious pneumonia outbreak that has struck dozens of people in China.
January 18, 2021 - 9:27pm
The novel coronavirus has killed at least 2,031,048 people since the outbreak emerged in China in December 2019, according to an AFP tally from official sources at 1100 GMT on Monday.
More than 94,964,590 cases of coronavirus have been registered. Of these, at least 57,817,100 are now considered recovered.
These figures are based on daily tolls provided by health authorities in each country and exclude later re-evaluations by statistical organisations, as has happened in Russia, Spain and Britain. — AFP
January 18, 2021 - 6:45pm
Nearly three million people were put under lockdown in China Monday after a surge in coronavirus cases linked to a travelling salesman in the country's northeast.
While China has largely brought the virus under control, a sharp rise in cases in the past few weeks has prompted fresh lockdowns, travel restrictions and multiple rounds of mass testing.
Monday saw three million residents of two cities in northeastern Jilin province placed under new measures, as China reported 109 new infections. — AFP
January 16, 2021 - 2:04pm
India is set to begin one of the world's largest coronavirus vaccination drives Saturday as the pandemic spread at a record pace and global COVID-19 deaths surged past two million.
The World Health Organization has called for accelerating vaccine rollouts worldwide as well as ramping up efforts to study the sequencing of the virus, which has infected more than 93 million people globally since it was first detected in China in late 2019.
India, home to 1.3 billion people, has the world's second-largest caseload, and the government has given approvals to two vaccines -- though one is yet to complete clinical trials -- aiming to inoculate around 300 million people by July. — AFP
January 16, 2021 - 10:26am
US Secretary of State Mike Pompeo alleges there were COVID-like illnesses among staff at a Chinese virology institute in autumn 2019, casting further blame on Beijing as health experts arrived in the country to probe the pandemic's origins.
The top US diplomat in a statement urged the World Health Organization team that landed Thursday in Wuhan, where COVID-19 was first detected, to "press the government of China" on the "new information."
"The United States government has reason to believe that several researchers inside the (Wuhan Institute of Virology) became sick in autumn 2019, before the first identified case of the outbreak, with symptoms consistent with both COVID-19 and common seasonal illnesses," Pompeo says. — AFP
January 16, 2021 - 9:06am
The global death toll from COVID-19 has surpassed two million, with the World Health Organization urging mass vaccinations as the pandemic progresses at a record pace.
As of 1825 GMT on Friday, at least 2,000,066 people worldwide had been confirmed dead of the virus that first emerged in Wuhan, China, in late 2019, according to an AFP tally.
The grim milestone came as US pharmaceutical giant Pfizer said shipments of its vaccines would slow for a period in late January -- a blow to fledgling campaigns to immunize people against the virus. — AFP