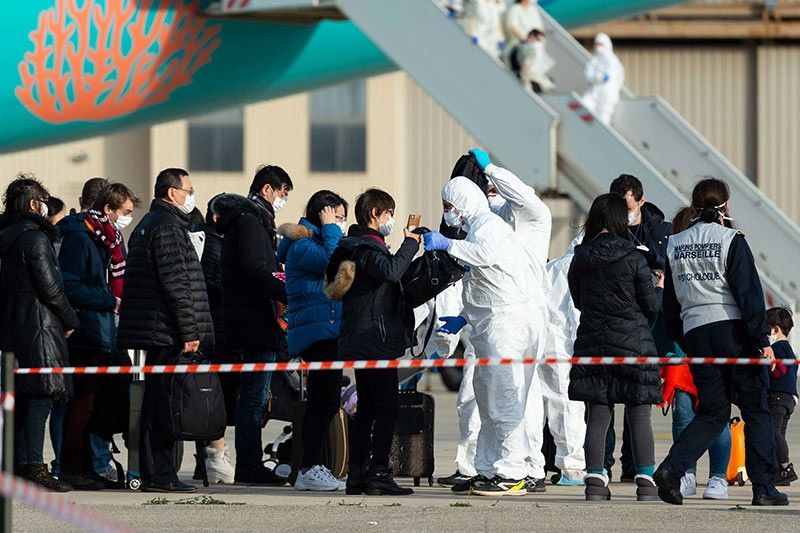 This handout photo taken and released by the French Defence Audiovisual Production and Communication Unit (ECPAD) on Feb. 2, 2020, shows passengers being checked as they disembark from a plane carrying French citizens flown out of the coronavirus hot-zone in Wuhan, upon their arrival at the Istres-Le Tube Air Base in Istres, southeastern France. At least 65 more French citizens began a quarantine period in southern France on February 2, after a second repatriation plane landed in Istres carrying overall 250 people from Wuhan, the epicenter of the new coronavirus infection epidemic.
Handout/ECPAD/AFP
WHO launches campaign aimed at stopping novel coronavirus misinformation
Nina Larson
(Agence France-Presse) - February 3, 2020 - 7:31pm
GENEVA, Switzerland — The World Health Organization said Monday it was working around the clock with internet and social media giants to combat widespread misinformation surrounding the deadly novel coronavirus outbreak.
WHO chief Tedros Adhanom Ghebreyesus warned of the dangers posed by "the spread of rumors and misinformation" as China saw a surge in deaths and infections from the highly contagious virus.
"We have worked with Google to make sure people searching for information about coronavirus see WHO information at the top of their search results," Tedros said in opening remarks to the UN health agency's Executive Board meeting in Geneva.
"Social media platforms including Twitter, Facebook, Tencent and Tiktok have also taken steps to limit the spread of misinformation," he said.
His comments were interrupted by a fit of coughing, but the WHO chief assured the assembly that there was no need to worry: "It is not corona."
He spoke as the death toll in China surged above 360, surpassing the number of fatalities in the country from the Severe Acute Respiratory Syndrome (SARS) outbreak of 2002-03.
The number of infections in China also jumped significantly on Monday, passing 17,200.
The 57 confirmed new deaths on Monday was the single-biggest increase since the virus was detected late last year in the central city of Wuhan, where it is believed to have jumped from animals at a market into humans.
The virus has since spread to more than 24 countries, despite many governments imposing unprecedented travel bans on people coming from China. The first foreign death from the virus was reported in the Philippines on Sunday.
'Infodemic'
WHO warned late Sunday that the 2019-nCoV outbreak "has been accompanied by a massive 'infodemic'," which it defined as "an over-abundance of information — some accurate and some not — that makes it hard for people to find trustworthy sources and reliable guidance when they need it."
The agency said it had risk communication and social media teams "working 24 hours a day to identify the most prevalent rumours that can potentially harm the public's health, such as false prevention measures and cures".
The WHO last week declared the crisis a so-called Public Health Emergency of International Concern, with Tedros reiterating Monday that the rare declaration was not taken due to lack of confidence in China's handling of the situation.
It was "taken primarily because of the signs of human-to-human transmission outside China, and our concern of what might happen if the virus were to spread in a country with a weaker health system," he said.
WHO has also advised against "measures that unnecessarily interfere with international travel and trade", at a time when a wide range of countries are advising against travel to China and even closing their borders to people travelling from the country.
As It Happens
LATEST UPDATE: March 2, 2021 - 1:42pm
Follow this page for updates on a mysterious pneumonia outbreak that has struck dozens of people in China.
March 2, 2021 - 1:42pm
Insults, beatings, arrests — health workers battling the coronavirus were subjected to more than 400 acts of violence related to COVID-19 worldwide in 2020, according to a report published Tuesday by a health NGO.
The Safeguarding Health in Conflict Coalition unveiled an interactive map that shows 1,172 violent acts and attacks occurred against health workers or facilities last year, "a minimum estimate," according to the NGO.
More than a third (412) of the acts are directly related to COVID-19, it said, citing several examples including in Mexico, where a nurse was attacked and injured by a group accusing her of spreading the virus.
In Dakar, three social workers had stones hurled at them by residents who refused to have a coronavirus victim buried near their homes.
In Birmingham, England, a health worker was spat at and insulted by a neighbor.
The vast majority, 80%, of the perpetrators of the violence were civilians, but threats also came from public authorities. — AFP
February 26, 2021 - 2:05pm
Japan will end a coronavirus state of emergency early in some regions as the pace of infection slows, reports say, less than five months before the pandemic-postponed Tokyo Olympics.
The emergency measure -- currently in force in 10 regions including Tokyo -- is looser than the strict lockdowns seen elsewhere in the world, and primarily calls for bars and restaurants to close from 8pm.
It is due to end on March 7, but the government will lift the measure this Sunday, just over a week early, in around six prefectures, the reports say. — AFP
February 26, 2021 - 8:45am
Brazil's death toll from Covid-19 surpasses a quarter-million Thursday, a year after the first case was confirmed in the country, which is struggling with vaccine shortages and a devastating second wave.
The new coronavirus has now killed 251,498 people in Brazil, according to health ministry figures — the second-highest toll worldwide, after the United States, where the number passed half a million Monday.
This has been the deadliest week yet of the pandemic in Brazil, with a daily average of 1,149 deaths over the past seven days, according to the ministry's figures. — AFP
February 24, 2021 - 1:05pm
Fashionistas will have to log on to soak up the glamour at Milan Fashion Week, which remains online a year after the coronavirus first swept into northern Italy.
No sharply dressed crowds will attend the extravaganza's opening on Wednesday: it's virtual catwalk shows only, with the likes of Armani and Prada presenting new women's collections for autumn and winter 2021-22. — AFP
February 23, 2021 - 11:31am
Movie theaters in New York City will partially reopen next month, Governor Andrew Cuomo announces, the latest easing of coronavirus restrictions in the Big Apple.
Cuomo says cinemas will be able to operate at 25% capacity, or up to 50 people per screen, from March 5 -- almost exactly a year since they shut. — AFP