Chinese man who died Wednesday in Manila hospital negative for nCoV
February 2, 2020 | 12:00am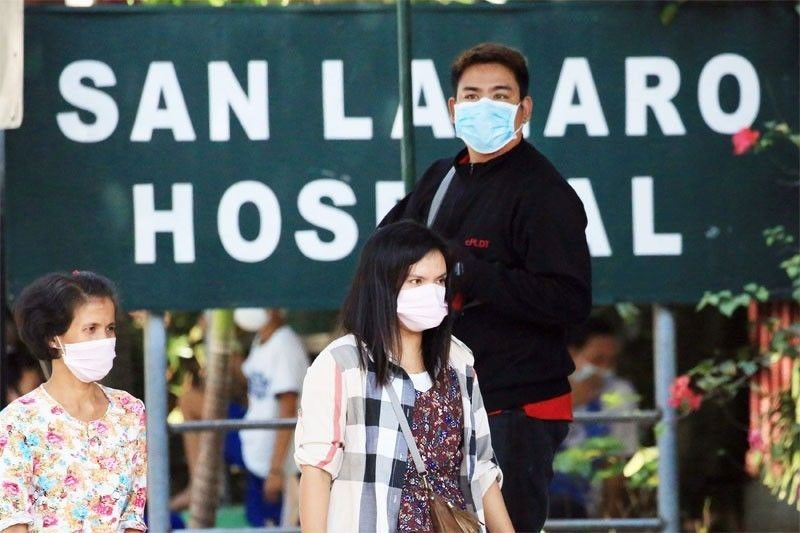 In a latest development, a 44-year-old Chinese man who was tested positive for 2019-nCoV died at San Lazaro Hospital on Saturday, February 1. Read that story here.
MANILA, Philippines — The 29-year-old Chinese man who died of pneumonia at the San Lazaro Hospital in Manila last Wednesday was not infected with the novel coronavirus acute respiratory disease or 2019-nCoV ARD.
"It's not nCoV. His samples are negative for the novel coronavirus," Department of Health (DOH) director for Epidemiology Bureau Ferchito Avelino said yesterday.
Avelino said swab samples taken from the patient were submitted by the DOH to a laboratory in Melbourne, Australia for confirmatory tests and it turned out negative for the Wuhan coronavirus.
The patient, who came from Wuhan City – epicenter of the 2019-nCoV ARD was admitted at the hospital in Manila last Jan. 27 and died two days later.
He had exhibited flu-like symptoms, had swollen lymph nodes and cervical lesions. The patient, who was described to be very thin, tested positive of human immunodeficiency virus or HIV.
Based on data released by the DOH last Friday, there are still 31 persons under investigation (PUI) for nCoV.
Not airborne
Health Secretary Francisco Duque III reiterated to the public yesterday that the coronavirus is not airborne.
Citing scientific evidence, Duque said the virus spreads person-to-person via respiratory droplets that are produced when an infected person sneezes or coughs.
"It's droplet. It's with the phlegm that you discharge when you cough and sneeze. It does not float, unlike other influenza viruses," he said.
This mode of transfer is the reason why the infection rate of nCoV is small at a ratio of one infected person infecting from two to four others.
In comparison, measles is more contagious at a ratio of one patient infecting 18 individuals.
Based on the website of the Atlanta-based Center for Disease Prevention and Control, human-to-human transmission of the coronavirus takes place among "close contacts" or those within six feet.
"These droplets can land in the mouths or noses of people who are nearby or possibly be inhaled into the lungs. It's currently unclear if a person can get 2019-nCoV by touching a surface or object that has the virus on it and then touching their own mouth, nose or possibly their eyes," the website said.
It further stated that "typically, with most respiratory viruses, people are thought to be most contagious when they are most symptomatic (the sickest)."
The website also counts seven types of human coronaviruses which are sub-grouped into four – the alpha, beta, gamma and delta.
The common human coronaviruses are 229E (alpha coronavirus); NL63 (alpha coronavirus); OC43 (beta coronavirus) and HKU1 (beta coronavirus).
The others are Middle East Respiratory Syndrome or MERS (beta coronavirus); Severe Acute Respiratory Syndrome or SARS; and the nCoV.
Prevention
Duque has reiterated that the DOH is not yet recommending that the general public wear face masks.
He said that priority should be given to health workers who are directly dealing with those infected or suspected of having nCoV.
But he underscored the need for the public to observe prevention measures like frequent hand washing, intake of vitamins especially zinc and practice healthy lifestyle like regular exercise, eating healthy food and getting enough sleep to build up immunity.
An advisory of the World Health Organization shows that a mask should be worn in three incidents – if you are providing care to individuals with respiratory symptoms; if your are a health worker and attending to individuals with respiratory symptoms; and if you have respiratory symptoms such as cough or difficulty in breathing.
It stated that the general public "need not" wear a mask if they do not have respiratory symptoms.
K-pop Concerts
Asked whether gathering in big crowds at a closed venue, like in a concert, posed a health risk, Duque said the DOH will be studying its position.
Reporters quizzed him on the DOH's advisory in view of upcoming Korean pop concerts – the boy band Seventeen on Feb. 8 at the MOA Arena in Pasay City and NCT Dream on Feb. 29 at the New Frontier Theater in Quezon City.
He said he was unaware of the two concerts taking place, but said: "We have to discuss this. We have to study what to do because things are evolving concerning nCoV. We'llsee."