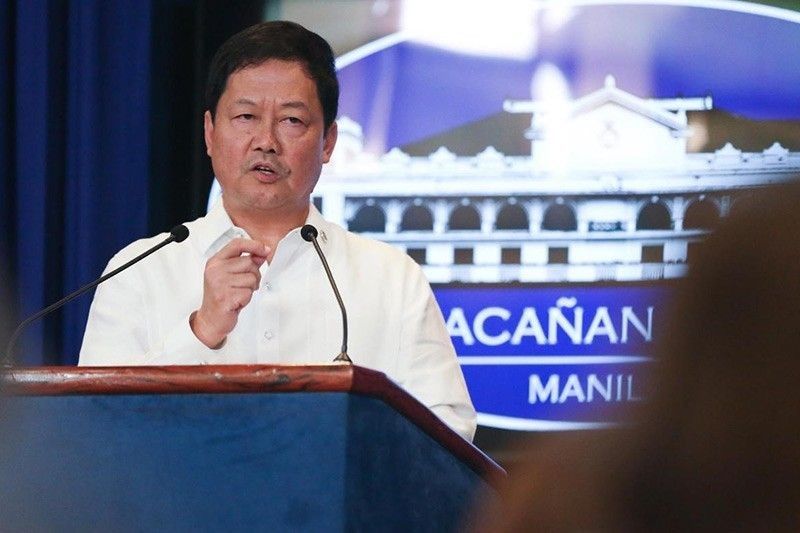 Guevarra said it would also be improper if he applied for a position without first alerting the President.
Presidential Photo/Toto Lozano
Guevarra hopes for SC post
MANILA, Philippines — With the Judicial and Bar Council (JBC) already accepting nominations for associate justice of the Supreme Court, Justice Secretary Menardo Guevarra yesterday admitted that he also hopes to someday be part of the highest court.
He has not applied for the position out of respect to President Duterte, who appointed him to the Department of Justice (DOJ), where he is focusing on strengthening the department and its agencies.
Guevarra said it would also be improper if he applied for a position without first alerting the President.
"I wish that someday I can join the Supreme Court, should the JBC find me qualified and the President deem it best for the administration of justice," said the 65-year-old justice chief.
He earlier explained it would not have looked good if he applied for the judicial branch or accepted a nomination because once he accepts, the process would begin and he would have to submit documents.
"In other words, you are applying for a job. As a member of the Cabinet whose tenure is supposed to be coterminous with the President, I think it is but proper, out of courtesy and respect, to inform the President of any such intention to seek a position in the judiciary before accepting any nomination to the Supreme Court," Guevarra said.
He led the DOJ in addressing the good conduct time allowance (GCTA) problem last year. Currently, he is helping draft new contracts with Metro Manila's two water firms and is also expected to submit today his study on the termination of the Visiting Forces Agreement (VFA) to Duterte.
When asked if he would eventually apply for the SC, he replied he still has several options if he leaves the DOJ. Apart from the SC, he could return to private practice or academe.
"Actual circumstances will determine what option is best for anyone. In my case, going back to private law practice and academe, or staying in government service in a different capacity are options other than seeking a seat in the judiciary that I may consider after my stint at the DOJ, whenever that may be," Guevarra said.
On Jan. 17, the JBC announced it is accepting applications and nominations to the position of SC associate justice, with the compulsory retirement of SC Associate Justice Andres Reyes Jr. on May 11.
Guevarra was previously nominated to the SC by retired Sandiganbayan associate justice Raoul Victorino, but declined the nomination saying he still loves the DOJ.