Timeline of Mendiola massacre: 33 years and counting
January 21, 2020 | 12:00am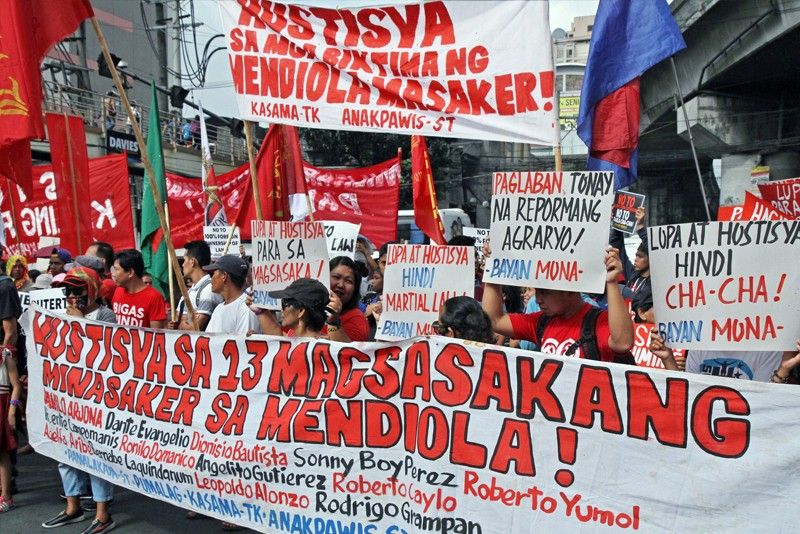 MENDIOLA MASSACRE TIMELINE
(Originally published on January 21, 2012)
Jan. 22, 1987 Anti-riot teams from the Western Police District (WPD), Integrated National Police (INP) and Philippine Marines allegedly open fire on a protest-rally of some 10,000 farmers who were demanding genuine land reform. After the smoke cleared, 13 farmers are confirmed dead, 39 sustain gunshot wounds and 20 suffer minor injuries. The victims are members of the militant Kilusang Magbubukid ng Pilipinas (KMP).
After the incident, the peace panel of the communist-led National Democratic Front of the Philippines (NDFP) withdraw from peace talks with the government.
Jan. 23, 1987 A day after the massacre, former President Cory Aquino orders the creation of the Citizens' Mendiola Commission headed by retired Supreme Court Justice Pedro Abad Santos to investigate the Mendiola disorder.
Feb. 16, 1987 Two lawyers submit two videotapes to the commission, showing anti-riot lawmen in khaki uniforms, a few of them firing handguns at the marchers as they retreated toward Mendiola.
Feb. 27, 1987 Aquino orders the filing of administrative charges against several military and police officers shown either on film footage or in photographs firing handguns at the marchers.
Meanwhile, Jaime Tadeo, chairman of the KMP which spearheaded the march, faces charges of inciting to sedition and violation of the Public Assembly Act, otherwise known as Batas Pambansa Blg. 880 for leading and holding the farmers' rally at Mendiola without a permit.
March 2, 1987 The commission recommends the filing of criminal charges against all armed military and police officers assigned to civil disturbance control duties during the peasant march and the government would compensate the victims of the violent dispersal.
The commission disbands later without taking any action.
Jan. 20, 1988 The survivors and victims' families take initiatives to file a class suit against the government and certain police and military officers for damages totaling P6.5 million.
Feb. 10, 1988 The House Committee on Human Rights recommends the expeditious payment of compensation to the victims.
May 31, 1988 The Manila regional trial court dismisses the class suit.
Aug. 8, 1988 The petitioners file motion for reconsideration but is denied by the court, citing that the State had filed no waiver of immunity from the suit.
March 19, 1993 The Supreme Court upholds the lower court's decision, citing government's immunity from suit.
Since then, militant groups and farmers nationwide converge in Manila to commemorate the Mendiola massacre every year, seeking justice that has remained elusive.
Up to now, no perpetrators have been punished in connection with the carnage and the families of the 13 farmers who were killed and others wounded have not received compensation.
Source: KMP, Star Archives