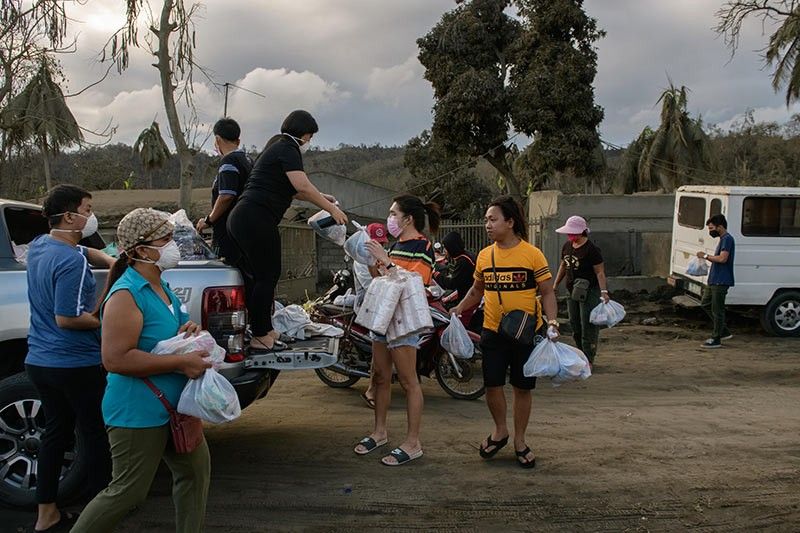 Volunteers hand out aid donations to families affected by the eruption of the Taal Volcano, in Buso Buso on Jan. 20, 2020. Decimated fish, scarred coffee plants and vanished tourists: the Taal volcano eruption in the Philippines has inflicted significant damage on the livelihoods of tens of thousands and is expected to cause more.
Ed Jones/AFP
Food enough, DSWD says, what Taal evacuees need now are hygiene, sleeping kits
BATANGAS — The Department of Social Welfare and Development said there is a deluge in food donations at evacuation centers in Batangas and asked instead for hygiene and sleeping kits for residents who escaped Taal Volcano's wrath.
After an aerial inspection at the Fernando Airbase in Lipa, DSWD Assistant Secretary Anton Hernandez asked those conducting donation drives to look at collecting hygiene and sleeping kits for evacuees.
"Ang mga Pilipino likas na magiting, kung gusto nyo tumulong, ang cooked food ay hindi encouraged because of the spoilage. Ang formula milk ay bawal. Kung gusto natin makatulong, the best option now is to provide hygiene kits and sleeping kits. But as to food, do not worry, there is sufficient food," he said.
Hernandez said that among the gaps that the agency found during its initial assessment on the ground was the lack of sanitation facilities.
"Isang gap na nakikita natin sa laki ng area at ng population ay sanitation. Schools kasi yan hindi naman designed as evacuation centers," he added.
Because of this, the national government requested members of the military to construct more toilets.
"We have the Air Force and the Army to help in the construction. This is a health issue. We are encouraging the local government to make use of our engineering units to start constructing, all we need are some materials from the LGUs," said Armed Forces South Luzon Commander Major General Antonio Parlade Jr.
Last Sunday, the engineering contingent of the 355th Aviation Engineer Wing arrived at the Fernando Air Base in Lipa City, Batangas to participate in the disaster response and relief operations being undertaken by the government in relation to the Taal volcano eruption.
The engineering team would construct a latrine or toilets to address the sanitation and health issues of the evacuees.
As It Happens
LATEST UPDATE: February 17, 2021 - 3:58pm
Get updates as Phivolcs issues warnings over activity in Taal Volcano. (Main photo by Philstar.com/Rosette Adel)
February 17, 2021 - 3:58pm
State volcanologists warn of a possibility that Taal Volcano might have another phreatic explosion similar to what happened last year.
Phivolcs director Renato Solidum says the possible explosion will only affect the volcano island.
Phivolcs has recorded 69 tremor episodes having durations of one to five minutes in the past 24-hour period, as of Wednesday morning. Alert Level 1 (abnormal) is raised over Taal Volcano, which means that "sudden steam-driven or phreatic explosions, volcanic earthquakes, minor ashfall, and lethal accumulations or expulsions of volcanic gas can occur."
IP Camera snapshots of Taal Volcano Island from Agoncillo and the Main Crater showing relative calm at the surface. pic.twitter.com/mmilwgJ7rc

— PHIVOLCS-DOST (@phivolcs_dost) February 17, 2021
February 16, 2021 - 3:10pm
Residents of Taal Volcano Island were evacuated following increased seismic activity in Taal Volcano.
The Philippine Coast Guard says it deployed water assets to the island to make advisory, inspection and fetch the people in the area and bring them to safety.
Inilikas ng Philippine Coast Guard (PCG), katuwang ang PNP Talisay, BFP Talisay, at MDRRMO, ang mga residente ng Taal Island matapos ang muling pagtaas ng seismic activity ng Bulkang Taal kahapon, ika-15 ng Pebrero 2021. pic.twitter.com/2fmzz4MORA

— Philippine Coast Guard (@coastguardph) February 16, 2021
February 27, 2020 - 9:35am
Philvolcs says in its 8 a.m. bulletin that Taal Volcano's main crater emitted steam-laden plumes that are 300 meters high between 9pm February 26 to 3am of February 27.
Taal Volcano remains at Alert Level 2.
TAAL VOLCANO BULLETIN
27 February 2020
8:00 A.M.#TaalVolcanohttps://t.co/Sf9pQ3NXMj pic.twitter.com/5kh5tMkjaJ

— PHIVOLCS-DOST (@phivolcs_dost) February 27, 2020
February 15, 2020 - 4:32pm
Police say they are still waiting for the Scene of the Crime Operatives for confirmation of the victim's identity, whose body was found dead underneath mud on Taal volcano Island.
February 14, 2020 - 9:29am
Phivolcs downgrades the alert status of Taal Volcano from Alert Level 3 to Alert Level 2.
The state seismic network characterized the activity of the volcano in the last three weeks by "less frequent volcanic earthquake activity, stabilizing ground deformation of the Taal Caldera and Taal Volcano Island edifices and weak steam/gas emissions" at the main crater.
Under Alert Level 2, Phivolcs warned that sudden steam-driven or phreatic explosions, volcanic earthquakes, ashfall and lethal accumulations or expulsions of volcanic gas can occur and threaten areas within the volcano island.
"People are also advised to observe precautions due to ground displacement across fissures, frequent ashfall, and minor earthquakes," Phivolcs said.