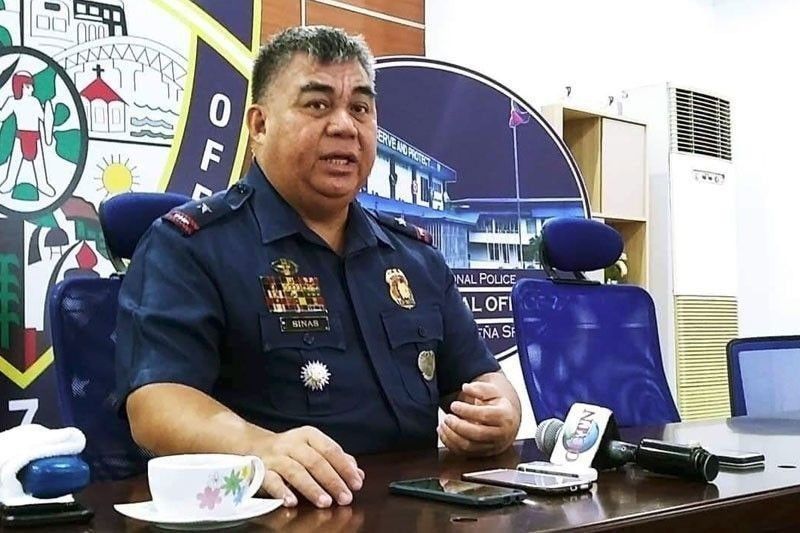 NCRPO chief Brig. Gen. Debold Sinas said all 26,000 police officers in the metropolis have been encouraged to donate P100 each, an amount that would come from a portion of their combat pay and combat incentive pay combined.
Clydyl Avila/File
Metro Manila cops raise P3.5 million for Taal victims
MANILA, Philippines — Metro Manila police have raised about P3.5 million in cash from their own pockets to donate to the victims of Taal Volcano, according to the National Capital Region Police Office.
NCRPO chief Brig. Gen. Debold Sinas said all 26,000 police officers in the metropolis have been encouraged to donate P100 each, an amount that would come from a portion of their combat pay and combat incentive pay combined.
Senior officers starting from colonels, meanwhile, have volunteered to donate P3,000 each, which is a month's worth of their combat pay.
With the number of officers who pledged to shell out cash, Sinas said they are expecting about P3.5 million in donations for the victims in Batangas.
"We encouraged our people. Should they give or not, it's OK. We wanted to make it meaningful so we will donate a day's worth of our combat pay," Sinas said at a press briefing yesterday.
Sinas stressed that the donation was voluntary and excludes 514 personnel affected by Taal Volcano's fury from the collections. A total of 97 personnel were greatly affected by the eruption last Sunday and were sent home to their families.
The NCRPO said while the situation in Batangas has not settled, they would be giving aid through relief goods and financial assistance to its affected personnel, and eventually aid for them to reconstruct their homes.
The 5,000-strong Quezon City Police District (QCPD), meanwhile, would each donate P50, a portion of their allowance from Quezon City Hall.
"Hopefully, we could collect this by Monday or Tuesday, then we will give this amount to the OIC to help in the relief efforts of the whole PNP," Sinas added.
Sen. Christopher Go led the distribution of relief and financial aid to the victims affected by the Taal Volcano eruption during his visit at the Department of Health (DOH) Rehabilitation Center, Barangay Kaybagal South, Tagaytay City on Thursday.
The Office of the President turned over financial assistance to affected local government units (LGUs) to help them respond to the needs of their constituents. Go also echoed the Duterte administration's firm commitment to provide continued support for immediate recovery and rehabilitation of affected areas.
Go said that some individuals have already committed to donate horses as livelihood assistance, especially for residents in Tagaytay City who lost horses they use to earn a living due to the effects of the eruption.
Sens. Francis Tolentino and Ronald dela Rosa, who both reside in Cavite, joined Go and Executive Secretary Salvador Medialdea during the visit and also provided their own assistance to the victims.
Go said that he brought face masks for the residents after an advisory from the health department urging those affected by ashfall to protect themselves from health hazards.
Respiratory disease
The DOH is monitoring cases of respiratory-related diseases in more than 200 evacuation centers in the Cavite, Laguna, Batangas, Rizal and Quezon (Calabarzon) area to avoid any outbreak following the continuing Taal Volcano activity.
"That's something that we are watching out for, (the subject of our) close monitoring. We have sent our DOH Rapid Health Assistance Teams. We have sent our Disease Surveillance Officers, we have been on the look out by way of early detection of outbreaks and then of course, the daily reporting of disease surveillance," Duque said.
Duque also expressed concern that the lack of proper sanitation might trigger a polio outbreak, which is why he has been strict in asking the health officers to put a record of every disease they monitor during rounds at evacuation centers.
Around 80,000 have been evacuated in various areas in the Calabarzon area.
In an interview at the Philippine International Convention Center where he presented the accomplishments of the DOH during the first four years of the Duterte administration, Duque appealed to kind-hearted people and private groups or offices to do their corporate social responsibility by providing portalets to the affected areas.
While the schools used as evacuation centers have their own toilets, Duque noted that the toilets are not enough to accommodate the big number of evacuees.
The DOH is also looking at construction of latrines for the affected populace.
As of Thursday, Duque said the DOH has 671 cases for consultations done in the different evacuation centers in Calabarzon. They include: acute respitatory infection, hypertension, diarrhea, skin lesions or skin diseases, and influenza-like illnesses.
"People are agitated, they are stressed out… they are agitated and tensed and they do not know what's going to happen next, there is uncertainty," he said. – With Christina Mendez, Helen Flores, Rhodina Villanueva, Rainier Allan Ronda, Cecille Suerte Felipe, Raymund Catindig, Jennifer Rendon, Ric Sapnu
The DOH is also working closely with the Department of Social Welfare and Development (DSWD) to address the trauma experienced by the evacuees, especially children, because of their displacement.
The Department of Agrarian Reform (DAR) on Thursday distributed more than 500 bags of relief goods to the victims of the recent volcano eruptions in the towns of Tanauan and Bauan in Batangas.
The relief goods contain basic necessities such as rice, canned goods, noodles, bottled water and biscuits.
Agrarian Reform Secretary John Castriciones, who led the distribution, said help would not stop in these towns as the DAR continues to find ways to gather more goods and donations to distribute.
Mayor Adrianne Mae Cuevas of Palayan City, Nueva Ecija said the city government had sent a truckload of relief goods to Batangas for the Taal Volcano evacuees.
Sandra Cam, a Philippine Charity Sweepstakes Office (PCSO) board member, urged the public to patronize the online lottery games to help the agency raise more funds to continue donating funds to the victims of Taal.
PCSO general manager Royina Garma said the PCSO was preparing to issue calamity funds to Batangas and Cavite.
Meanwhile, the Chinese government has vowed to assist in rebuilding the houses of families whose homes in Batangas were damaged by the volcano.
Chinese Ambassador Huang Xilian visited evacuees from Taal town at the Batangas City Sports Center at around 10 a.m. yesterday.
The facility has been providing shelter to some 4,402 residents since Taal Volcano had a phreatic or steam-driven eruption last Sunday, blanketing several areas in Batangas, Laguna, Cavite, Metro Manila and parts of Central Luzon with ash and mud.
Huang said he has discussed with Batangas Gov. Hermilando Mandanas possible housing projects for the evacuees should the eruption of Taal further escalate.
The Chinese envoy also distributed 7,000 face masks, blankets and other relief goods to evacuees.
In an interview with the media, Huang said Batangas, particularly Taal, is one of his favorite places in the country.
Earlier, the Chinese Coast Guard donated 600 N95 masks, sacks of rice and lard to victims of the ashfall.
The Chinese Coast Guard vessels arrived at South Harbor, Port Area, Manila on Tuesday.
The Isabela provincial government sent 1,000 bags of rice to victims of Taal Volcano in Batangas and Tagaytay last Thursday.
Isabela government spokesman Romeo Santos said Gov. Rodolfo Albano III heeded the request of Batangas and Tagaytay City officials to send rice instead of relief packs that would be delivered by volunteers already crowding the disaster areas.
Santos said the officials prefer to distribute ready to eat food since evacuees have no means to cook the rice. - With Christina Mendez, Helen Flores, Rhodina Villanueva, Rainier Allan Ronda, Cecille Suerte Felipe, Raymund Catindig, Jennifer Rendon, Ric Sapnu