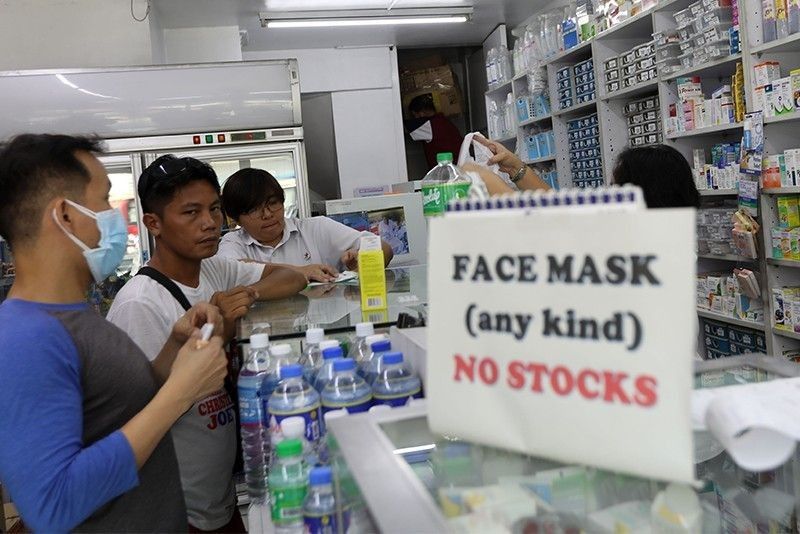 Under Republic Act 7581, the DOH is mandated to monitor and regulate medicine prices to ensure that consumers are protected against profiteering, hoarding and cartels in times of calamity.
The STAR/Edd Gumban
DOH freezes prices of 218 drugs, masks
MANILA, Philippines — The Department of Health (DOH) has ordered a price freeze on 218 essential medicines and medical supplies as affected communities in Batangas and nearby provinces bear the brunt of Taal Volcano's unrest.
Also covered by the price freeze are face masks, whose prices have skyrocketed due to higher demand as people seek protection from toxic chemicals from volcanic ashfall.
Health Secretary Francisco Duque III signed a memorandum on Tuesday imposing price control on analgesics, anti-allergies, anti-convulsants, antidotes, antibiotics, antibacterial agents, anti-fungals, antivirals, cardiovascular drugs, corticosteroids, dermatological drugs, disinfectants, antiseptics, diuretics, gastrointestinal drugs, oxytoxics, psychotherapeutic drugs, respiratory tract drugs, anti-emetic, anti-diabetic, hypercholesterolemia agent, antihypertensive agents, anti-asthma, anti-shock medicines and electrolyte and caloric drugs.
Duque said these medicines are basic necessities during calamities and disasters that put the health and lives of Filipinos at risk because of unfavorable conditions that cause or aggravate diseases, which can lead to epidemic and deaths.
Under Republic Act 7581, the DOH is mandated to monitor and regulate medicine prices to ensure that consumers are protected against profiteering, hoarding and cartels in times of calamity.
Under the memorandum, the price freeze will be in effect for the duration of Taal's volcanic activity.
Violators of the price control provision will be fined P5,000 up to P1 million or up to 10 years in prison.
While the DOH memorandum did not list the areas affected by the volcanic eruption, the law says price control is automatically imposed when an area is declared under a state of calamity.
The provincial government of Batangas declared a state of calamity on Monday, a day after Taal exploded.
Duque said the DOH would coordinate with the Department of Trade and Industry (DTI) in monitoring the prices of medicines and medical supplies in affected communities.
"It is the mandate of the DTI, but we will help them in the price monitoring," he said.
Duque said he would recommend to the DTI the creation of a composite team on price monitoring.
SRP for face masks
The government set a price ceiling for face masks as it warned retailers that they would face charges if they take advantage of the Taal Volcano eruption and engage in profiteering.
Health Undersecretary Eric Domingo said the suggest retail price (SRP) for N95 mask is P45 to P105 each.
The prices of disposable face masks should range from P1.10 to P8, according to a price list published by the DOH.
N95 and disposable masks are among the items covered by a price freeze in areas affected by the volcanic eruption.
"Any centavo higher than the price ceiling imposed by the DOH would be an offense. So we can file cases against retailers, whether administrative or criminal," Trade Undersecretary Ruth Castelo said at a press briefing at Malacañang.
"Those found to have committed profiteering or any other illegal act of price manipulation will be dealt with to the highest extent of the law," she added.
Officials also warned the public against low quality or fake N95 masks.
"If it is being sold as N95 mask but is not registered with the FDA (Food and Drug Administration) or is substandard, the sellers can be charged," Domingo said.
The DTI urged the public to report overpricing or any other form of price manipulation at hotline 1384 or by sending e-mail to consumercare@dti.gov.ph.
The DTI recommended the imposition of SRP for face masks amid high demand and overpricing by some stores.
As face masks are running out in stores, Trade Secretary Ramon Lopez met with representatives of major drugstores such as Mercury Drug, Watsons and Southstar Drug.
During the meeting, the drugstores assured DTI officials they would not raise prices of N95, surgical and other face masks.
Lopez said the drugstores would replenish their stocks.
While waiting for the arrival of new stocks, the remaining supply in the drugstores' branches and warehouses in non-affected areas will be distributed to stores in Calabarzon (Cavite-Laguna-Batangas-Rizal-Quezon) and Metro Manila.
The DTI also reached out to foreign suppliers to send more stocks to the country.
"Companies such as Med Tech will ship N95 masks from Taiwan and 1.2 mn surgical masks from their Bataan facility," Lopez said.
Amid reports of overpriced masks being sold in the market, the DTI has ordered teams to monitor prices and supply of face masks as well as basic necessities and prime commodities in affected areas.
Based on monitoring of the DTI, N95 masks are being sold up to P150 per piece. Regular face masks priced at P1 are being sold at P4 per piece after Taal Volcano's eruption.
The DTI earlier warned retailers not to engage in profiteering, or they would face administrative and criminal charges.
The DTI said 12 business establishments in Bambang, Manila have been issued notices of violation for selling overpriced masks.
Four stores will be issued show cause orders for reportedly overpricing N95 masks.
Manila bureau of permits chief Levi Facundo said the medical supply stores would be asked to explain why they should not be charged for overpricing N95 masks to as high as P150 each.
The standard retail price of N95 mask is P35 to P40, according to the DTI.
"We inspected over 100 stores and almost all of them engaged in overpricing, but we need evidence like receipts and complainants," Facundo said.
Once the show cause orders are approved by Mayor Isko Moreno, the business establishments will be given 72 hours to explain why they should not be charged.
These are the New Genesis Medical Supply, ELJI Medical Shop and MEC Manila Medical Supply along Rizal Avenue in Sta. Cruz, and CitiMed Polyclinic and Drugstore along Magsaysay Blvd. in Sta. Mesa.
Rody rejects N95 mask
While government officials are persistent in reminding the public to wear N95 masks to protect themselves from toxic sulfur from volcano ashfall, President Duterte said he is not comfortable wearing these.
"It is painful to wear. I was given one, masikip (It's tight)," Duterte said during a press briefing in Batangas on Tuesday.
The health department has advised people living near the volcano to wear N95 masks as inhaling the ash could cause coughs and breathing difficulties.
The President has expressed readiness to distribute free masks to those who cannot afford to buy them.
At the same briefing, Duterte chided his nurse for forgetting to switch on the air purifier he was wearing.
"I'd like to kill her but I need her badly. She's my friend and my enemy. We quarrel every day. As a matter of fact, she's the one who can enter my room. The only one," he said.
Duterte visited communities affected by the volcanic eruption and assured them that the government is ready to provide them assistance. – With Alexis Romero, Louella Desiderio, Marc Jayson Cayabyab