2 AFP battalions on standby for Middle East evacuation
January 11, 2020 | 12:00am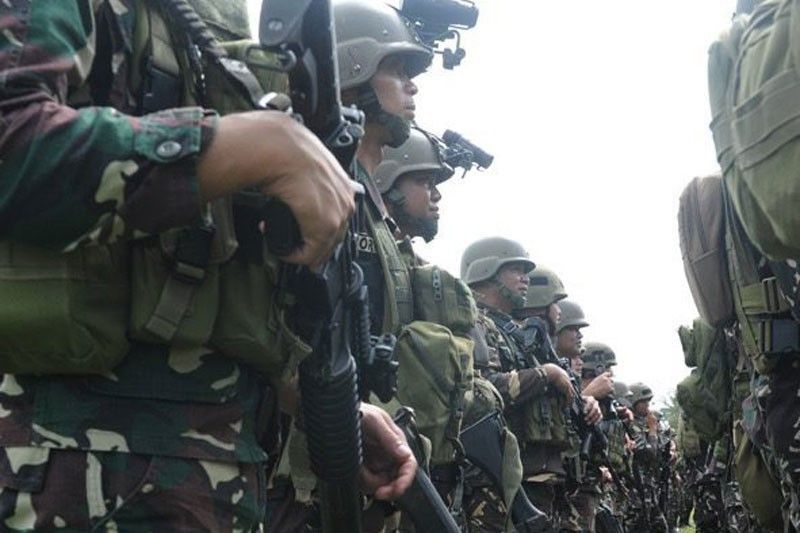 MANILA, Philippines — Tensions between the United States and Iran may be cooling down, but Philippine soldiers and military assets will still be sent to the Middle East to help distressed overseas Filipino workers (OFWs) in the region.
Defense Secretary Delfin Lorenzana stressed yesterday that the soldiers, composed of two battalions from the Army and Marines, would not be sent for combat purposes.
Despite the lifting of the mandatory repatriation of Filipinos in Iran and Lebanon, he said the plan of the Philippine government to deploy assets and personnel of the Armed Forces of the Philippines to the Middle East is still in place.
"Mandatory repatriation from Iraq remains in effect, while Filipinos in Iran, Libya and Lebanon who wish to come home because of the recent tensions will be assisted by the government," Lorenzana noted.
"Personnel to be deployed in the conflict areas will exclusively assist in the repatriation and humanitarian operations," he said.
Lorenzana gave assurance that the defense department, in close coordination with concerned agencies, is ready to provide whatever support necessary in the conduct of the repatriation efforts to ensure the safety of Filipinos in the Middle East.
Malacañang announced Thursday that only Filipinos in Iraq will be covered by the mandatory repatriation ordered by the Philippine government, as hostilities between the US and Iran now appear to be de-escalating.
Cabinet Secretary Karlo Nograles said the government remains vigilant and will continue to closely monitor the situation in the region to ensure the safety of OFWs.
"The order stays for the mandatory repatriation in Iraq. The policy has not changed. The alert level in Lebanon is downgraded to level 2, while it's level 1 in Iran. If it's level 2, that means to be just prepared for evacuation and stay away from public places," he said.
Alert level 4 remains hoisted in Iraq, which calls for mandatory repatration.
"All offices are working double time. Though we can see that there is de-escalation in the news, we are not standing down on level 4, the mandatory repatriation stays. It's better safe for everybody," he added.
Speaking to reporters yesterday, Nograles revealed that the idea of chartering a cruise ship to help in the evacuation cropped up as one of the possible contingencies discussed during the Cabinet meeting last Monday.
"We discussed at the Cabinet meeting, if needed, we might have to charter a cruise vessel for bigger space," he said in a mix of English and Filipino.
Citing a report from the Department of National Defense, there already is an offshore landing vessel from Malta in the Gulf region, while C-130 and C-295 planes, a frigate and another offshore vessel have been tapped for deployment in the affected region.
"By all indications, this is as soon as possible… That's why we already have our quick response teams assembled from the different offices," Nograles said.
Presidential adviser Abdullah Mamao was sent to Iraq and Iran "to make sure that our OFWs are protected by the Iranians and Iraqis… to make sure that the highest form of protection is given to our OFWs," Nograles said.
Special envoy to the Middle East and Environment Secretary Roy Cimatu is tasked to oversee the repatriation efforts, first by providing safe haven for the evacuated OFWs and coordinate efforts from Iraq possibly to Qatar.
Lorenzana has been tasked to oversee the actual evacuation.
Nograles noted that there are 2.1 million OFWs in the Middle East. Of that number, a total of 1,184 OFWs are in Iran and 2,191 in Iraq.
"They are, as of now, exposed to different levels of danger, which is why despite the easing of tensions in the region, mandatory evacuation will still be implemented for OFWs in Iraq," he said.
Lending their wings
The Department of Transportation (DOTr) said Philippine Airlines (PAL), Cebu Pacific and AirAsia have committed to aid in the possible repatriation of Filipinos from countries in the Middle East.
Civil Aviation Authority of the Philippines (CAAP) director general Jim Sydiongco said PAL and Cebu Pacific have agreed to accommodate – free of charge – stranded Filipinos in the UAE or in any of their available Middle East flights, once the plans for repatriation have been outlined.
AirAsia, on the other hand, has agreed to the possible allocation and free accommodation of repatriated Filipinos who need to go back to their respective provinces on domestic flights, according to Sydiongco.
PAL, in a separate statement, said it stands ready to provide assistance in the repatriation of Filipinos based in Iran and Iraq.
"We will carry, free of charge, affected Iran-based or Iraq-based Filipinos via PAL's network of flights from the Middle East to Manila," PAL president and COO Gilbert Sta. Maria said.
"These OFWs who are certified for repatriation by the Philippine government can make use of available seats on our regular Manila-bound flights from Dubai in the UAE, or alternately from Doha in Qatar and Riyadh or Dammam in Saudi Arabia," he said.
PAL said it would coordinate closely on repatriation arrangements with the concerned Philippine embassies and officials of the labor and foreign affairs departments who are in charge of identifying qualified OFWs to ensure an orderly process.
Defense, labor and transportation officials met on Thursday to draft plans for the evacuation of Filipinos affected by the ongoing conflict in the Middle East.
The DOTr said the meeting mapped out actions currently being undertaken by the concerned agencies, as well as future strategies that the government will initiate should events in the Middle East escalate, in order to secure the safety of Filipinos.
Transportation Secretary Arthur Tugade assured the public of the swift and effective implementation of the repatriation plan.
"When needed, our aviation sector, and the whole of DOTr, will fully support the government's efforts in this repatriation. We will ensure that there will be no delays in getting our OFWs home and safe," Tugade said.
CAAP, for its part, expressed readiness to comply with the government's air requirements, air asset needs and air traffic aid to facilitate air movement.
"CAAP will be doing its part and will be more than willing to support air operations that will ensure the safety of the Filipino people in this crucial time," Sydiongco said.
Meanwhile, the Manila International Airport Authority (MIAA) is ready to accommodate repatriated Filipinos at the Ninoy Aquino International Airport (NAIA) terminals.
MIAA general manager Ed Monreal said he will mobilize his medical team to assist repatriated OFWs in case they need medical assistance.
He also said that boarding gate 16 will be reserved for repatriated Filipinos so they can relax while immigration officers are processing their travel documents.
Job displacement relief
Sen. Sherwin Gatchalian yesterday said the Department of Trade and Industry and OWWA should encourage and assist repatriated Filipinos to set up their own micro, small or medium-size enterprises (MSMEs) through OWWA's OFW Enterprise Development and Loan Program.
The program entitles active and non-active OWWA members to avail themselves of a minimum P100,000 up to a maximum of P2 million worth of loans.
He also took note of the "Balik-Pinas! Balik-Hanapbuhay Program" under OWWA's Reintegration Program which provides immediate relief to active or non-active members displaced from their jobs due to war and political conflicts in host countries.
In related news, Quezon City 2nd district Rep. Precious Castelo sought the immediate release of emergency funds from the Technical Education and Skills Development Authority (TESDA) for the benefit of over one million OFWs who stand to lose their jobs.
"TESDA has to use its available resources to roll out livelihood training projects so that our OFWs can have something to rely on as soon as they arrive in the country," Castelo said in a statement.
The lawmaker stressed that the government has to take a more proactive stance on the crisis, which she said could affect up to 1.2 million OFWs working in Arab countries Saudi Arabia, Qatar, Kuwait, United Arab Emirates, Oman and Bahrain.
"As the state's premier agency tasked to promote skills development, TESDA should be at the forefront of the campaign to rescue beleaguered OFWs by offering them alternative but viable income opportunities," Castelo pointed out.
TESDA has a budget of P12.974 billion under the 2020 national budget signed by President Duterte last Monday.
Speaker Alan Peter Cayetano revealed that the Palace is looking for P20 billion to fund contingency measures for planned repatriation of OFWs from the Gulf region.
Deputy Speaker and 1-Pacman party-list Rep. Mikee Romero suggested that the government may now use the P13-billion contingency plan in the 2020 budget for this purpose. – With Richmond Mercurio, Rudy Santos, Edu Punay, Paolo Romero, Christina Mendez