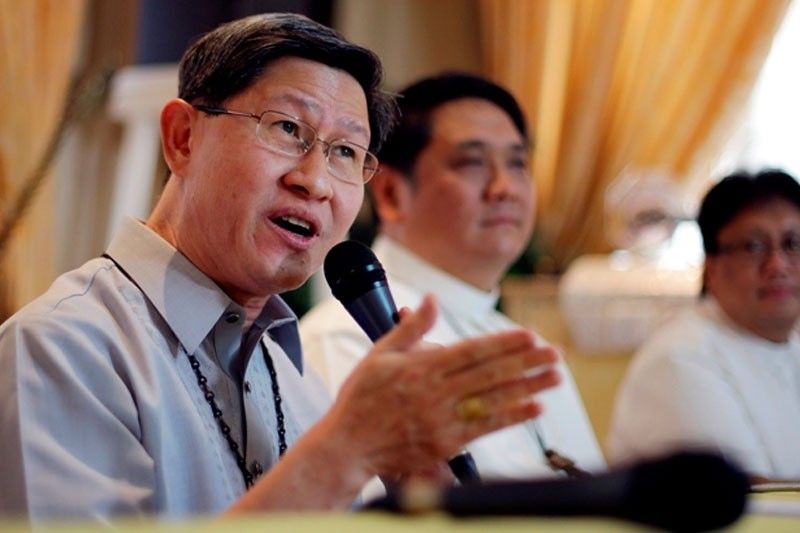 Tagle: Spread the Good News, not fake news
MANILA, Philippines — With the speedy dissemination of information, Manila Archbishop Luis Antonio Cardinal Tagle yesterday urged the faithful to be like angels to help spread the Good News of the Lord and not propagate "fake news."
"We need angels today. We need angels. We need the heavenly hosts present here on Earth to make that announcement," similar to the birth of Jesus Christ, he said during yesterday's Advent recollection held in Quezon City.
He added that as angels, they should help humans connect to God.
"Be the voice, be the guardian of this coming together, the nearness of God to human beings, that makes you an angel. That makes Christmas an event that is present every day. Everyday, we should remind people of the closeness of God. Be angels, communicate that."
Unfortunately, in today's modern age, what is sometimes being spread is neither the Good News nor the Gospel, but gossip, he lamented.
The Manila prelate pointed out that even Jesus Christ fell victim to falsehoods that led to his death.
"Choose, brothers and sisters. Will we be for the for the birth of life by being angels or will we be instruments of death because what we carry with use are false words? We can lose our mission as an angel and sometimes become a false witness," he said.
Tagle also warned the public that when they propagate false information about others, they somewhat "kill" that person.
"Will you be bearers of false, fake news that brings about death? It would seem that a person is experiencing being 'killed' everyday if they become subjects of false news and (false) testimonies. Even if they are physically alive, you are killing another person because you are killing their peace of mind because of fake news," he added.
The traditional Simbang Gabi or dawn mass, meanwhile begins today, ushering the nine-day novena that leads to Christmas Day.
The National Capital Region Police Office (NCRPO) said it would secure churches in Metro Manila during the traditional Simbang Gabi, NCRPO chief Brig. Gen. Debold Sinas said.
Sinas directed the NCRPO's five district directors and 38 station commanders to conducts inspections on churches and coordinate with respective parish priest for the security of the public attending the event.
"We expect field commanders to make inspection rounds in churches around the metropolis and suburbs to assess the implementation of beat patrol and mobile patrol operations in areas where parishioners gather to attend the traditional nine-day dawn masses or Misa de Gallo," said Sinas.
Sinas told police commanders to tighten security around churches and residential areas to protect churchgoers and thwart burglars and other criminals.
The NCRPO chief also reminded police officers to be on the lookout for persons engaged in common street crimes such as mugging, swindling, gang warfare, robbery and theft as well as burglary of unattended residences.
These dawn masses are also called "Misa de Gallo" because they are celebrated as the rooster crows at the crack of dawn.
The tradition originated from Mexico in 1587 when the Pope granted the petition of Fray Diego de Soria, prior of the convent of San Agustin Acolman, to hold Christmas mass outdoors.
Soria petitioned the Pope for an outdoor mass in order to accommodate the huge number of people that overflowed from the church during the evening mass. When the Spanish conquistadors landed in the Philippines in the 17th century, the dawn masses were introduced to native Filipinos. – Evelyn Macairan, Non Alquitran, Bebot Sison Jr.