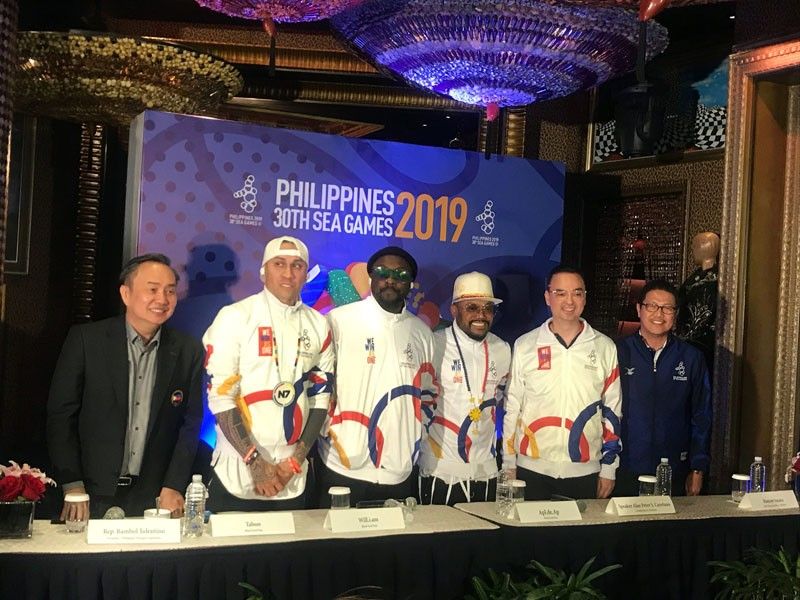 The Black Eyed Peas Taboo, will.i.am and apl.de.ap pose with Phiscog chair and Speaker Alan Peter Cayetano during a press conference yesterday.
Ricky Lo
Black Eyed Peas to sing praise for SEAG athletes
Ricky Lo
(The Philippine Star) - December 11, 2019 - 12:00am
MANILA, Philippines — The 10 songs that rap band Black Eyed Peas will be performing at the closing ceremony of the 30th Southeast Asian Games at the New Clark City today are in praise of the athletes from 11 competing countries led by host Philippines that has bagged 377 medals (146 gold, 115 silver and 116 bronze) as of 8 p.m. last night.
"We are doing our hits and Tagalog parts in our album," the band's Filipino member apl.de.ap (Allan Pineda Lindo) told a press conference yesterday at The Peninsula Manila. "It's going to be a celebration for the athletes that gave their all to have a great SEA Games for the Philippines."
He is performing with co-members will.i.am (William Adams) and Taboo (Jaime Gomez).
"We see ourselves as citizens of the world," said will.i.am. "We have played in the Super Bowl in the USA and it was amazing. There are American acts that come from America and brought American culture around the world, like Michael Jackson, Madonna, Prince and others. We are bringing Filipino culture to the four corners of the world. Those who have never met a Filipino, who do not know Filipino culture, are educated through apl.de.ap."
will.i.am added that playing in the Philippines is very memorable, thanks to apl.de.ap.
"It's because our brother apl.de.ap is from the province here. He was raised here. He was a rice farmer. He had a humble beginning here. It's amazing for him to have been given up for adoption, to come to America and start a group like the Black Eyed Peas and come back to his country to help
his people."
He then added that one time, apl.de.ap told him and Taboo, "'Hey, I bought a new house.' We thought he was going to move to Manila and live in a big house. He said, 'You've got to see it.' So we went. The house was in Pampanga (where he came from). He told us, 'I want to make my neighborhood better'."
apl.de.ap is building classrooms around the country.
"Being here in the SEA Games," continued will.i.am, "is some kind of celebration. It's an honor knowing where he comes from, how hard he has worked and meeting all the hurdles."
Taboo has his own Philippine connection since his wife is a Filipina.
"I wouldn't have married a Filipina if it were not for apl.de.ap. He showed me the beauty of the culture and also what it is like to love and appreciate family. I am a native American Mexican. We have a lot of similarities. My three children are here in the Philippines for the very first time."
Incidentally, apl.de.ap admitted that he was nervous when he performed at the SEA Games opening ceremony last Nov. 30 at the 55,000-seat Philippine Arena in Bocaue, Bulacan.
"It was the first time that I was so nervous on stage. There were so many moving parts. It was all about timing. I got to see if afterward. The way it came out (on television) was so amazing. I was really proud of how they connected the rap part to Manny Pacquiao (who lighted the cauldron)."