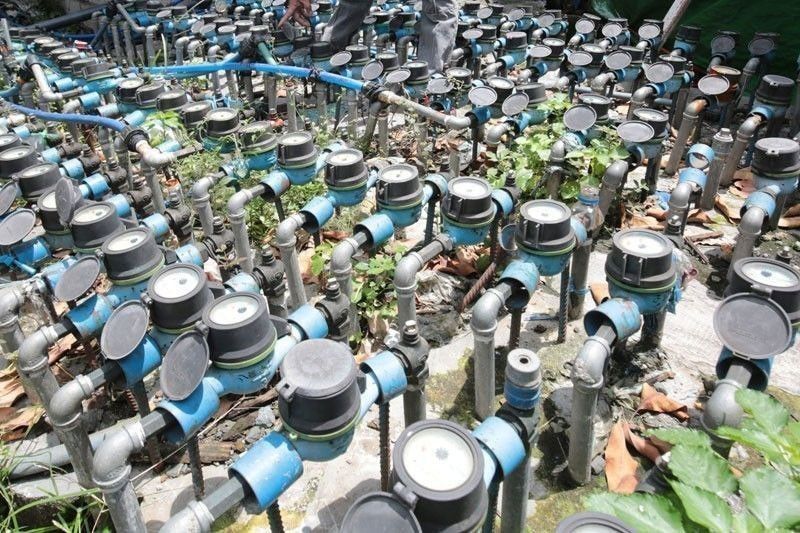 Duterte is not yet seeking the rescinding of the government's agreements with water concessionaires Manila Water and Maynilad, but wants the contracts amended to remove "onerous" provisions, Malacañang said yesterday.
The STAR/ File
Palace: Talks on with water firms
MANILA, Philippines — Malacañang clarified that the President is not asking for contracts to be rescinded, and that talks are ongoing between the government and water concessionaires over billions in damages from losses incurred since 2013.
Duterte is not yet seeking the rescinding of the government's agreements with water concessionaires Manila Water and Maynilad, but wants the contracts amended to remove "onerous" provisions, Malacañang said yesterday.
"The President was not talking about rescinding (the agreements). Didn't he say that he wants the contracts fixed because the contracts are wrong? They are talking. If they agree, there would be no more problems. If not, then there would be filing of charges," presidential spokesman Salvador Panelo said in a radio interview.
Panelo said the concession agreements have to be modified before the parties could talk about a settlement.
"(The contracts) have to be fixed first. The two parties will negotiate. They will be discussing terms and how to fix the things that the President was reacting to," the Palace spokesman said.
Asked to react to the Metropolitan Waterworks and Sewerage System (MWSS)'s call to defer water rate hikes while talks are ongoing, Panelo replied: "Everything is possible. All of these can be discussed."
"It can be deferred if they are not yet ready to implement," he added.
Duterte has lambasted Manila Water and Maynilad over the concession agreements that he claimed are disadvantageous to the government. He has threatened to file economic sabotage, graft and plunder charges against those who crafted the deals.
The President has also ordered the finance department and the solicitor general to draft new deals that are favorable to the government and the public. Some legal experts, however, said the President cannot just rescind the agreements since the action has to go through the courts.
The Philippine government has lost arbitration cases against Manila Water and Maynilad and has been ordered by a Singapore arbitration court to pay more than P10 billion in damages to the water concessionaires.
Last year, the arbitration court ordered the government to pay P3.42 billion in damages to Maynilad for the company's losses that originated from the MWSS's refusal to implement a tariff adjustment for 2013 to 2017.
Last week, a Singapore court also directed the government to pay P7.39 billion in compensation to Ayala-owned Manila Water for losses incurred from the delayed water rate increases since 2015. Duterte has declared that he would not heed the court orders because the agreements are "contrary to public policy."
Panelo said among the provisions in the concession deals that the President wants removed are those that bar the government from intervening in rate adjustments and those that require the state to indemnify water firms against losses that stem from regulatory actions.
"We discovered onerous provisions and we need to change them. The two companies said they are willing to negotiate. I think that's OK," Panelo said.
Allies of President Duterte in the House of Representatives have responded, pushing for a thorough review of the allegedly onerous water concessionaire contracts signed with previous administrations.
"The right to water is a fundamental human right and is a key driver of economic and social development and all efforts should be made to ensure that every Filipino has access to clean and potable water," Dasmarinas City Rep. Elpidio Barzaga Jr. said.
The chairman of the House committee on environment and natural resources filed last week House Resolution 572 that directs appropriate committees of the chamber to conduct an inquiry, in aid of legislation, on the recent ruling of the Permanent Court of Arbitration in the case of Manila Water.
But Barzaga pointed out that Manila Water – which says they lost P7.39 billion since 2015 – in fact claimed it had a "gross income" of P6.5 billion, a "net income increase of six percent" from the previous year (2017). Maynilad likewise reported a net income of P7.3 billion in 2018, up from P6.8 billion in 2017.
Another administration lawmaker, Rep. Alfredo Garbin Jr. of Ako Bicol party-list, argued that "we in Congress will not allow these water firms to get billions of pesos in public funds for services not rendered or delivered poorly."
"Congress has the power of the purse. Not a single centavo of public funds will go to Manila Water and Maynilad for that arbitrarion decision without Congress' approval," Garbin, a lawyer like Barzaga, insisted.
"In this situation, the legal authority must emanate from the House. Add to this power is the constitutional authority of Congress to regulate firms that perform public services," the Bicolano congressman said.
As far as House Deputy Majority Leader Bernadette Herrera is concerned, these contracts should be rescinded for having legal infirmities, which no less than the Department of Justice under Secretary Menardo Guevarra has discovered.
The congressman from party-list Bagong Henerasyon revealed that she wrote Panelo a letter last April urging the government to "cancel" the contracts of the water concessionaires.
"The President can, by executive order, also cancel the suspicious premature term extension of contracts made in 2014 that extended the Concession Agreement until 2037 and conduct a thorough review of the Concession Agreement," she said.
Herrera is author of the House Bill creating the Department of Water and the Water Regulatory Commission.
"The President can demand for the immediate suspension of all rate rebasing and tariff increasing measures until all of the existing billed but unimplemented projects are either fully accounted, fully implemented and/or fully refunded to the consumers," she said.
"All such moneys imbued with public interest shall be placed in escrow, while those that are to be fully refunded shall be subject to interest rates as determined by the National Economic and Development Authority," Herrera suggested.
Senators weigh in
Sen. Bong Go told reporters during his visit to typhoon victims in Sorsogon province that water concession agreements should be fair and not burden Filipinos.
"That water is our water. Water of Filipinos, and here we are the ones paying taxes for them and that's not fair. If they (concessionaires) promise continuous potable water supply, they must fulfill that. They should not pass the burden (of their agreements) to the people," Go said.
Senate President Vicente Sotto III said he believed Duterte's explanation on "how we are being taken for a ride by these concessionaires."
"I told him I'm supporting him 100 percent on the issue," Sotto asserted.
Sen. Imee Marcos agreed that water is universally recognized as a human right, not merely a commodity.
"I support President Duterte's desire to assail these onerous contracts that deprive Filipinos of both their right to water as well as impose liabilities upon Philippine government even when service in supply fails," Marcos said.
Sen. Francis Tolentino also expressed support for the move, saying Filipinos' welfare and interest should take precedence over such contracts. He said he will deliver a privilege speech on Monday after thoroughly reviewing the agreements, to trigger a Senate inquiry into the matter.
"As the one who gave the franchise, (investigating) is part of the oversight function of Congress," Tolentino said during the news forum Kapihan sa Manila Bay.
"Plus if it is really onerous, why will you pay for it. We'll put up a supplemental budget? How much is that, almost P7 billion? You can host the Asian Games," he said.
Sen. Grace Poe, chair of the Senate committee on public services, is set to start hearings on Tuesday on proposals to create a department of water. – With Delon Porcalla, Paolo Romero