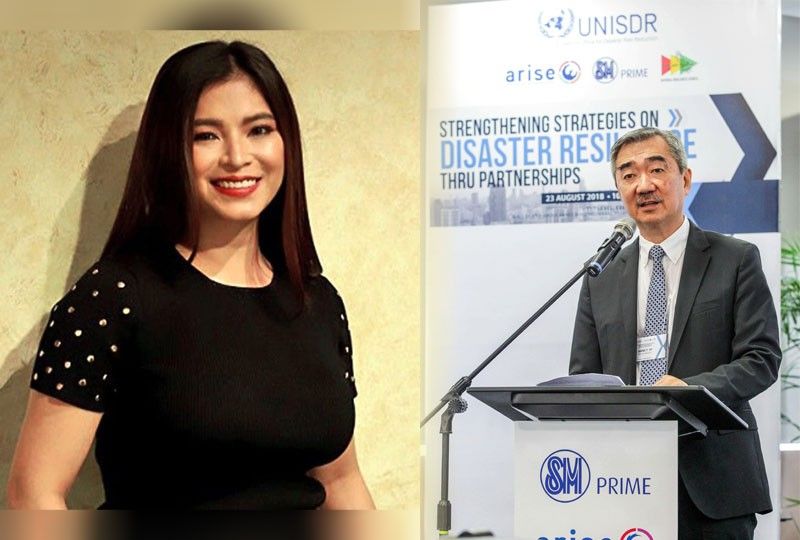 Hans Sy, Angel Locsin cited as Heroes of Philanthropy
MANILA, Philippines — What do second-generation tycoon Hans Sy and Filipina actor Angel Locsin have in common?
The two have made it to Forbes' 13th annual Heroes of Philanthropy list featuring "30 outstanding altruists" in Asia-Pacific.
The list – titled "Asia's Heroes of Philanthropy: Catalysts For Change" – includes billionaires, entrepreneurs and celebrities across the region who are committed to solving some of the most pressing issues facing the Asia-Pacific. It was posted on the Forbes website on Monday.
Sy, 64, chairman of the executive committee and director of SM Prime Philippines, was cited for his support to Child Haus, a cancer center.
"Child Haus opened its newly renovated and expanded center in Quezon City to house 40
cancer-stricken children and their caregivers. Sy, previously CEO of property firm SM Prime, paid $400,000 in 2010 for the property, which now provides poor provincial families with temporary shelter, as well as programs and activities that promote healing," Forbes said.
It noted that on his 60th birthday in 2015, Sy bought the land for Child Haus' first location in Manila for $600,000 and paid $1.4 million to build it.
"Opened in 2017, he still covers its operating expenses. Sy's associates have become cosponsors and provide Child Haus with additional financial support and in-kind contributions," Forbes also said.
Locsin, 34, was also cited for her charity work, including the recent help she provided in Mindanao after earthquakes hit the region in October.
"After earthquakes hit Mindanao island in October, Locsin donated one million pesos ($19,000) and distributed truckloads of relief supplies to affected residents. Locsin, whose mother was adopted by a family from the island, has long helped the region, which has been riven by sectarian strife for decades. During the 2017 battle between the Philippine army and Islamist rebels in Marawi, she joined the Rural Missionaries of the Philippines, donating and distributing food packets and school supplies to tens of thousands of displaced victims," Forbes said.
Locsin, best known for playing superhero Darna in a 2005 TV series, once said that "you don't need to wear a costume to be a superhero."
"Over the past decade, Locsin has donated as much as 15 million pesos to causes such as educational scholarships for students, supporting the economic and political rights of indigenous people, and ending violence against women and children," Forbes said.
To select the honorees, Forbes Asia sifted through dozens of candidates, reviewing their monetary contributions, the depth of their involvement and the reach of their philanthropic efforts. The goal is to highlight those giving their own money, not their company's money.
"The focus is on individuals who provide the capital and are personally committed to achieving a long-term vision. As always, the list features new entries, unless there has been a significant development in a previous honoree's philanthropy that justifies a relisting. The final selection is unranked and all are considered equally honored on the list," Forbes noted.
Forbes for instance cited Azim Premji as Asia's most generous philanthropist by giving away a chunk of his shares, worth $7.6 billion, in tech firm Wipro to his education-centered Azim Premji Foundation.
"The billionaire retired in July as Wipro's executive chairman after more than five decades at the helm and said he would focus more on philanthropy. The first Indian to sign the Giving Pledge, his total lifetime giving now stands at $21 billion," Forbes said.
Others on the list include Jack Ma, who recently stepped down as executive chairman of China-based internet giant Alibaba to devote more time to philanthropy.
"Since 2014, the Jack Ma Foundation has distributed or pledged at least $300 million to various initiatives in Africa, Australia, China and the Middle East. A former teacher, Ma has a special interest in improving education in rural and impoverished areas of China. Ma also says he hopes to do more to support women's causes," Forbes said.
Also on the list is Rita Tong Liu, Hong Kong's fourth-richest woman, who marked her 70th birthday in June last year by giving $10 million to the Catholic-run Caritas Institute of Higher Education through her family's L&T Charitable Foundation. The funds will be used to help the school evolve into Hong Kong's first Catholic university.
Other honorees on the list include celebrities such as South Korea's singer and actress IU (Lee Ji Eun), who is the youngest to make this year's list. She has given a total of 900 million won ($800,000) to a variety of causes since 2018, Forbes also said. – With Charmie Joy Pagulong