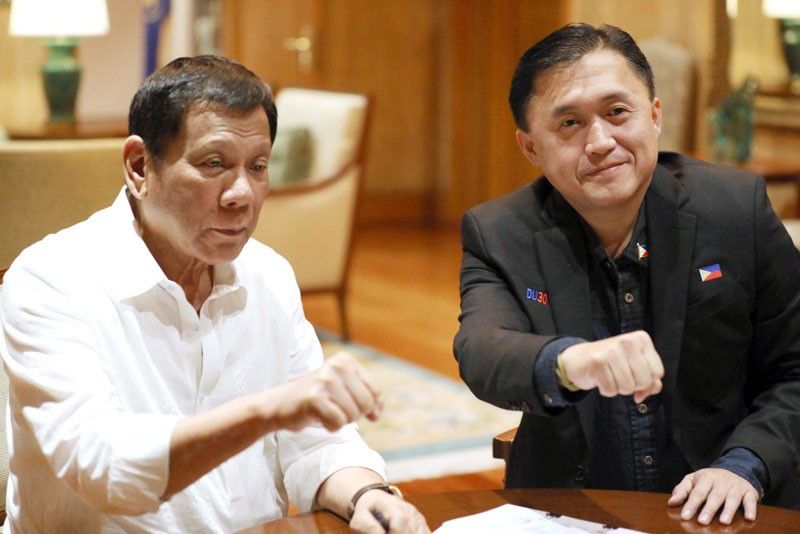 Sen. Bong Go poses with President Duterte during a recent event at Malacañang.
Go recommends cash incentives for barangay officials
MANILA, Philippines — The Office of the President (OP) is doing everything it could to give P3,000 Christmas incentives to barangay officials and employees nationwide in appreciation of their work in communities, Sen. Christopher "Bong" Go said yesterday.
"I suggested it to President Duterte to help our barangay officials who untiringly give service to their communities," Go said.
"President Duterte and I are doing everything for them to receive Christmas incentives or whatever that they might need this Christmas," he added.
Among those who would receive the Christmas bonus are barangay captains, barangay councilors, Sangguniang Kabataan (SK) chairpersons, and Indigenous People's Mandatory Representatives (IPMRs).
Go said he was hoping for barangay officials to receive incentives while waiting for the passage of Senate Bill No. 391 or the "Barangay Services Compensation Act," which is still being deliberated in the Senate committee on local government.
Originally known as the "Magna Carta for Barangays Act of 2019" filed by Go this year, the bill is a consolidated version of all other related bills filed in the Senate which aims to provide barangay officials additional compensation similarly accorded to a regular government employee as well as other benefits to promote their welfare.
"The barangay serves as the primary planning and implementing unit of government policies, plans, programs, projects, and activities in our communities," he said during a Senate committee hearing.
"It is through our barangays that government programs and services reach our people. It is through our barangays that our policies, plans and projects aimed at improving our country materialize. Most importantly, it is in our barangays that we hone dutiful citizens who will become the future builders of our nation," he added.