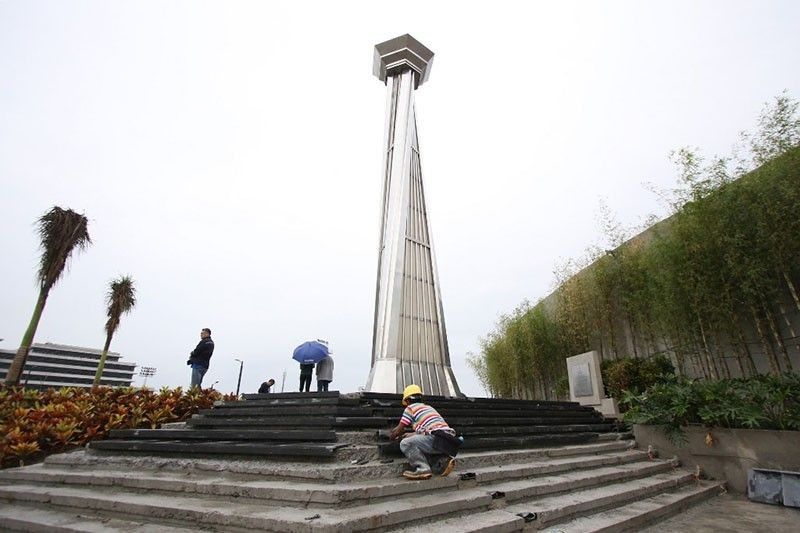 The philippines.travel/seagames2019, launched on Tuesday, will help SEA Games visitors explore the country while keeping abreast of SEA Games information.
STR/AFP
Dedicated tourism web page launched for SEAG visitors
MANILA, Philippines — The Department of Tourism (DOT) has launched a website to assist delegates of the Southeast Asian (SEA) Games in discovering places to explore in the country.
The philippines.travel/seagames2019, launched on Tuesday, will help SEA Games visitors explore the country while keeping abreast of SEA Games information.
Among the information featured on the microsite are various sports activities, Philippine cultural heritage sites, beaches, local cuisine and products.
Tourism Secretary Bernadette Romulo-Puyat said around 11,000 visitors arriving for the SEA Games provide an opportunity for the country to showcase its best in a "very accessible manner."
"The soonest they step into the country, our guests already had a glimpse of what the Philippines has to offer. What we want to show them is that all these sporting hubs that they have visited and the Filipino hospitality they have experienced, are just a fraction of the fun that awaits them," Puyat said.
"They can now experience first-hand the culture of sustainable tourism that is making the Philippines a preferred destination among visitors. With the tourism website that we have just launched, their Philippine destination wish list is just a click away," she added.
The microsite, powered by DOT's official partner Guide to the Philippines (guidetothephilippines.ph) - an online marketplace formed by various DOT accredited tour operators - will feature tour packages that delegates can book.
Special tour packages with promotional rates that are available only for the duration of SEA Games will also be offered on the microsite.
These include tour packages for guided cultural tours and dining with entertainment shows in Manila, private resorts in Laguna, heritage tours and nature exploration in Ilocos region and Zambales, beach and diving activities in Batangas and adventure and recreational activities in Pampanga and Tarlac.
"Aside from the website, we are also here to assist our guests and athletes to ensure the best tourism experience possible, and to contribute to the smooth implementation and success of the SEA Games in general," Puyat said.
She said she instructed regional offices to ensure that all tourism counters in airports and hotels, where the SEA Games delegates are billeted, can provide information on nearby destinations and assist interested tourists in their purchases.
Before the opening of the SEA Games on Nov. 30, the DOT called on volunteers to sign up as sports liaison officers (SLO) who would provide additional manpower to some of the sporting events in Clark and Manila.
"Our social media call for SEA Games volunteers gathered thousands of responses and inquiries filling the slots for the Metro Manila and Clark volunteers in just a few hours. This shows the innate hospitality and compassion of the Filipinos to rise to the occasion and show what our nation is really made of," Puyat said.
She earlier called an emergency meeting with Metro Manila hotels and tourism stakeholders in line with addressing concerns in the arrival and hosting of SEA Games delegates.
Puyat directed concerned hotels to ensure that the Filipino brand of hospitality is extended to delegates at maximum capacity.
Thirty-two hotels and industry associations were present during the meeting.
These included the Tourism Congress of the Philippines (TCP), Philippine Hotel Owners Association Inc., Hotel Sales and Marketing Associations and Philippine Association of Convention/Exhibition Organizers and Suppliers.
Also present in the meeting are Philippine Southeast Asian Games Organizing Committee (PHISGOC) officials Arsenic Lacson, director of games services, and Chris Tiu, deputy director for volunteer program.
During the meeting, the DOT committed to assign a focal person in each of the four clusters and upgrade its existing information desks at the lobbies of participating hotels.
"Initially intended to promote Philippine tourist destinations and tour packages to visitors, the desks are now open to disseminating additional SEA Games-related information from PHISGOC, and receiving concerns, which will be forwarded to PHISGOC for proper handling," DOT said.
TCP president Jose Clemente III assured the DOT that the entire tourism industry pledges its unbridled support to the success of the SEA Games.
Muslim cops secure delegates
At least 240 Muslim police officers will be deployed in venues and billeting areas of delegates of Muslim countries participating in the SEA Games.
The move aims to promote cultural sensivity with Muslim brothers, according to National Capital Region Police Office (NCRPO) chief Brig. Gen. Debold Sinas.
"This is in reponse to the call of Muslim people based in Metro Manila and their practice of cultural sensitivity. Starting tomorrow they will be deployed and will be wearing Muslim attire. They are knowledgeable of the faith and can speak and understand English," Sinas said.
He said the Muslim police officers would wear head gear called tagiyah for male and hijab or jilbab for women.
One male and female Muslim officer each will be deployed in billeting areas and sporting venues during daytime.
Because of the lack of Muslim women officers, two males will be deployed in the areas during nighttime.
As of Tuesday, a total of 3,695 delegates have arrived and are billeted in 34 hotels.
In the future, these Muslim policemen will be tapped to secure any Muslim-related activities, Sinas said. – With Non Alquitran