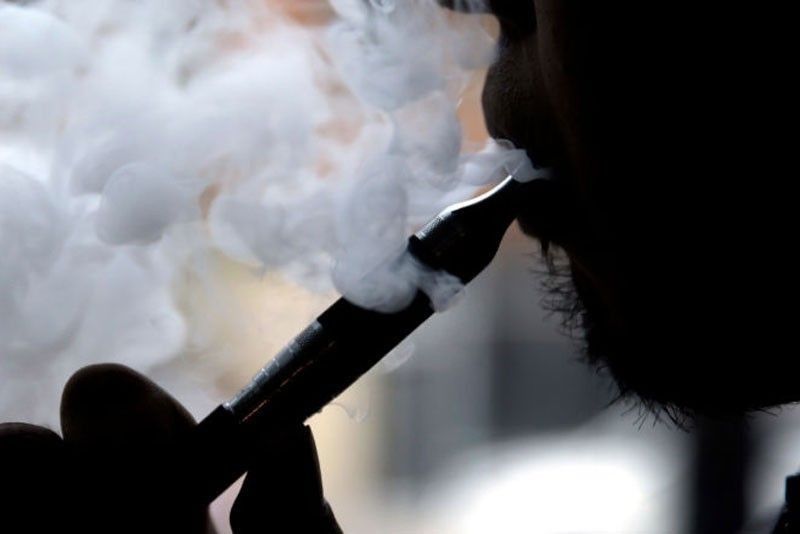 Will there be EO on vape ban?
MANILA, Philippines —Barely an hour after President Duterte declared in a speech that there's no need for him to issue an executive order banning public use and sale of vapes, Interior and Local Government Secretary Eduardo Año made it clear an EO is forthcoming after all.
Año, in a phone interview with The STAR, said Executive Secretary Salvador Medialdea told him that an EO would be issued to formalize Duterte's verbal directive.
"Per my convo with exec sec, to formalize everything they will still issue EO regarding the use and selling of vape," Año said.
The DILG head said an EO would be sufficient to implement the ban on the public use and sale of vapes, even without a law.
"The EO can suffice for that in the absence of a law. EO is substantial to prohibit or regulate the use of vape and sale, until Congress will enact a specific law," he pointed out.
Without an EO, Año said the Philippine National Police (PNP) will continue to implement Duterte's arrest orders on violators of the vape ban.
Año earlier told reporters that President Duterte was expected to issue an EO lastnight or days after he made the public pronouncement against vaping.
"Ngayong araw, maglalabas ng EO ang Malacañang regarding the regulations on the use of vape. The President really wanted not only to ban the use of vape but even the selling of vape," Ano said.
Once the EO is released, Ano said he would also issue a memorandum circular mandating local government units to pass necessary ordinances related to the vape ban.
Even without an EO from Malacanang, the PNP has already issued an order for its units to arrest individuals caught using vape devices in public.
The PNP argued that they have basis for warrantless arrests based on the President's directive itself or EO 26 which banned smoking in public places, as well as on the Clean Air Act.
Latest data from Central Visayas Police Regional Office (PRO) showed 184 violators arrested in 222 police operations conducted until 6 a.m. yesterday.
The operations also led to the confiscation of 230 vape devices.
PRO-6 Director Brig. Gen. Val De Leon appealed to the public to not use their vape devices in public out of respect to the rights of other non-smokers.
Kill inventor
The vaping ban became another issue to joke about for President Duterte, who said he would kill the inventor of vapes.
Speaking during the inauguration of the Taguig City Center for the Elderly on Thursday night, Duterte said he would order the police to kill the inventor of vapes if he visits the Philippines.
"Vaping, ewan ko sinong demonyong nag-imbento niyan, pinapahanap ko nga. I-extrajudicial killing ko yung gagong yan, t*ngi*a, totoo (I don't know which devil invented that, I'm looking for him)," Duterte said.
The first to come up with the concept of vape was Joseph Robinson in 1927. Fellow American Herbert Gilbert made vaping popular in 1963 with his "smokeless mom-tobacco cigarette."
So-called "juice" dripped on vape devices contains nicotine "and chemicals that we do not know," Duterte added.
"Kung hindi ka pa ulol, may nicotine 'yan pero may nilagay na flavoring at hindi ko alam kung ano (You idiot, there's nicotine but they add flavouring and who knows what else)," Duterte added in the same speech.
He insisted that using vapes in public places should be prohibited, ordering police to arrest those who would disobey.
But unlike vaping, the government cannot ban the smoking of tobacco, the President said.
"We cannot ban cigarettes. Why? Because we allow its manufacture and maybe the importation of tobacco. We allow it and we tax their produce. We cannot stop it," he said.
"But it is harmful. You can't use it just about anywhere," Duterte added.
He noted that smoking can also harm non-smokers because of the harmful substances they inhale. He said smokers might as well eat their cigarettes so they would die of cancer.
In 2017, President Duterte issued Executive Order 26, which bans cigarette smoking in public places and government facilities.
"There are buildings without smoking areas. Then just eat your cigarette since you want to die of cancer," the President said.
Based on Duterte's pronouncement, the Philippine National Police, through a memorandum signed by officer-in-charge Lt. Gen. Archie Gamboa, is tasked to arrest those who would use vapes in public.
Duterte also warned judges not to issue injunctions against the ban.