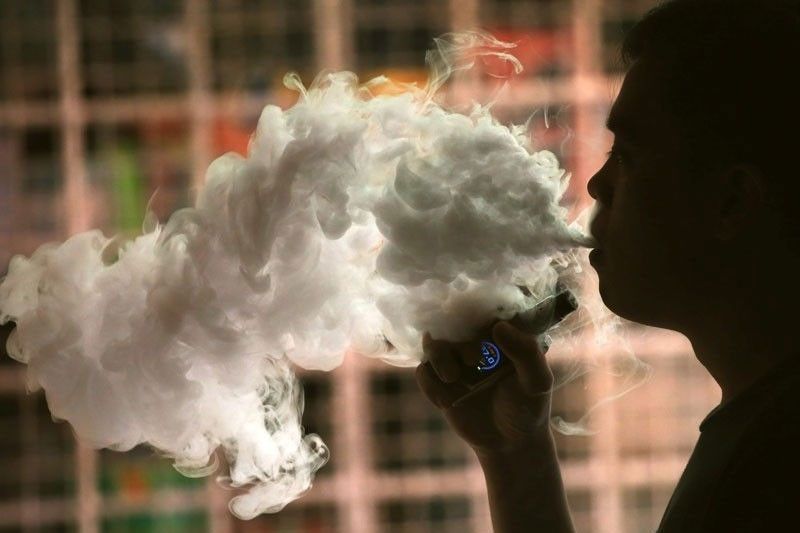 Justice Secretary Menardo Guevarra said "the closest thing" he could think of as a legal basis for Duterte to order the arrest of those vaping in public is the "subsisting executive order" that prohibits smoking in public places.
Edd Gumban
DOJ finds legal basis for arresting vapers
MANILA, Philippines — Authorities yesterday justified President Duterte's ban on vaping, citing the law against smoking in public places.
Duterte on Tuesday ordered the Philippine National Police (PNP) to arrest anyone vaping in public places. No formal written order has been made public that spells out the scope of the ban or penalties for violations.
Justice Secretary Menardo Guevarra said "the closest thing" he could think of as a legal basis for Duterte to order the arrest of those vaping in public is the "subsisting executive order" that prohibits smoking in public places.
Guevarra was apparently referring to Executive Order No. 26, which prohibited smoking in public areas under the Clean Air Act.
"Vaping is covered by the existing ban on public smoking only if the same uses any tobacco derivative," Guevarra said.
According to Guevarra, Malacañang is now drafting an executive order that will prohibit all types of vaping in public places.
Senate President Vicente Sotto III, for his part, said the ban on vape or e-cigarettes needs legal basis.
"It may need an ordinance to ban it in a specific place, or a law for nationwide coverage. Right now it is debatable if an executive order will suffice," Sotto said.
"Except that it's annoying, clear public health harm has yet to be proven. Our Arab friends smoke from bigger tanks in their private spaces. Old womenfolk smoke with the lit part inside their mouths. Each to his own poison. The state cannot do everything to protect good health of its citizens. Suicide is not a crime. Assisting in a suicide maybe, not suicide itself," he said.
Citing "the order of the President," the PNP said it has ordered "effective today, all police units nationwide to enforce the ban on use of vapes; ensure that all violators will be arrested."
The ban came days after health authorities reported the nation's first vaping-related lung injury, which resulted in a 16-year-old girl being hospitalized.
PNP officer in charge Lt. Gen. Archie Gamboa advised vape users not to challenge authorities as it is set to implement arrests against violators of the President's vape ban.
"My suggestion is not to challenge. Not using vape is very simple. If you want to use vape, use it in private spaces, not in public spaces," Gamboa said.
Gamboa said arrests are valid even if there would not be charges filed against the violator because this just follows the directive of the President.
He said that under the police powers of the state, authorities can implement the arrest, which he said does not fall under the category of punishment for a violation.
"It's not even a detention. We are just exercising police power of protecting public interest which is public health," Gamboa said.
Once the violator is arrested, he or she will be brought to the police station for record keeping in the blotter and then released without charges.
Gamboa said their directive is based on EO 26, which prohibited smoking in public areas under the Clean Air Act.
He noted the memorandum has its basis on the "expansion of the definition of smoking" as specified under the EO.
Gamboa said Duterte expanded the definition of smoking as defined by the EO when he issued the pronouncement against the use of e-cigarettes.
Gamboa said that while they are already implementing arrests, they are still awaiting a formal executive order from the Office of the President detailing the penalties for violation.
"However, in the absence of publication which is required for any state to impose punitive action, another EO is required for it to be published and then there is the punishment. We can arrest, but we cannot punish. Arrest is not punishment, remember," he added.
Gamboa said they have no power to close down vape shops or manufacturing sites, as these fall under the mandate of other government agencies and local government units, unless specified by a local ordinance.
"That's why we have to go to the FDA, DTI or LGUs issuing the business permits," Gamboa said in referring to the Food and Drug Administration, Department of Trade and Industry and the local government unit concerned.
Just quit
Government health authorities also disputed allegations that the ban on use of e-cigarette or vaping could lead to the worsening of the country's smoking problem.
Department of Health (DOH) Undersecretary Eric Domingo said contrary to the claim of groups of vapers, e-cigarette has never been recognized as an effective smoking cessation method.
"As a smoking cessation aid, it (vape) is really not recognized, not registered or regulated," Domingo said.
"There is no country or any regulatory agency that has approved vape as a smoking cessation aid because there is no convincing evidence to show that it helps stop smoking," he added.
Domingo said the solution for smokers to quit smoking is not another product that will bring about other types of diseases.
Domingo encouraged smokers to just seek the assistance of the DOH's "Quitlines" if they decide to stop smoking.
Aside from Quitlines, Domingo said there are other smoking cessation clinics open to provide help for smokers.
Instead of using vapes, Domingo said, there are better alternatives to quit smoking such as nicotine patch.
"With nicotine patch, there is no smoke or chemical to enter the body," he said.
E-cigarettes warm flavored liquid to produce vapor that is free of the estimated 7,000 chemicals in tobacco smoke, but does contain a number of substances that could potentially be harmful.
Critics say that apart from being harmful in themselves, the multiple exotic flavors of e-cigarette liquids appeal particularly to youngsters and risk getting them addicted to nicotine.
The devices have become hugely popular in the past decade but a rash of vaping-linked deaths and illnesses in the United States is raising caution about the product already banned in some places.
Last September, India became the latest country to ban the import, sale, production and advertising of e-cigarettes, citing in particular concerns for its youth.
The devices are banned in several places such as Brazil, Singapore, Thailand and the US state of Massachusetts.
Vaping has taken off in the Philippines, with specialty shops and vapers puffing away in public a common sight.
E-cigarette users were caught off guard when Duterte ordered the ban and arrest of those vaping in public.
The abrupt prohibition, revealed by Duterte late Tuesday, adds to a growing global backlash against a product once promoted as less harmful than smoking tobacco.
Duterte, a former smoker, called the devices "toxic" and said vaping introduced "chemicals" into the user's body.
Sen. Christopher Go, for his part, expressed support to Duterte's decision to ban the use and importation of e-cigarettes into the country.
Go said he initially spoke with the President on the need to regulate e-cigarettes. He said the President has already made the decision and will soon release an executive order.
Go said the President's decision to ban the use and importation of e-cigarettes was based on concern for the health of Filipinos, which he said should always be a top consideration in crafting policies regarding those products.
Ironic
On the other hand, different groups of vapers sought the immediate lifting of the presidential ban.
Representing 200,000 vapers, the Philippine E-cigarette Industry Association (PECIA), the Coalition of Asia Pacific Tobacco Harm Reduction Advocates (CAPHRA), The Vapers Alliance and the Nicotine Consumers Union of the Philippines (NCUP) asked Duterte to just regulate and not ban the use of e-cigarettes.
Clarisse Virginio of CAPHRA said banning use of vape will only encourage many ex-smokers to just go back to their filthy habit.
"As an anti-smoker, it is as if the President is encouraging vapers to go back to smoking which is ironic. The scientific evidence that e-cigarettes are 95 percent less harmful was ignored/disregarded," Virginio said.
"A ban on vaping will only worsen the smoking situation in the Philippines," she added.
Virginio argued e-cigarettes have been helping millions of smokers quit and health authorities should not make hasty decisions amid the US outbreak of lung illnesses.
"Let's wait for the final results of the investigation," she said.
PECIA said regulation is the best way to address concerns on e-cigarettes.
"Although not risk-free, e-cigarettes are still much better alternatives to cigarettes. The planned executive order of the President should regulate the manufacture, sale and use of e-cigarettes, " the group said in a statement.
PECIA maintained e-cigarettes are meant for adult smokers who want to switch to less harmful alternative products and should not be used by minors and non-smokers.
Citing results of a study, PECIA said the use of e-cigarettes is helping between 50,000 and 70,000 smokers in England quit every year.
In the Philippines, about 1 million Filipinos use e-cigarettes.
The vapers groups said the problem lies with the government's failure to regulate the e-cigarette industry and not from the alleged unknown chemicals contained in electronic nicotine delivery systems.
They noted the US Center for Disease Control and Prevention (CDC) findings that Vit E acetate is the chemical that caused illness and deaths among vapers are not yet conclusive.
"Nicotine is not the problem, it's the smoke. Sadly, our President has been grossly misinformed on the dangers of nicotine. He's been given bad advice. In fact, nicotine helps smokers quit. It's even the main ingredient of nicotine replacement therapies. We thought the President wants smokers to quit," they said. – Mayen Jaymalin, Romina Cabrera, Cecille Suerte Felipe, Marc Jason Cayabyab, AFP