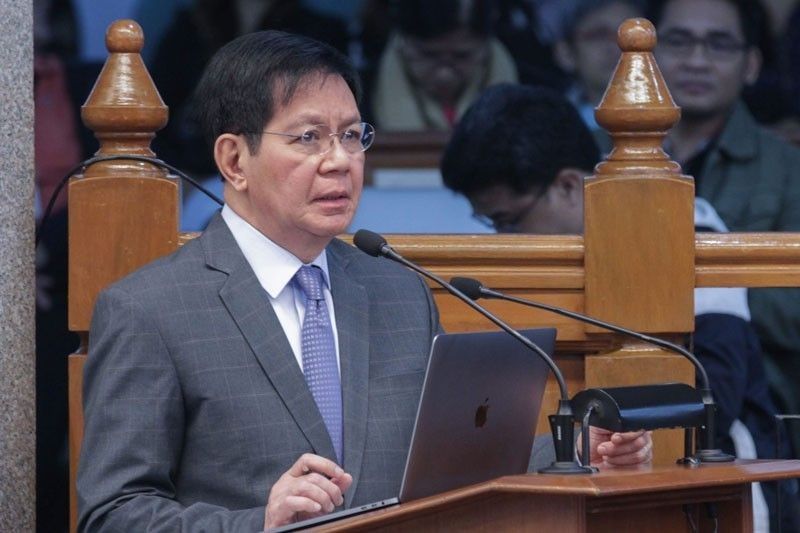 Senator Panfilo Lacson said the Department of Public Works and Highways, Department of Education and Department of Transportation recorded only 36 percent to 39 percent disbursements.
The STAR/File
Senate eyes slash in budgets of 3 departments
MANILA, Philippines — The Senate is eyeing cuts in the budgets of three major departments found underspending and realigning these funds to health, national ID system and education, specifically the Free Tuition Act, Sen. Panfilo Lacson said yesterday.
Lacson said the Department of Public Works and Highways (DPWH), Department of Education (DepEd) and Department of Transportation (DOTr) recorded only 36 percent to 39 percent disbursements.
The DPWH's proposed budget for 2020 is P529.771 billion; DepEd, P525.884 billion and DOTr, P126.86 billion.
"The top three agencies with huge unused appropriations, the usual, the DPWH, DepEd, DOTr. When we look at the disbursement over obligations, it's dismaying – just 36 percent, 39 percent, meaning the amount they're releasing is too small compared to their obligation," Lacson said in English and Filipino at the Kapihan sa Senado forum.
Lacson said unused appropriations have to be realigned to other government programs like the Free Tuition Act.
He noted that the present administration has three landmark laws – the National ID, Universal Health Care (UHC) and Universal Access to Quality Tertiary Education.
"So what's the use of passing the UHC act? It seems there's none if we don't fill the funding gap of between P151 billion and P241 billion," he said.
He said the National ID, which was signed into law in 2018, should be implemented in 2020.
The Senate completed the plenary discussion on the P4.1-trillion proposed national budget for 2020 on Wednesday and is gearing for the period of amendments next week.
Lacson said the discussion on the budget, which started on Nov. 11, was a learning experience for him as a senator.
"Learning experience simply because we do our research and then there are so many things we discover every year, some irritating, some shocking, some funny," said Lacson.
"But it is our duty to scrutinize and debate on the national budget. After all, pera naman nating lahat ito (it's our money)," he said.
Lacson said one of the general issues raised during the budget deliberation was the country's borrowing more than its projected spending.
"For example in the general principles, we are borrowing more than what we need to spend… We are projected to borrow P897 billion to fund a projected deficit of P677 billion. So right away we already have debts. Why do we have to borrow that much just to cover deficit?"
Lacson also said that while some lawmakers were trying to hide their insertions in the national budget, the others were trying to look for what is being hidden from them. He likened the situation to a game of hide-and-seek.
"Exciting, sometimes irritating. More exciting than irritating," Lacson said.
He admitted that having a pork-free national budget seems to be an impossible dream and could never be achieved in his lifetime.
For instance, Lacson said there were about P14 billion to P20 billion in pork barrel funds in the DPWH alone.
Lacson said he is pushing for a measure that would allow members of the media to be present during bicameral conference committee meetings on the national budget to further promote transparency.