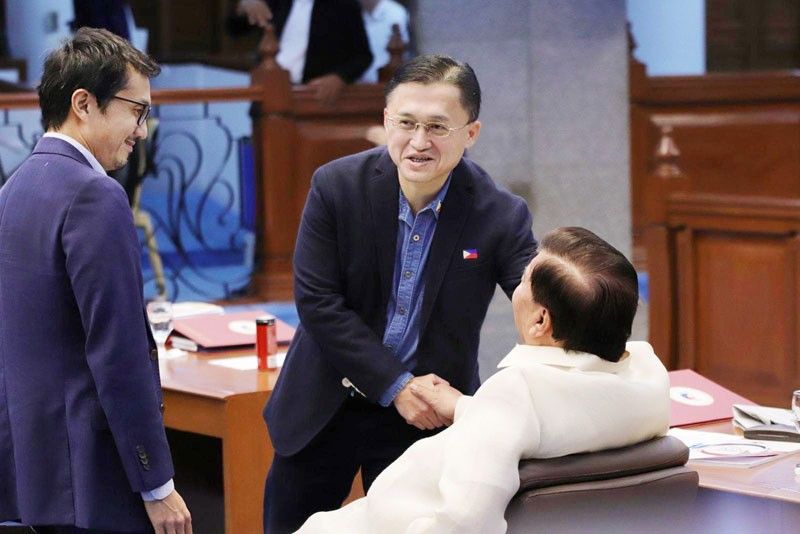 Sen. Bong Go shakes hands with Senate Minority Leader Franklin Drilon during deliberations on the proposed P15.5-billion budget of the Bases Conversion Development Authority at the Senate yesterday. Looking on is BCDA president and CEO Vince Dizon.
Duterte wants 'Use Use Use,' not just 'Build Build Build'
Paolo Romero
(The Philippine Star) - November 19, 2019 - 12:00am
MANILA, Philippines — President Duterte has ordered concerned agencies to speed up completion of their infrastructure projects under the "Build, Build, Build" program so the public can benefit from them, Sen. Christopher "Bong" Go said yesterday.
He mentioned Duterte's directive during deliberations on the proposed P15.5-billion budget of the Bases Conversion Development Authority (BCDA) at the Senate.
"The President wants that all documents for the 'Build Build Build' approved or not approved leave the desk of these agencies," Go said. "We talked and he wants not only 'Build, Build, Build' but also 'Use, Use, Use' of these infrastructure project."
Duterte's order came after several agencies, including the Department of Transportation (DOTr), were hit by state auditors and senators for failing to spend a significant part of their budgets this year, which meant many major projects were not implemented or finished.
Senators are moving to have the DOTr's proposed P147-billion budget for 2020 slashed by at least P60 billion because of its poor dis­bursement record.
Senators earlier said they would probe the DOTr's Metro Manila subway project, whose cost was reportedly bloated by over P100 billion, and its route and specifications were suspiciously altered that it would be traversing twice a major earthquake fault and flood prone areas, and plow through thousands of private residences.
Go said he would be the first to investigate any whiff of corruption or irregularities in such projects.
He said that he fully supports the development of the BCDA's New Clark City sports hub, calling it "a good investment" which will benefit Filipino athletes, the country's sports program, as well as the economy.
"I fully support the development of New Clark City, especially the sports hub which would greatly benefit our athletes. It is a good investment, as this facility will be very useful for us well beyond the time that we will be using it during the 2019 SEA Games," the senator said.
Go, however, said that the BCDA still needs to demonstrate how it will guarantee the return of investment for the sports facilities beyond their hosting of the SEA Games.
The senator also clarified his move to suggest the recall of the BCDA 2020 budget, which has already been approved last week.
"I understand that (as) one—if not the most—important legislative measure that goes through this chamber is the budget and it is important for us to make sure that not a single centavo is wasted," Go said.
"But apart from these positive effects, let us still ask the hard questions and explain to the public why this government is spending this much and what kind of benefits will the people receive beyond this year's events," he said.
During his questioning, Go asked for other sources of income BCDA has aside from the subsidy it is currently receiving from the General Appropriations Act.
Sen. Sonny Angara, who was defending the BCDA budget as chairman of the finance committee, responded that the government-owned and controlled corporation has other assets and revenues from its operations.
Angara added that the facilities are being packaged along with adjoining properties to enhance real estate development within the area.
The BCDA budget for 2020 has been approved by the Senate after the period of interpellations in the plenary on the same day.
Go also admitted during his manifestation that while he may lack the experience as a legislator compared to his colleagues, he has been in public service for the past 21 years and he will work hard to serve the people further as a senator.
He said he is humble enough to admit that there are things he still needs to learn in terms of legislation and policymaking.
"I admit that as a legislator, I have a lot to learn from you, especially from veteran lawmakers. I still a long way to go if we talk about 'bill, bill, bill'," he said.