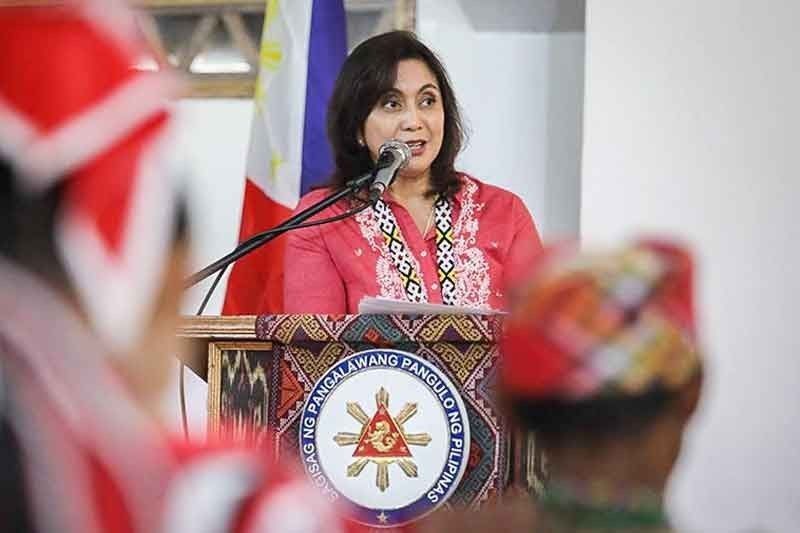 Vice President Robredo said she would meet with officials of the Catholic Bishops' Conference of the Philippines (CBCP) for possible adaptation of the Ugnayan ng Barangay at Simbahan (UBAS), an anti-drug campaign initiated by her late husband, former interior secretary Jesse Robredo.
The STAR/File
Robredo to meet with CBCP
MANILA, Philippines — Vice President Leni Robredo will meet with leaders of the Catholic Church as well as executives of other foreign embassies, aside from the United States, as part of her efforts to recalibrate the government's drug war.
Robredo said she would meet with officials of the Catholic Bishops' Conference of the Philippines (CBCP) for possible adaptation of the Ugnayan ng Barangay at Simbahan (UBAS), an anti-drug campaign initiated by her late husband, former interior secretary Jesse Robredo.
"I have a meeting soon with the CBCP. I will ask for their help to activate the UBAS," the Vice President said.
Robredo, who co-chairs the Interagency Committee on Anti-Illegal Drugs (ICAD) with Philippine Drug Enforcement Agency (PDEA) director general Aaron Aquino, said she would also be meeting with officials from the embassies of Japan, Australia and Thailand.
"Our plan really is to hold meetings with many countries. In fact, we have set an appointment with the ambassador of Japan, we will talk to Australia, we will talk to Thailand. We're trying to talk to as many people as possible, as many offices as possible," she said yesterday over dzXL.
"There's a big problem in the supply, most of which are through transnational shipment. There's a route of drug trafficking and we will try to talk to these countries," she said.
She is also set to meet this week other ICAD member-agencies, including the Department of Health, Department of the Interior and Local Government, Dangerous Drugs Board and a multi-sectoral group.
The Vice President, during her first week as ICAD co-chair, had met with officials of the United Nations Office on Drugs and Crime and the US embassy. She also met the law enforcement cluster of ICAD, which includes the Philippine National Police, PDEA, and National Bureau of Investigation last week.
Earlier, Senate President Vicente Sotto III said Robredo should coordinate with countries like China and other Asian nations and not with the UN and the US.
Sotto, who previously chaired the DDB, criticized the UN for believing in hearsay statistics on drug dependents in the country.
In a previous media interview, the Vice President tagged China as the main source of illegal narcotics in the country.
The government, Robredo said, should look into reports that the bulk of the shabu being sold in the Philippines comes from China, with which the Duterte administration has a blossoming relationship.
But her co-chair, Aquino, contradicted her, saying the illegal drugs were traced to the "Golden Triangle," a drug syndicate operating in the borders of Laos, Thailand and Myanmar.
Cooperation amid 'resentment'
Robredo said she would strive hard to cooperate with other agencies in the war against drugs despite some "resentment" from some law enforcement officials over her appointment.
Robredo said she knows her task despite some members of the ICAD apparently having misgivings on her capability or not trusting her enough with sensitive information on the government's campaign against illegal drugs.
The Vice President made the comments after President Duterte warned that she would be immediately fired if she makes public classified and confidential issues related to the illegal drugs situation and drug suspects in the country and endanger the security of the state.
"I don't want to waste my time on those who don't want to cooperate. I will work with those who want to cooperate," the Vice President said in Filipino in her weekly program over dzXL.
Aquino earlier said that having a list of high-value targets is beyond the Vice President's mandate.
Robredo said she made the request to provide her the list through a letter and it was Aquino who disclosed it to the media.
"It was a private communication. We didn't use the media to announce that we're asking for the high-value targets," she said.
The Vice President, a lawyer, reiterated the importance of having a database in the fight against illegal drugs, adding that she knows how to treat classified or confidential information.
Asked to comment on Aquino's statement that they are willing to provide Robredo the list of high-value target in a closed-door meeting, Robredo replied, "Parang nagbibiruan naman tayo nyan eh (it's like we're fooling around here)."
The Vice President said while she wants transparency in the war on drugs, she will not jeopardize the security of the state.
"Of course, if it's sensitive, closed-door. But the ball is in their hands," she said.
"We want to be transparent on what is happening for the people to know. But we will not divulge sensitive information that will jeopardize the campaign," she said.
Robredo stressed being transparent in the campaign would ensure the accountability of abusive officials.
"If they will hide everything, how are we going to make those who are not doing their job properly accountable? How are we going to make accountable those who are corrupt?" she said.
Robredo maintained she is not after the position but the opportunity to correct what she said is lacking in the war on drugs.
"It's not correct to call me a drug czar. Because if you say drug czar you are in charge of everything. But we can see now even with the order of the President to follow (me), allow me to lead, there are many resentments from different agencies," she said.
The Vice President said she is set to submit her second report to Duterte today or tomorrow.
"Every week, I will inform him (Duterte) of everything I do as far as the campaign against illegal drugs is concerned—all observations, all recommendations," she said.
'Make narco-list public'
Opposition congressman Edcel Lagman, meanwhile, questioned President Duterte's threat to fire Vice President Robredo from the anti-drug council if he finds out that she has been sharing information about the government's so-called narco-list.
"Why should the narco-list of high-profile narcotics traders and users as well as the records of those involved in extrajudicial killings related to the brutal war on drugs be elevated to the status of state secrets?" he asked.
The veteran lawmaker from Albay noted that no less than Duterte himself "previously released on several occasions the names of high profile suspects in the drug list which included businessmen, politicians, generals and police officers, among others."
"In America's Old West and until now in most countries, the watchlist of dangerous criminal suspects is publicly released and posted to prevent their commission of more crimes and help in their capture," he argued.
Lagman, an ally of Robredo in the opposition Liberal Party, said she "knows only too well that state secrets must not be made public nor shared with unauthorized persons in order not to jeopardize national security."
"And she would treat classified information given to her as confidential," he said.
Rep. Mike Defensor of party-list Anakalusugan called on Robredo to "destroy the demand for illegal drugs by sending as many abusers as possible to compulsory rehabilitation."
"There are two sides to the drug problem – the supply side and the demand side. We have to suppress both sides at once if we are to succeed in the war on drugs," Defensor, vice chairperson of the House health committee, said.
He called for a "sweeping demand reduction strategies" that include hard-hitting preventive education drives to discourage new drug users, and greater access to government-subsidized rehabilitation services for existing abusers.
"In other countries, demand reduction is a proven approach in cutting down supply. With less abusers, supply also drops as the market for drugs shrinks," the former cabinet member and presidential chief of staff pointed out.
Citing figures from the Dangerous Drugs Board, Defensor said that in 2018 alone, only 5,447 abusers were admitted to 54 public and private residential and outpatient treatment facilities.
"We have a multitude of abusers. Yet, only a few of them are undergoing either voluntary or compulsory rehabilitation," Defensor said. "Our strategy with respect to abusers should be: you either go to rehab, or you go to jail."
At present, Defensor said the country has "extremely limited" public drug treatment centers, with just one or two in every region.