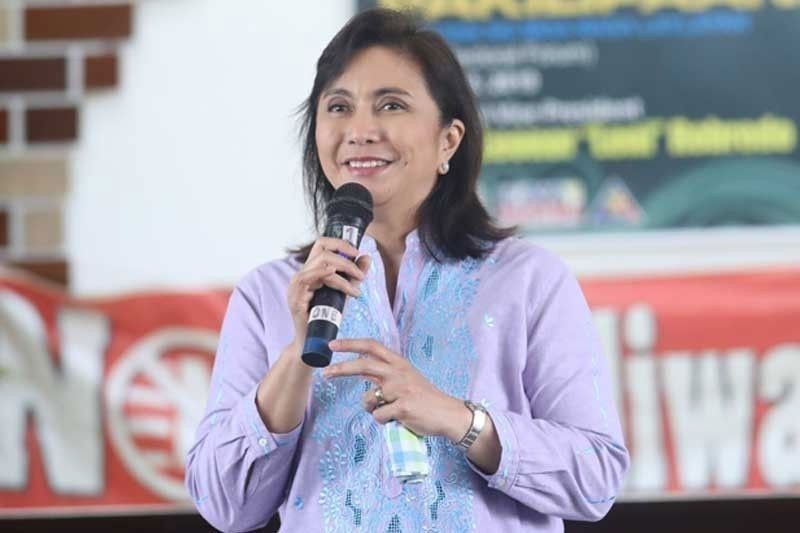 "I am aware that there are limitations to my position," Robredo said in a mix of English and Filipino on Friday, amid objections from some government officials to her request for information related to the anti-illegal drug campaign.
Photo by OVP/File
Vice President accepts limitations of drug czar post
Janvic Mateo
(The Philippine Star) - November 17, 2019 - 12:00am
MANILA,Philippines — Vice President Leni Robredo has admitted there are limitations to her power as co-chairperson of the Inter-Agency Committee on Anti-Illegal Drugs (ICAD), despite President Duterte's earlier promise to give her a free hand in leading the government's war on drugs.
"I am aware that there are limitations to my position," Robredo said in a mix of English and Filipino on Friday, amid objections from some government officials to her request for information related to the anti-illegal drug campaign.
"But for me, despite the limitations, I will do whatever I think I can. If they say that I would not be able to do something, then that's OK. But so long as they give me the opportunity to assess and recommend, I will do that because I am serious with this job," she added. Robredo said ICAD is in charge only of policymaking and not law enforcement.
"We have to understand that I was appointed to an interagency group that is only in charge of policymaking. I do not have the supervision of the PNP (Philippine National Police). I do not have supervision of the departments," she said.
"At the end of the day, it would be the President who would call the shots, because he has (supervision) of the law enforcement," she added.
Robredo's description of her job appears to be different from what Duterte had promised her – that she would be given law enforcement powers to solve the drug problem.
He had challenged her to lead the campaign following her criticisms of the administration's deadly conduct of the war against illegal drugs.
"If anything that has to do with drugs and criminality, you ask her. I'll put her there, let's see. I won't interfere," the President said earlier this month. "Tell her to accept it, she'll be famous. I couldn't do it, maybe she can."
Even presidential spokesman Salvador Panelo said "all offices, bureaus, agencies or government instrumentalities involved in the enforcement of the law on prohibited drugs will be placed under her command and supervision with a Cabinet secretary portfolio, to ensure her effectiveness in combatting the drug menace."
But instead, the Palace designated the Vice President as co-chair of ICAD, an interagency body tasked to synchronize government efforts in implementing the illegal drug campaign.
She co-heads the body with Philippine Drug Enforcement Agency (PDEA) chief Aaron Aquino, who had previously questioned her capability lead the anti-illegal drug campaign.
It is unclear if the post holds a Cabinet rank, as the "co-chair" position was not in the original Executive Order that created the ICAD.
The Palace later said that Robredo would only be invited to Cabinet meetings if the drug campaign is on the agenda.
Less than a month since she accepted the post, the Vice President has already faced resistance from some ICAD members, including Aquino who opposed giving her the list of high-value targets and drug addicts.
The PDEA chief said on Friday that access to such information is beyond her mandate as head of the committee.
Closed-door meet
But in a statement yesterday, Aquino said PDEA may show the list to Robredo, but only in a closed-door executive meeting. He said the list contains classified information which, if leaked, might compromise law enforcement operation.
"In simple terms – if we give the list to VP Robredo, we will not be able to tell who has been given access to it," he said in Filipino.
The PDEA chief noted that he himself does not have a copy of the list in his possession, but he does have the authority to check it from time to time with his intelligence service.
He said that this move is just part of SOP of law enforcement and not an act of disrespect toward the office of the Vice President.
Earlier, Interior Undersecretary for external and legislative affairs Ricojudge Echiverri also expressed reservations over the release of drug war data to the Vice President, saying this may be used against law enforcement agents.
PNP officer-in-charge Lt. Gen. Archie Gamboa said they will not scrap Oplan Tokhang as recommended by Robredo, but agreed to "rethink" the campaign and come up with an improved version.
Albay Rep. Edcel Lagman of the opposition Liberal Party said law enforcement authorities were apparently trying to "blindfold" Robredo in her in her new job as ICAD co-chair.
"Concerned agencies like the PDEA and the PNP cannot blindfold Vice President Robredo in her new role as anti-drug czar and push her to the precipice by denying her the accurate information on illegal drugs," he said.
"Policy reorientation on the anti-narcotics campaign must be data- and evidence-based. Robredo's request for a copy of the list of high value targets and drug addicts is essential and not beyond comprehension," Lagman reiterated.
He said data being requested by Robredo "are indispensable in pursuing non-violent and innovative strategies in the anti-illegal drugs campaign."
"What makes the narco-list inordinately sacrosanct that it should be held close to the chest of PDEA's director general Aaron Aquino and Robredo's co-chair in the Inter-Agency Committee on Anti-Illegal Drugs?" Lagman said.
"Without these empirical data, the Vice President will be galloping blindly on a redirected anti-drugs drive," he insisted.
Health issue
Sen. Risa Hontiveros, for her part, expressed support for Robredo's plan to use a public health approach to address the country's drug problem.
"Addiction is a health issue. On the other hand, big-time drug pushing is a serious crime. On the demand side, we need to push for the implementation of a barangay health and rehabilitation program," she said.
"On the supply side, a modern, rights-based drug law enforcement which will focus on big drug lords and syndicates is needed. I look forward to the Vice President acting on these things," she added.
Meanwhile, Foreign Affairs Secretary Teodoro Locsin Jr. said drug syndicates are not using the country to launder their dirty money.
"The drug cartels are hesitating to launder their funds in the Philippines under Duterte. They might get shot in the head. That think tank might have them as patron subscribers," he said on Twitter.
Laundering is the process of "cleaning" or legitimizing funds derived from illegal sources like drug peddling, jueteng and other banned numbers games, human trafficking, extortion, corruption and other illicit activities.
Locsin was commenting on a report by the London-based Capital Economics that more foreign investors would come in if Robredo replaces President Duterte if the latter gets incapacitated or dies in office. In part, the report is about Duterte's health.
"Speculation over the health of President Duterte continued this week following the announcement that he would be working from home in order to 'have some rest.' Since becoming President in 2016, Duterte has been dogged by rumors of poor health, and last month it was confirmed he was suffering from myasthenia."
Citing data from the Philippine Statistics Authority, Capital Economics noted that since the President assumed office, "approved foreign investments have been much lower than previous years."
"That is not to say, however, that Duterte's presidency has been a disaster for the economy. His massive popularity has enabled him to pass reforms that might not have otherwise made it through Congress," it said. – Christina Mendez, Jess Diaz, Cecille Suerte-Felipe, Romina Cabrera