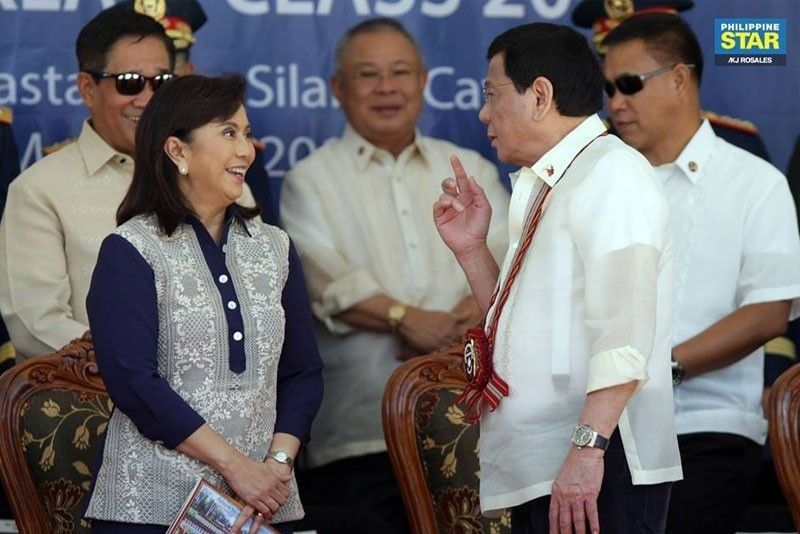 If Robredo would reveal state matters, Duterte warned that she might "jeopardize the security of the state."
STAR/Kj Rosales/File
Duterte to fire Robredo if she reveals state secrets
MANILA,Philippines — If Vice President Leni Robredo would make public classified and confidential issues related to the illegal drugs situation and drug suspects in the country and endanger the security of the state, President Duterte vowed yesterday that he will not think twice about removing her as co-chairperson of the Inter-Agency Committee on Anti-Illegal Drugs (ICAD).
In an exclusive interview with GMA News, Duterte noted there are limits to the information which she may share with other states or international groups.
"There's a limit to that. I know that she's a lawyer and she has other advisers... There are certain matters that should be kept with the government, that classified matters cannot be shared. Once (she does) that, she's out, I would fire her," Duterte said.
If Robredo would reveal state matters, Duterte warned that she might "jeopardize the security of the state."
The President appointed Robredo to co-head the government's war against drugs by putting her as co-chair of ICAD, the lead agency in the fight against illegal drugs.
Duterte gave Robredo at least six months to spearhead the administration's drug war after she commented that the government's fight against illegal drugs is a failure three years into the Duterte presidency.
"Even if we say that the offer was mere politicking and the government agencies will not follow me and they will do everything for me not to succeed, I'm ready to bear all of these. Because if I can save one innocent life, my principles and heart are telling me I should give it a try," the Vice President said upon accepting the ICAD co-chair position.
Robredo has lately been asking for information from ICAD as to the identities of those considered to be high-value drug lords and other pertinent information, such as the actual number of drug addicts so, as she said, government would be able to effectively address the drug menace without getting anyone killed.
Slow down
Senate President Vicente Sotto III advised Robredo to slow down on her media binge, as he agreed with Philippine Drug Enforcement Agency (PDEA) director general Aaron Aquino, now that there is a need for her to get a list of high-value targets as she had reportedly requested.
Sotto said Robredo's role as co-chair of ICAD is to coordinate policies among agencies involved in the campaign against illegal drugs like PDEA and the Philippine National Police, among others.
"Dir. Gen. Aquino is right. The mandate of ICAD is merely coordinating policies among agencies involved in all aspects of drug abuse and illegal drugs. I know because I started the inter-agency concept with DDB (Dangerous Drugs Board) director Manuel Supnet in 1989," said Sotto.
"A list of high value targets will merely leak if the agencies concerned will submit to the ICAD. If I were an adviser to the VP, I will tell her to slow down on the media binge. Submarine strategy is more effective," Sotto said in a viber message to Senate reporters.
Fil-Chinese group reacts
The Federation of Filipino Chinese Chambers of Commerce and Industry Inc. (FFCCCII) has advised caution in making public statements that they said could promote unfair stereotypes.
This comes as Robredo said the government should look into reports that China was the top source of illegal drugs in the country and that those arrested here were either Chinese nationals or Filipino-Chinese.
FFCCCII president Henry Lim Bon Liong said that some reports have since inadvertently besmirched their reputation and generalized their community as peddlers of illegal drugs.
"Let us be more careful in making public statements that may unnecessarily create rancor, conflicts, misunderstanding and promote unfair stereotypes," Lim said in a statement.
Still, Lim said that their community and group reaffirm its support to the government's campaign against illegal drugs. – With Edith Regalado, Cecille Suerte Felipe, Romina Cabrera