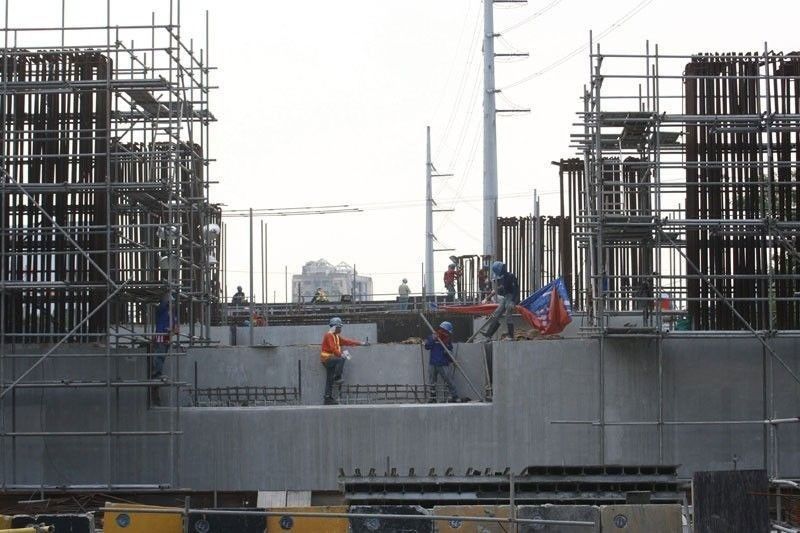 Presidential spokesman Salvador Panelo, on the other hand, agreed with the recommendation of Albay Rep. Joey Salceda.
STAR/Michael Varcas, File
Speaker rejects Duterte special powers for BBB
MANILA, Philippines —Saying it was too late in the day, Speaker Alan Peter Cayetano has rejected a proposal to give President Duterte special powers to speed up Build, Build, Build (BBB) flagship projects under his administration.
Presidential spokesman Salvador Panelo, on the other hand, agreed with the recommendation of Albay Rep. Joey Salceda.
"I think the suggestion of Congressman Salceda is good because one of the reasons why there are delays in the projects is there are (issues on) right of way. We are encountering problems with the owners who would bring the ROW concerns before the courts to get temporary restraining order," Panelo said yesterday.
He noted that if there are no obstacles, then it would be easier for the concerned agencies to proceed with their activities and allow the government to meet targets before the President ends his term in 2022.
Panelo was quick to say that he was just stating his own opinion since he has yet to discuss the matter with Duterte.
Salceda, who is filing a measure, said the emergency powers would remove "roadblocks" to projects such as right of way issues.
While he finds the construction seemingly slow, Salceda added that it is too early to say that the flagship projects are a "dismal failure" – contradicting the statement of Senate Minority Leader Franklin Drilon, who does not see any need for emergency powers to boost the BBB program.
"The emergency power for the transportation sector has been there for a couple of years. They could not come to an agreement because they do not know what their plans are. They failed to submit what the plans are. So what is the need for an emergency power if we don't know what we are planning to do?" he said.
"If you need 2,000 engineers for the Department of Public Works and Highways (DPWH), there's no need for emergency powers. You don't need emergency power to spend money allotted on time," he added.
Cayetano yesterday said the House of Representatives will designate the lawmaker son of tycoon Eduardo Cojuangco Jr. as head of a new committee that will ensure the implementation of the government's big-ticket infrastructure projects.
"We will put (Tarlac) Rep. Charlie Cojuangco (to) look over flagship programs and projects, and the duty will not only be to criticize, but also to propose how we can speed up projects," Cayetano told reporters in a chance interview in Tagaytay City.
Palace slams Drilon
Malacañang yesterday lashed out at Drilon for belittling the accomplishments of the Duterte administration's BBB flagship programs.
"One must admire the effrontery of Sen. Frank Drilon for saying that the BBB program of President Duterte is a dismal failure, coming from someone who was one of the pillars of the previous administration that has zero accomplishment in its infrastructure program," Panelo said.
"Such chutzpah is matched only by his obvious ignorance on the accomplishments of the present administration," he added, noting that Drilon "is either too lethargic to get his facts straight or is unable to contain the opposition's penchant to foist false narratives."
"The facts can not be any clearer," Panelo said.
At the outset, Panelo joined his administration allies in asserting that there has been a 12.7 percent construction growth from 2016 to 2018.
He also outlined completed major projects, citing the report of Presidential Adviser for flagship programs and projects Vivencio Dizon at Malacañang on Wednesday. They include North Luzon Expressway Harbor Link Segment 10, Governor Miranda Bridge (Davao del Norte), Laguna Lake Highway, Pigalo Bridge, Tarlac-Pangasinan-La Union Expressway-Pozorrubio; Bohol-Panglao International Airport; Cagayan de Oro Passenger Terminal Building; Cavite Gateway Terminal; Communications Navigation System/Air Traffic Management and New Clark City.
"There are 35 constructions ongoing, 32 projects to commence construction within six to eight months, 21 are in the advanced stages of government approval and 12 in the advanced stages of feasibility studies," Panelo said.
A total of 38 projects will be completed by 2022. Twenty-two will be partially operational or at substantial completion and 40 will be completed beyond 2022.
Among those already undergoing construction are Light Rail Transit-1 Cavite extension (Baclaran-Cavite), Mass Rail Transit-3 rehabilitation, Metro Manila Subway, MRT-7 common station, LRT-2 East extension, Philippine National Railways Clark, Sangley Airport, Ninoy Aquino International Airport rehabilitation and Clark Airport construction.
Three years after Duterte took office, Public Works Secretary Mark Villar reported the completion of 9,845 kilometers of road; 2,709 bridges; 4,536 flood control projects; 82 evacuation centers and 71,803 classrooms.
'Grossly unfair'
Meanwhile, the Department of Transportation (DOTr) has refuted Drilon's claim the Duterte administration's BBB program failed dismally.
In a statement yesterday, the DOTr said it is "grossly unfair" to assess the success of the administration's massive infrastructure program by merely looking at the implementation of the flagship projects, many of which require immense pre-construction work such as right-of-way acquisition and community resettlement.
The agency said the appropriate standard should consider all infrastructure projects under the BBB.
"The BBB is comprised of thousands of infrastructure projects, majority of which have already started or have been completed. While an initial number of these projects were considered as 'flagship,' it should be noted that thousands of others, whose impact to local communities leaves very little doubt of their significance and value, have also been implemented under the BBB program," it said.
"The (DOTr) strongly belies claims made during the Senate budget deliberations that the BBB is a dismal failure," it added.
The agency admitted that while not all flagship projects under its watch may be completed by 2022, it is certain it could get the ball rolling for all.
No effect
The decision to replace 75 huge flagship projects with 100 small ones will have no effect in the spending and productive capacity of the government, Sen. Sonny Angara said as he sponsored the 2020 proposed national budget of the DPWH at the Senate yesterday.
Angara defended DPWH's 2020 proposed national budget from the scrutiny of Drilon, Sen. Panfilo Lacson and Senate President Pro-Tempore Ralph Recto for almost three hours yesterday, the fourth day of Senate deliberation on the 2020 national spending programs for next year.
"Nothing was lost as far as the spending and… the productive capacity and meeting the ratio (is concerned)," Angara said when interpellated by Recto on the effect of the decision to replace the administrations' flagship projects.
Senate Majority Leader Juan Miguel Zubiri said the DPWH 2020 proposed national budget is deemed submitted and approved during the Senate deliberation.
Lacson pointed out several "vague" projects listed in the DPWH budget for 2020, including P507 million for Kennon Road, P150 million for Manila North Road and P156 million for Jose Abad Santos Avenue (Gapan-Olongapo).
"Very general. When you say P507 million and the only description is Kennon Road, what will you do with Kennon Road? Which part of Kennon Road, what will be done? Nothing, because it's just Kennon Road. And there's another item below that, P76 million, with specifics… from this station to this station, it's clear. My worry is that there will be P76 million included with P507 million, the P76 million will be wasted," Lacson told reporters in an interview after the deliberation on the DPWH budget.
In his interpellation, the senator said the national budget is not a guessing game.
"It can never be guesswork. It is to be studied painstakingly, scrutinized diligently. It takes a lot of hard work and even passion on our part and on the part of our staff before we even can understand what the national budget is all about," he said. – With Delon Porcalla, Cecille Suerte Felipe, Richmond Mercurio