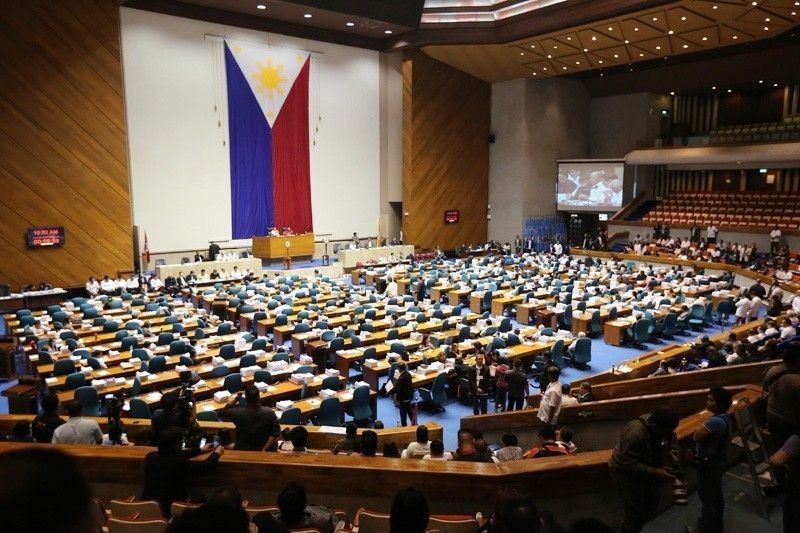 The STAR learned that the House committee on trade and industry is set to tackle the proposed measure, which has been pending since the previous 17th Congress, in hearings on Dec. 2 and 10.
The STAR/File
House resumes discussions on vape regulatory measures on vaping
(The Philippine Star) - November 12, 2019 - 12:00am
MANILA, Philippines — The House of Representatives will proceed with its deliberations on pending bills seeking regulation of e-cigarettes and vapes despite President Duterte's order banning the public use of the tobacco alternative.
The STAR learned that the House committee on trade and industry is set to tackle the proposed measure, which has been pending since the previous 17th Congress, in hearings on Dec. 2 and 10.
Muntinlupa Rep. Ruffy Biazon and Surigao del Norte Rep. Robert Ace Barbers both stressed the need for legislation to make any regulation or control on electronic nicotine delivery system (ENDS) products permanent and effective.
"I think the proposed legislation to regulate ENDS should still proceed and the President's determination and firm stand against vapes should be taken as a signal for the legislature to take immediate and urgent action," Biazon told The STAR.
Barbers agreed and explained that "there is still a need to pass a law soon if the government will adopt a ban on vapes that would cite policy and penal provisions."
Both lawmakers are proponents of pending bills seeking regulation of sale and use of ENDS in the country.
Biazon and Barbers, however, explained the President may order the ban and issue a corresponding executive order for the implementation in the absence of an existing law banning or regulating e-cigarettes.
"Yes, the President can issue a ban via an EO invoking the principle of public health and his mandate to protect the interest of the people under the Constitution," Barbers said.
Biazon, however, said it would be better if Congress comes up with a regulatory measure so the President can institutionalize his policy on ENDS.
"An EO is not an institutionalized policy though, unlike if the policy was adopted via legislation. What I am pursuing as an advocate is a law that would have some degree of permanence and that is not vulnerable to arbitrary changes," he said.
Biazon added Malacañang should issue the EO sooner, saying "a simple verbal order will be difficult to implement properly and actions taken by law enforcers can be questioned."
"It would be best if there is a written order detailing the basis of the policy, its scope and coverage, specific violations with accompanying penalties, identification of implementors to hold them accountable. This is essential to ensure proper enforcement and due process to those affected," Biazon suggested.
Bagong Henerasyon party-list Rep. Bernadette Herrera said there is no more question about the need for regulating the vaping industry following the President's directive.
However, Herrera expressed reservations regarding an all-out ban on vaping products. Herrera told OneNews' The Chiefs that since there are many vape users in the country, a total ban could create a black market for illicit trading.
This situation could be more dangerous and have consequences since the government is not good at implementing an outright ban, she said.
Herrera filed House Bill 5510 earlier this week which requires the establishment of an interagency group to address the vaping regulation.
Herrera said she is eyeing the inclusion of the Philippine Drug Enforcement Agency (PDEA) in this group, as well as the Department of Trade and Industry and the Food and Drug Administration (FDA).
Biazon earlier filed House Bill No. 40, which seeks to regulate use, sale and distribution of ENDS products.
The proposed measure specifically seeks to ban sale and use of ENDS products to minors with mandatory signages for this purpose.
It imposes a penalty of P5,000 or imprisonment of less than 30 days for violators on first offense and penalty of P10,000 or the same prison term plus revocation of business license for succeeding offenses.
The bill also mandates the FDA to regulate e-liquids and e-juices used in these products.
Sin tax retained
Lawmakers also took back their plan to drop tax measures on e-cigarette and vaping products following President Duterte's decision to ban their importation and public use.
Albay Rep. Joey Salceda, chairman of the House ways and means committee, said Thursday that Congress will no longer move for repeal of existing law imposing excise tax on ENDS products and withdraw the pending bill increasing it following Duterte's clarification that the ban is not absolute and only covers use of e-cigarettes or vapes in public places.
"Yes, we will retain it (sin tax on vapes)," Salceda said.
Sen. Pia Cayetano said she will still push through with measures that would seek to tax the controversial device.
Aside from pursuing a higher tax on sin products, Cayetano said she would file a bill that would regulate e-cigarettes or vaping.
Salceda, however, said there would be adjustment or a bigger increase in excise tax imposed on e-cigarettes to support the ban. – Edu Punay, Romina Cabrera, Cecille Suerte Felipe
"Given the precautionary principle of the initial reported ban, we might as well go for a higher rate than P25 per milliliter to P45 per ml. The one million vape users are almost totally upper-middle to high-income class as against the 23 million smokers, including the seven million in the lowest 50 percent. The entry cost to vaping is relatively high at P1,600," Salceda said.
"Whether you do it at home or anywhere, you will pay P45 per milliliter. (It's going to be) P45 ml from the current P25 ml. So effectively, we are making it more prohibiting," he said.
On Wednesday, Salceda said they would seek the repeal of Section 2 of Republic Act 11346, the law increasing tax on tobacco products, in the bicameral conference "to implement the position of the President to ban vape and heated tobacco products."
Salceda said they would also amend House Bill 1026, the measure increasing excise tax on alcohol and vaping products that was already passed last August to raise funds for the implementation of the Universal Health Care program of the government.
"This means a revenue loss of P1.4 billion, which we will offset from the taxes on alcohol products," he explained.
Salceda changed this plan after Duterte clarified the ban is not absolute and only covers public places, which means vapes could still be used in private places as well as in designated smoking areas.
RA 11346, signed by the President last July, imposed on ENDS a minimum P10 excise tax for 0-10 ml of liquid solution or gel starting Jan. 1 next year. Every 10.01-20 ml is taxed P20; 20.01-30 ml, P30; 30.01-40 ml, P40; 40.01-50 ml, P50; and for more than 50 ml, P50 plus P10 for every additional 10 ml.
Starting Jan. 1, 2021, the rate will be increased by 5 percent every year.
But HB 1026, once enacted, will increase these taxes.
As approved on final reading by the House, tax on heated tobacco products or e-cigarettes will be P45 per pack of 20 units or packaging combinations of not more than 20 units starting January 2020.
Specific tax per 20 units of heated tobacco products will increase to P50 in 2021, P55 in 2022, and P60 in 2023.
For vapor products with nicotine salt, P30 tax per milliliter starting 2020.
Specific tax per milliliter of vapor products with nicotine salts will increase to P35 to 2021, P40 to 2022, and P45 to 2023.
For conventional "freebase" or "classic" nicotine products, P4.50 tax per milliliter starting P2020, P5 in 2021, P5.50 in 2022, and P6 in 2023. The tax will also increase by five percent every year starting 2024.