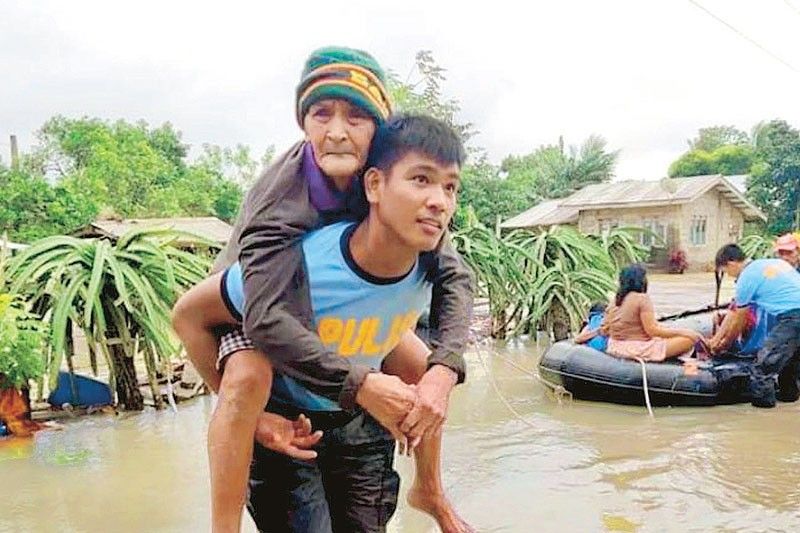 Photo provided by the Cagayan police shows an officer carrying an elderly woman during evacuation from the rising waters in Allacapan, Cagayan the other day.
More rescue teams sent to Cagayan
Jaime Laude
(The Philippine Star) - November 10, 2019 - 12:00am
MANILA,Philippines — The Office of Civil Defense (OCD) in Cagayan Valley has deployed additional rescue equipment for disaster response operations in the flood-stricken areas of Cagayan province's northwestern towns even as Typhoon Quiel exited the Philippine area of responsibility yesterday.
Low-lying villages in the towns of Allacapan, Ballesteros and Abulug are still submerged in floodwaters as river channels overflowed into a number of communities due to the heavy rains induced by Quiel since Nov. 5.
Ricardo Jalad, National Disaster Risk and Management Council (NDRRMC) executive director and OCD administrator, said pre-emptive evacuations were conducted in flooded barangays and at least 770 families or 2,983 persons from 98 flood-stricken villages were given relief goods and medicines. They have taken refuge in 29 temporary evacuation centers.
The flooded areas in Cagayan province include five barangays in Abulug, four in Allacapan, 10 in Aparri, one in Baggao, three in Ballesteros, six in Camalaniugan, 34 in Claveria, three in Lal-lo, two in Lasam, eight in Pamplona, seven in Sanchez Mira and 10 in Sta. Praxedes.
At least four baragays in Paoay, Ilocos Region were also reported to be flooded.
Atanacio Macalan Jr., Cagayan Provincial Disaster Risk and Management Office chief, reported Friday that four persons died in the widespread flooding and landslides that hit the northwestern areas of the province.
He identified the victims as nine-year-old Ejhay Dallego of Barangay Mapula-Pula, Claveria; Agosto Atiagan, 39, of Barangay Magdalena, Claveria; Jeremiah Saring, 14, of Barangay San Antonio, Aparri and Ariel Agustin, 32, of Barangay Imurong, Baggao town.
Both Dallego and Versola died from drowning last Wednesday and Thursday, while Atiagan was buried alive in a landslide on Thursday. Saring was electrocuted at the height of heavy rains also last Thursday.
"Evacuation operations were also conducted by the Philippine Coast Guard (PCG) last Friday to ensure the safety of residents in Abulog town who are affected by extreme flooding in the area," Macalan said.
Relatedly, two unidentified victims of soil erosion at Camp 7 along Kennon Road in Baguio City were taken to hospital for treatment.
In Apayao, authorities continue to search for James Carag, treasurer of Barangay Kargawan, who was carried away by flashfloods after his house was hit by landslide amid heavy rains. Although the incident happened last Wednesday, it was reported only last Friday because of the barangay's remote location and isolation.
The provincial board declared a state of calamity last Friday.
PLt. Ana Marie Lopez, Kabugao town acting chief of police, said Carag and his two siblings were able to get out of their house after the landslide. However, Carag returned to retrieve some belongings and was caught by the cascading floodwaters.
Retrieval efforts are also underway for the bodies of Apayao board member Tolentino Mangalao and his aide, PCpl. Rommel Gumidam Jr. of the Calanasan Police Station, who were buried by landslide at the height of the rains.
More rains
The Philippine Atmospheric, Geophysical and Astronomical Services Administration (PAGASA) yesterday said Typhoon Quiel has already left the Philippine area of responsibility.
Based on all available data, the eye of Quiel was located at 145 kilometers north of Pagasa Island in Palawan yesterday morning. It was moving west at 15 kilometers per hour with maximum sustained winds of 120 kph and gustiness of up to 150 kph.
Meanwhile, the tailend of a cold front will bring light to moderate with occasional heavy rains over Cagayan, including Babuyan Islands, Isabela, Apayao, Ilocos Norte and Aurora.
Residents of these areas, especially those living in areas identified to be highly or very highly susceptible to floods and rain-induced landslides, are advised to take precautionary measures, coordinate with local disaster risk reduction and management offices and continue monitoring for updates.
At the same time, the state weather bureau advised that sea travel is risky, especially for small sea vessels, over the seaboards of Northern Luzon and the western seaboards of Central and Southern Luzon due to prevailing or forecast rough sea conditions.
PAGASA also said it is monitoring a new low-pressure area spotted 1,835 kilometers east of Mindanao. The low-pressure area though is not yet directly affecting any part of the country. – With Rhodina Villanueva, Raymund Catindig