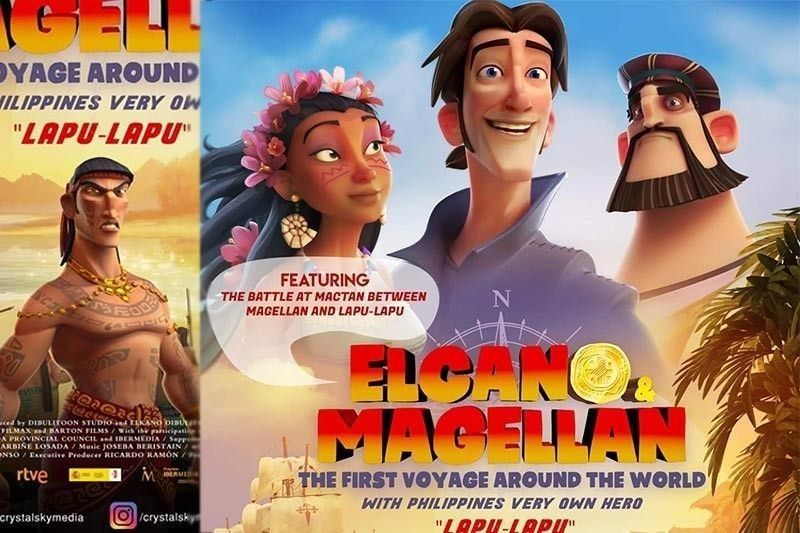 According to the film's synopsis, "Elcano and Magellan" features the challenges faced by the sailors – including "hostile tribes" – as they try to fulfill their desire to reach a "faraway paradise."
Crystal Sky Multimedia Facebook Page
Local distributor to re-evaluate Magellan film
MANILA, Philippines — The Philippine distributor of the Spanish-produced film "Elcano and Magellan" said it would re-evaluate the movie after it drew criticism for supposed historical inaccuracies.
"After careful thought and consideration, we have decided to re-evaluate the movie. We are in the process of inviting historians, members of the academe and film experts to a film preview," CrystalSky Multimedia said in a statement on Friday.
"We will base our next steps and actions on their comments and recommendations," it added.
The film follows the voyage of Portuguese explorer Ferdinand Magellan and Spanish navigator Juan Sebastian Elcano. It drew criticism over the portrayal of the natives in what the Spanish colonizers would later name the Philippines.
"The first voyage around the world with Philippines' very own hero Lapu-Lapu," declared the teaser poster released for the local audience. "Featuring the Battle of Mactan between Magellan and Lapu-Lapu."
According to the film's synopsis, "Elcano and Magellan" features the challenges faced by the sailors – including "hostile tribes" – as they try to fulfill their desire to reach a "faraway paradise."
"This is the story of the brave seafarers who grabbed the helm of history and changed its course forever. A journey which, as many people know, was started by Magellan, but that not so many know was concluded by Juan Sebastian Elcano, the real protagonist of our story," the synopsis read.
"What was laying in wait for these courageous men, however, was much more challenging: storms, hunger, hostile tribes and all kinds of incredible trials and tribulations would hinder the progress of our intrepid voyagers," it added.
The film immediately drew flak from Filipino online users, with some noting inaccuracies such as the clothes of the natives and how Lapu-Lapu appears to be portrayed as the antagonist for killing Magellan.
Some have called on the Movie and Television Review and Classification Board (MTRCB) to ban the film from being shown in Philippine theaters.
Meanwhile, the National Historical Commission of the Philippines (NHCP) urged the public to be critical of the film and use the opportunity to learn more about our ancestors.
"One must understand the nature of history as biased, subjective and selective," it said, stressing that the commission respects artistic freedom and that it does not endorse or critique films.
"The same goes for us, Filipinos, in how to view the events that comprised the Magellan-Elcano expedition, especially with respect to our history as a people… We are also biased toward our national sentiment and perspective that Lapu-Lapu is our hero and Magellan was the defeated foreign intruder," it added.
NCHP president Rene Escalante said Filipinos could look back at the country's rich history by reading books about Philippine history, culture and society or by visiting the National Museum and other galleries.
Escalante also emphasized the public should understand "the nature of history as biased, subjective and selective" just like the film, which favors Spain and reflects the Spanish point of view of history.