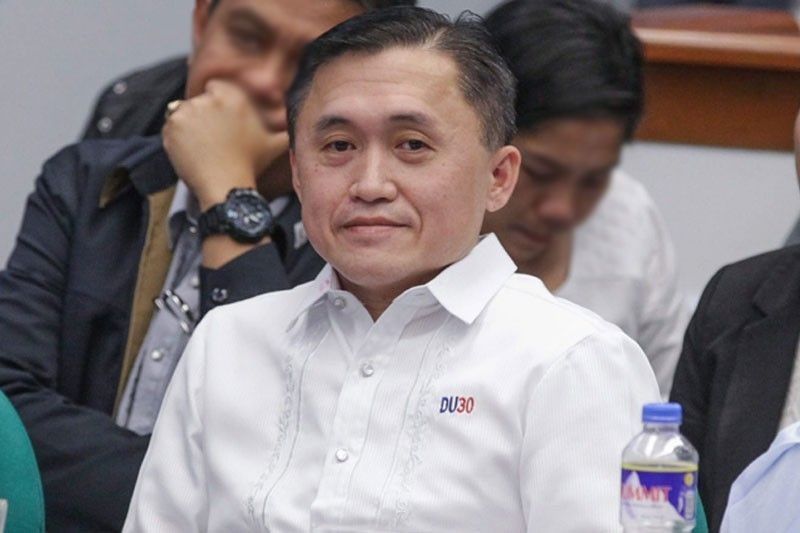 Senator Christopher Bong Go
Geremy Pintolo/File
Senator Bong Go leads groundbreaking for Yolanda housing units
(The Philippine Star) - November 9, 2019 - 12:00am
MANILA, Philippines — Sen. Christopher Go yesterday led the launching of a housing unit in Tanauan, Leyte in commemoration of the day when Super Typhoon Yolanda struck the region that left thousands of people dead and homeless.
"Today is indeed a momentous day for each and every one of us. We are all gathered here to witness the groundbreaking ceremony for the construction of more than 500 new housing units for those who lost their homes in the most unfortunate disaster in Philippine history, Typhoon Yolanda," Go said.
Go led the groundbreaking and capsule-laying ceremony for the construction of the Primetown Housing 4 intended for survivors of Typhoon Yolanda in Barangay Maribi, Tanauan.
In his message, Go expressed his appreciation for the project which sets to benefit families that lost their homes when Yolanda slammed through Leyte in 2013.
Go recounted how he and then Davao City mayor Duterte came to the aid of the survivors after the typhoon in 2013.
"After Yolanda hit, we discussed with Duterte how we could help. We immediately responded by appealing to the residents of Davao City to give any assistance. We also deployed policemen to help in the rescue efforts and maintain peace and order amid the chaotic situation," he said.
"We took the initiative, we did not wait for anyone to ask us for help. We immediately responded since time was of the essence," he said.
In the aftermath of the catastrophe, Duterte and Go were among the first local officials to help and bring aid to the Taclobanons.
Widely considered as the worst typhoon in Philippine history, Yolanda (international name Haiyan) claimed the lives of more than 6,000 individuals, while more than 1,000 remain missing. It also caused $2.98 billion worth of damage to the country's economy.
Having witnessed how the residents gradually rose up from the tragedy, Go lauded their resilience and persistence to rise up.
"I witnessed and appreciated the perseverance of a Filipino who would simply not give up the fight. It served as my inspiration to pursue public service for the Filipinos," Go said.
Go said his inspiration went to a higher level when he was elected as member of the Senate.
"This is the reason why up to now, I am not in the habit of giving up. I am still inspired to help any of our unfortunate countrymen wherever they are. Since I am a member of the Senate, I will use my powers and authority to help our countrymen to uplift their lives."
After the groundbreaking, Go proceeded to the Tanauan Plaza for the candle-lighting ceremony commemorating the victims of Yolanda.
Go also gave updates on the status of housing projects for Yolanda survivors amid the controversy on substandard housing units.
"After President Duterte assumed office, from about 45,000 units, now we have 125,000-180,000 housing units completed. We are more cautious because we have to make sure every last centavo spent by the National Housing Authority is properly spent," he said.
Go said he would move to have the issue of substandard housing units investigated by the Senate.
He shared that he has filed a bill seeking to provide a long-term socialized housing program to benefit all Filipinos, including disaster victims.
"I filed Senate Bill (SB) 203. Maybe it is ambitious, but at least we have a long-term housing plan for all Filipinos to eradicate squatting. There should be no squatters in our own country," Go stressed.
Go filed SB 203, or the "National Housing Development, Production and Financing Act of 2019," seeking to provide low-cost, accessible and affordable housing as part of the efforts to reduce homelessness in the country.
If SB 203 is passed into law, Go said various types of socialized housing programs for the poor and disaster survivors will be implemented, with the NHA taking the lead. Housing programs for low-salaried government employees will also be made available.
Go also guaranteed the President will go after government officials and contractors responsible for incomplete and substandard housing projects for Yolanda survivors.
While another Malasakit Center is set to be established in Leyte, Go encouraged the residents to utilize the first one at the Eastern Visayas Medical Center where they can avail of government medical assistance.
"No politics involved in Eastern Visayas Medical Center. Any Filipino citizen is entitled to its benefits," he said.
"We will be setting the criteria for the next LGU-run Malasakit Centers," he added.