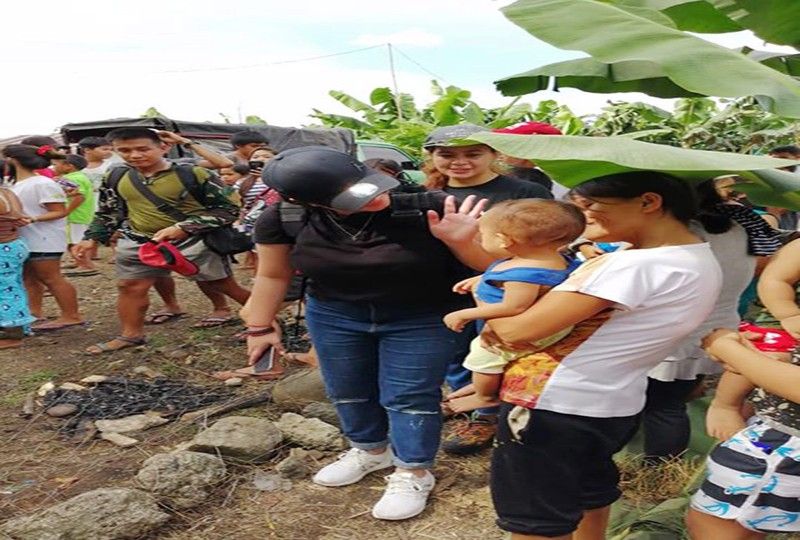 At right, photo taken by local resident Flora Mae Montes Basiliote shows actress Angel Locsin mingling with the people after distributing a truckload of relief goods in Barangay Batasan, Makilala town.
Lorenzana to lead quake relief efforts
MANILA, Philippines — With the powers vested on him by President Duterte, Executive Secretary Salvador Medialdea has directed Defense Secretary Delfin Lorenzana to lead the relief efforts and assure the safety of everyone affected by the recent earthquakes that hit Central Mindanao.
Medialdea, designated officer-in-charge while Duterte is on an official trip to Bangkok, issued the directive to Lorenzana following appeals from the affected residents.
"I have tasked Secretary Delfin Lorenzana, as head of the Department of National Defense (DND) and martial law administrator, to lead all relief efforts and to ensure safety and security of the public in the earthquake-stricken areas of Mindanao," Medialdea said.
"The public is advised to coordinate directly with the DND and/or National Disaster Risk Reduction and Management Council (NDRRMC) to ensure the efficient conduct of relief efforts, including the distribution of relief goods and rescue operations," Medialdea said.
The President is attending the 35th Association on Southeast Asian Nations (ASEAN) Leaders' Summit from Nov 2-4. He designated Medialdea as OIC.
There is an extended martial law implemented in Mindanao after terrorists seized Marawi in May 2017. It will lapse by yearend.
Temporary classrooms
The nongovernment organization Save the Children Philippines is planning to set up temporary classrooms to enable over three million children from quake-affected areas in Mindanao to resume classes.
Save the Children chief Alberto Muyot said they are preparing to distribute teaching kits and temporary learning spaces to Mindanao.
"Save the Children is ready to set up temporary classrooms so children don't miss out on school. These learning spaces provide much needed respite for children, some of whom may have lost everything, and provide a safe space for them to play and receive support," Muyot noted.
He said some 3.2 million school-aged children were affected by the string tremors that rocked various parts of Mindanao.
"Most of the 3.2 million children affected are in conflict-affected and marginalized parts of the Philippines where access to emergency services is scant," Muyot said.
The government would need around P1 billion for the reconstruction and rehabilitation of hundreds of schools damaged after the two strong earthquakes that hit Mindanao last week.
Latest from the Department of Education (DepEd) showed that 510 schools were confirmed to have been damaged in four regions following the magnitude 6.6 and 6.5 tremors that struck southern Philippines on Tuesday and Thursday, respectively.
Most of the damage was reported in Region XII with 301, followed by Region XI with 166, Region X with 38 and the Bangsamoro Autonomous Region in Muslim Mindanao (BARMM) with five.
Education Secretary Leonor Briones earlier said the agency has already requested the National Disaster Coordinating Council to allocate funds for the reconstruction of the damaged schools.
Education Undersecretary for Finance Annalyn Sevilla said the Quick Response Fund (QRF) of the agency was already depleted as it has been allocated for other schools that were damaged by previous calamities.
Based on DepEd data, 418 classrooms were totally damaged, while 599 sustained major damage. Meanwhile, 2,373 classrooms in the four regions sustained minor damage.
One of those who reportedly died was a student of Kasuga National High School in Davao del Sur, according to DepEd. No data on the casualty was released by the agency.
An estimated P627 million is needed for reconstruction of the totally damaged schools, while another P299.5 million must be allocated for the rehabilitation or repair of those that sustained major damage.
Initial estimates of the funding requirement total P926.5 million, but this might increase further as the DepEd is still validating the extent of damage on another 181 schools reportedly also affected by the second tremor.
Fifty-three schools sustained non-infrastructure damage, specifically in furniture, learning materials and computer sets.
"DepEd already requested the Department of Budget and Management (DBM) for supplemental QRF and we are working on this," Briones said.
"There is also a Disaster Risk Reduction and Management Service operational fund within the DepEd 2019 budget that we use for clean-up, temporary learning spaces and other minor repairs," added Sevilla.
Supplemental fund
Sen. Sherwin Gatchalian urged the DepEd and DBM to agree on a supplemental QRF to fund the rehabilitation of schools in Mindanao following the recent series of tremors.
Gatchalian said after the recent magnitude 6.6 earthquake hit Tulunan, Cotobato, the National Disaster Risk Reduction and Management Council (NDRRMC) reported that there are 95 schools from the total of 1,133 damaged structures in Mindanao.
"These unfortunate reports underscore the importance of keeping our schools in Mindanao safe in the aftermath of a disaster," said Gatchalian.
He also noted that DepEd must coordinate with local government units in formulating emergency response plans.
Trucks of relief goods and several rescue teams from the Philippine Coast Guard (PCG) continue to pour in to all earthquake-stricken areas in Mindanao, an official said yesterday.
PCG spokesman Captain Armand Balilo said that at least 10 PCG trucks loaded with 7,500 food packs; 1,500 tents; boxes of bottled drinking water and assorted relief goods were deployed to the Department of Social Welfare and Development (DSWD) office in Davao City.
Balilo said the trucks of relief goods have reached Bicol as of yesterday morning.
He said their multi-role response vessel BRP Bagacay, BRP Cape Engano and BRP Tubbataha are assisting in the releief operations.
China yesterday announced that it has "decided to donate" P22 million to the victims of the successive Mindanao earthquakes.
In a statement, the Chinese embassy said the amount (equivalent to three million in China's currency) is intended "to aid the victims and support the disaster relief efforts by the Philippine government in Mindanao and help local residents return to normal life."
"China believes that, under the strong leadership of President Duterte and the government of the Philippines, the Philippine people will overcome the disaster and rebuild their homeland as soon as possible," the embassy said.
Officials of local government units (LGUs) affected by a series of earthquakes that hit Mindanao are now assessing damages to determine the funds required for their rehabilitation, the Department of Finance (DOF) said over the weekend.
"We have asked all treasurers and assessors of affected LGUs to submit their estimates of the damages so we can determine the amount required," Finance Secretary Carlos Dominguez said.
He said it should take a week for local governments to assess the damage incurred on public buildings and infrastructure. Assessment for private properties, however, may take longer.
Currently, the government has a parametric insurance policy, which can provide a maximum coverage of P20.49 billion to protect the government's assets against the impact on natural disasters.- Mayen Jaymalin, Cecille Suerte Felipe, Janvic Mateo, Robertzon Ramirez, Jess Diaz, Mary Grace Padin