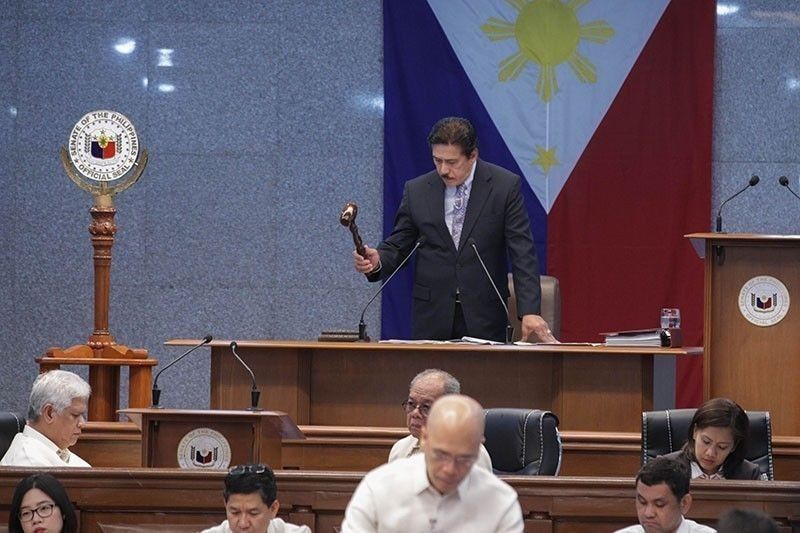 Senate to tackle budget as sessions set to resume
MANILA, Philippines — The first regular session of the 18th Congress will resume tomorrow, and Senate Majority Leader Juan Miguel Zubiri said the passage of the 2020 national government budget will be the topmost priority.
The 18th Congress has been on break since Oct. 5. Before its adjournment, the Senate passed Senate Resolution No. 154 authorizing all committees to conduct hearings, meetings and consultations during the recess to have continuity in the process of passing pending proposed legislations.
With only two months to go before the year ends, the Senate will work overtime to discuss the proposed P4.1-trillion national budget for next year.
"The Senate finance committee will definitely be busy conducting marathon hearings on the proposed P4.1-trillion national government budget for next year. Congress is set to resume sessions after a one-month recess to tackle the 2020 budget and other priority measures," Zubiri said.
He said the Senate does not want to delay the passage of the 2020 national budget to prevent negative effects on many important programs and projects designed to benefit the Filipino people.
"We had experienced difficulties when we failed to pass the 2019 budget on time. We had a re-enacted budget for the first semester of this year, forcing national government agencies to compress their timelines. Consequently, many important programs and projects for the benefit of our people were delayed," the senator reasoned.
Aside from next year's budget, the Senate is also expected to finish plenary debates on eight measures which have been approved at the committee level and are pending second reading.
These bills include the Grant of Night Shift Differential Pay for Government Employees including Government-Owned and –Controlled Corporations (Senate Bill No. 643), Separate Facility for Prisoners Convicted of Heinous Crimes (SBN 1055), Increasing Excise Taxes on Alcohol Products, Heated Tobacco and Vapor Products (SBN 1074), Creation of Malasakit Centers in all Department of Health Hospitals (SBN 1076), Creation of a National Transportation Safety Board (SBN 1077), Amendments to the Anti-Terrorism Act (SBN 1083), Creation of the Philippine High School for Sports in New Clark City, Capas, Tarlac (SBN 1086) and Grant of Teaching Supplies Allowance for Public School Teachers (SBN 1092).