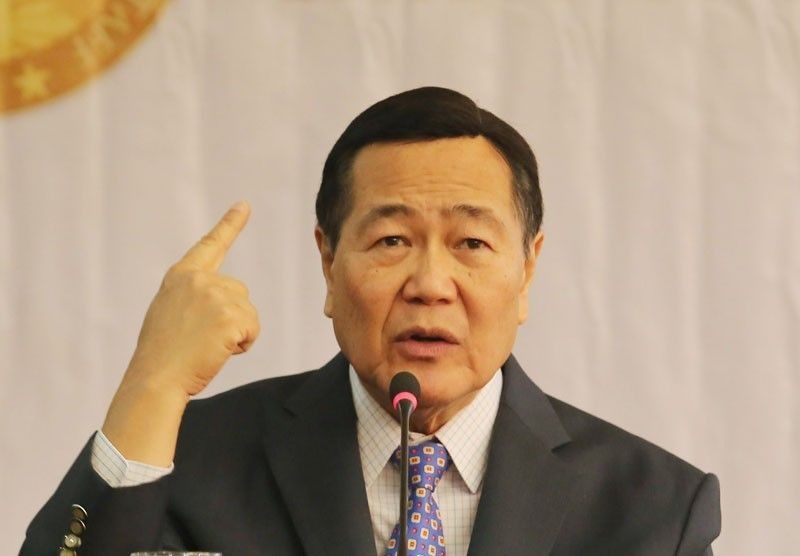 Former Supreme Court senior associate justice Antonio Carpio said he has completely forgone the idea of running for election and explained that, "I don't have an inclination. First of all you have to spend billions of pesos and that is not my cup of coffee."
Michael Varcas
Carpio: I won't run for public office
MANILA,Philippines — Former Supreme Court (SC) senior associate justice Antonio Carpio yesterday shrugged off speculations that he would be running for office in 2022, saying he would rather concentrate on helping enforce the 2016 Hague ruling on the South China Sea.
"I have no plans to run for public office," Carpio said in a television interview.
Carpio said he has completely forgone the idea of running for election and explained that, "I don't have an inclination. First of all you have to spend billions of pesos and that is not my cup of coffee."
He would rather spend his retirement years pursuing his advocacy to help enforce the 2016 United Nation Permanent Court of Arbitration ruling on the South China Sea that ruled in favor of the Philippines, invalidating the "nine-dash line" claim of China.
"My mission is to implement and enforce the arbitral ruling and I will be happy," said Carpio, who stressed the clamor for him to run would not change his mind.
Now that he has retired from the high court, Carpio said he would just concentrate on two things: the South China Sea and teaching in one or two law schools every semester. He added that he has not yet decided if he would return to private practice.
The only possible instance that he would involve himself in politics is in endorsing a candidate who shares the same stance he has on the South China Sea.
During the interview, Carpio also admitted that he was disappointed that he never got promoted throughout his 18 years as SC justice.
"Of course I was disappointed. Anybody would be disappointed if you are not promoted and you applied. As a constitutionalist, I know that is the prerogative of the President. You cannot do anything about that," Carpio added.
Carpio was bypassed for the position of chief justice five times: during the appointments of the late Renato Corona in 2010, ousted Ma. Lourdes Sereno in 2012; Teresita de Castro; Lucas Bersamin last year; and by incumbent Chief Justice Diosdado Peralta because he declined to be nominated to replace Bersamin, saying that had he accepted the nomination he would only serve the SC as its chief justice for eight days since he retired last Oct. 26.
Carpio, however, said he feels honored when people refer to him as "the best chief justice we never had."
"I consider that as a compliment but that is the way it is, that is the prerogative of the President to appoint. If you are not appointed you cannot complain because that is in the Constitution," the former magistrate said.
Carpio retired midnight of Oct. 26, when he reached the mandatory retirement age of 70.
Carpio was, however, granted full retirement privileges of a chief justice despite not being appointed to the post.
As SC justice, Carpio's voting history includes concurring with the Philippine custody of US Marine Daniel Smith in relation to the Subic rape case, concurring with the unconstitutionality of the Priority Development Assistance Fund and dissenting on the hero's burial of the late dictator Ferdinand Marcos in the Libingan ng mga Bayani.