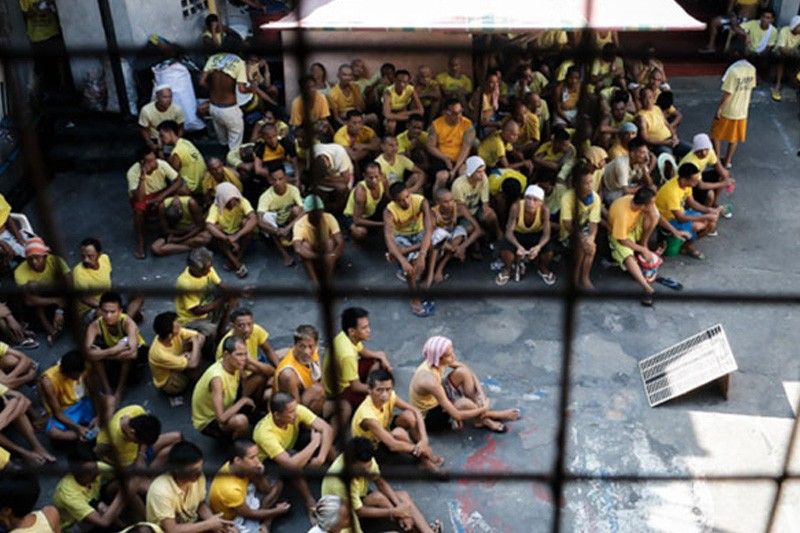 The IAS has conducted a probe on the police officers after an audit revealed that 891 suspects died while in police custody in the past three years. Of the number, 47 were facing drug charges.
Efigenio Toledo IV/File
500 suspects have died in jail since 2016 — IAS
MANILA, Philippines – At least 891 police officers are under investigation for the deaths of nearly 500 crime suspects in police custody since President Duterte assumed office in 2016, the Internal Affairs Service (IAS) of the Philippine National Police (PNP) said yesterday.
IAS inspector general Alfegar Triambulo said 119 commissioned officers and 772 non-commissioned officers, ranging from patrolmen to lieutenant colonels, are under probe for the prisoners' deaths.
"Some of these officials are police chiefs of towns and cities," he said in a phone interview.
If proven the victims died under questionable circumstances, the police officers could be kicked out of the service for committing a grave offense.
"Prisoners are presumed innocent until proven guilty. It's the responsibility of the government to secure these inmates while in their custody," Triambulo said.
The IAS has conducted a probe on the police officers after an audit revealed that 891 suspects died while in police custody in the past three years. Of the number, 47 were facing drug charges.
What is alarming, according to Triambulo, is the number of deaths from January to September 2019 had nearly doubled compared to the figure for the entire 2018.
For this year, there were 236 deaths, higher by 71.10 percent compared to 138 in 2018.
At the start of the Duterte administration in 2016, 32 deaths were recorded, followed by 81 in 2017.
PNP spokesman Brig. Gen. Bernard Banac said they will look into the cases to determine if there were irregularities.
Suicide, illness
Triambulo said 343 or 70.43 percent of the cases died of various illnesses.
Meanwhile, 38 or 7.8 percent committed suicide in jail.
"Some of them allegedly killed themselves using the firearms which they took from police officers," he said.
Ten or about 2.05 percent of the inmates were killed by policemen after they allegedly put up a fight. The remaining 96 prisoners died from other causes.
Triambulo warned Cavite police director Col. William Segun to shape up or face administrative charges after they found out 15 inmates died at the Dasmariñas City police station in a span of two months.
He said Segun should take steps to correct this or he will be charged with serious neglect of duty.
De Lima: End drug war
Sen. Leila de Lima said the Duterte administration should now admit its failure in stopping the scourge of illegal drugs in the country following the resignation of general Oscar Albayalde as PNP chief.
"The Duterte administration should now admit that it has miserably failed in stopping the scourge of illegal drugs in the country and therefore, should make amends by holding these police drug protectors accountable for their crimes. They should re-assess their approach and strategies in combatting the scourge of illegal drugs," she said.
De Lima has supported the recent call by Amnesty International (AI) to put an end to the government's bloody war on drugs that has claimed thousands of lives and promoted the culture of violence and impunity.
She also expressed support to demand government accountability for the thousands of summary executions and extrajudicial killings of suspected drug offenders in the country often perpetrated by state authorities under the directive of Duterte.
"I join the incessant calls by local and international groups to stop the killings that have not just taken the lives of our countrymen but allowed the continued proliferation of illegal drugs under the protection of police authorities," she said.
After Albayalde stepped down as chief PNP last Oct. 14, international rights group AI issued an official statement calling for an end to the Duterte administration's war on drugs.
Calling Albayalde's resignation as "the last blow to the credibility of the so-called 'war on drugs'," AI questioned how Duterte easily promised to accord Albayalde due process but has continued to refuse to give justice to the victims who were unlawfully killed by the police force.
Albayalde relinquished his post after he was accused of having intervened in the dismissal of 13 policemen over the irregular anti-drug operation in Pampanga in 2013 as then Pampanga police chief.
De Lima, a critic of the administration's war on drugs, pointed out that the immediate passage into law of her proposed Anti-EJK Bill will help prosecute, at the proper time, Duterte and other personalities involved in the government's drug war.
"I hope that my Senate colleagues could join me and other human rights defenders across the world in defending human rights and demanding accountability for all the state-led killings in our country," she said.
De Lima was referring to her Senate Bill No. 371 seeking to define and provide for acts that constitute EJKs and strengthen the intervention and investigative functions of government agencies, including the Commission on Human Rights.
First introduced in the 17th Congress, De Lima's measure also proposes to make local chief executives and chiefs of police administratively liable if their communities experience a surge in EJK cases, except in communities beset by armed conflict.
Last July, De Lima reiterated her call to the United Nations Human Rights Council to stop the "Duterte killing machine" by initiating an independent probe on the rampant killings in the country.