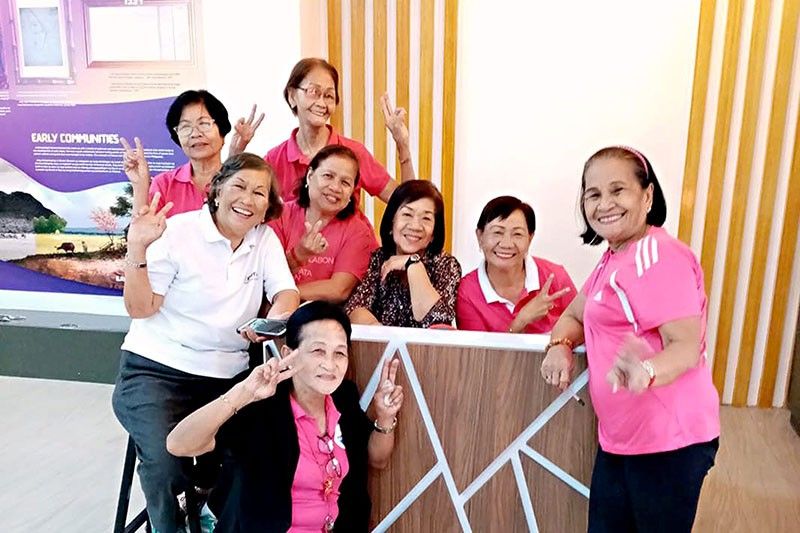 Retired teachers, among them Corazon Esguerra (kneeling), pose for a photo at the Malabon Heritage and Library Museum during a break in their duties. Image courtesy of Esguerra.
Retired teachers become Malabon museum tour guides
MANILA, Philippines — Fresh from retirement, 10 elderly teachers have opted to get out of their homes to take the responsibility of preserving Malabon's history.
In an interview with The STAR, retired teachers Corazon Esguerra and Concepcion Regala both take pride in being among 10 tour guides at Malabon Heritage and Library Museum as the country concludes Elderly Filipino Week today and commemorates Museum and Galleries Month this October.
Earning P2,000 a month, Lola Corazon, 67, said she is not really after the salary, but only wants the company of students and foreigners who visit the museum in Barangay Hulong Duhat. The museum opened in May.
"I'm glad for this opportunity. I only get weaker when I'm stuck in the house. I'm not used to being cooped up inside," she said.
It was her first time to learn about the city's old name "Tambobong," after the "tambo" trees endemic in the area. It was changed to Malabon after the term "malabong," because of the prevalence of bamboo sprouts growing along the city's riverbanks.
"I once taught history. It's a boring subject. Which is why it's important to have audiovisuals," Esguerra said.
The museum also contains dioramas of Malabon's old houses from its old elite families, the San Bartolome Parish and the steam-powered Malabon tranvia connecting the city to Tondo during the Spanish colonial period.
The museum has the instruments of the Malabon bamboo band "Banda Filipina," which traces its roots to Katipunan members who conducted the marching music of the revolutionaries.
Framed in the museum are original copies of cigarette wrappers from when the city had a bustling cigarette manufacturing industry. Hanging from the ceilings are photos of Malabon's famous delicacies like "pansit Malabon," its version of banana fritters known as "valencia triangulo," and the colorful rice cake "sapin-sapin."
A teacher for four decades, Lola Concepcion, 66, said she had always wanted to get back to work after retiring last year from the Malabon National High School.
Her children did not want her to get back to teaching, Regala said, laughing, which was why she was grateful city hall offered a tour guide job for senior citizens like her.
From teaching chemistry, she said she is now proud to help preserve the city's heritage, this time as an elderly making sure the youth do not forget their roots.
"My colleagues were joking, 'we've retired, but here we are still teaching!' But I'm happy here. At least here, we don't compute grades. At least, our minds are not idle while we also enjoy," she said.