Albayalde: I will not resign
October 3, 2019 | 12:00am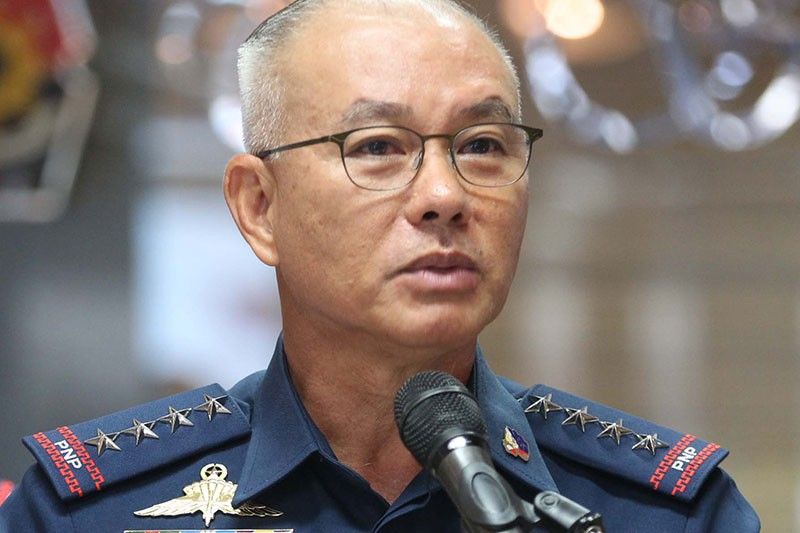 MANILA, Philippines — Despite being linked by a former colleague to so-called ninja cops at a Senate hearing on Tuesday, Philippine National Police (PNP) chief Gen. Oscar Albayalde has rejected calls for him to step down, saying he would rather wait for President Duterte to decide his fate.
"I will not fall into that trap. I will ask the President," Albayalde said yesterday.
Sen. Richard Gordon, chairman of the Senate committees on Blue Ribbon and on justice and human rights, on Tuesday advised Albayalde to consider resigning after Baguio City Mayor Benjamin Magalong, former chief of the PNP Criminal Investigation and Detection Group (CIDG), accused the PNP chief of being a protector of ninja cops involved in the recycling and reselling of seized drugs.
Magalong told senators Albayalde had tried to intervene in the case of police officers from Pampanga who allegedly kept for themselves a large amount of shabu confiscated from a Chinese drug trafficker. Albayalde had served as Pampanga police chief.
Albayalde, who is set to retire on Nov. 8, denied the allegations.
He said it's either Duterte or Interior and Local Government Secretary Eduardo Año who can decide on his fate as PNP chief.
"We will wait for the decision. Like I always say, I am expendable," he said.
He denied having asked any favor from colleagues as he turned the tables on Magalong who – the PNP chief claimed – had sought his help in getting reinstated in the service mainstream sometime in 2006 to 2010.
At the time, Albayalde said Magalong was on floating status for involvement in a coup attempt against then president Gloria Macapagal-Arroyo.
Albayalde said Magalong requested him to arrange a meeting with then PNP Intelligence Group director Ismael Rafanan.
"I said yes sir. I will get you an appointment with General Rafanan. So after that I didn't know what happened," Albayalde said.
The PNP chief said he was wondering why Magalong was destroying his reputation when he only has a little over a month left in the service.
"This is the right time to prove that you are indeed a man of integrity. This is the right time to shine, not on destroying somebody," he said, addressing Magalong.
Magalong retired in December 2016 as PNP deputy chief for operations.
Rafanan, in an interview over dzBB, confirmed Albayalde's seeking help for Magalong in connection with administrative cases the latter was facing for his participation in the ouster plot against Arroyo.
According to Rafanan, Magalong was deputy director of the Special Action Force (SAF) when he joined the failed coup against Arroyo.
"When I made the report, the discussion on the involvement of Magalong was no longer substantial," Rafanan said.
He said it was apparent that Magalong was seeking favors to avoid severe sanctions for his participation in the coup attempt.
But Magalong said he could not recall asking any favor from Albayalde. "I cannot recall any incident," he told ANC.
Magalong said it was "illogical" for him to seek such help from Albayalde at the time when the papers for his new job with the Philippine Drug Enforcement Agency (PDEA) were already being processed.
Tarnished
While Albayalde is expected to keep his job until his retirement in November, his credibility and capability to lead the country's 190,000-strong police force is now weakened and tarnished because of suspicion of involvement in illegal drugs, Senate Minority Leader Franklin Drilon said.
"Whatever happens, indeed, his stint as PNP chief is tarnished by this revelation. Given the tokhang campaign, which has killed thousands of people and supposedly drug dealers, the drug campaign loses its credibility when you hear of these allegations between high-ranking officials of the PNP," Drilon told reporters.
He said he does not expect the DILG to complete its investigation of Albayalde before his retirement since it has instructions from the President to wait for the report of the Senate Blue Ribbon committee as inputs to its probe.
"I'm certain that Albayalde will serve out his term," Drilon said.
Senate President Vicente Sotto III said it would be up to the DILG, or even the courts – if criminal charges would be filed – to decide whether Albayalde would be held liable for the acts of his intelligence officer at that time, Police Maj. Rodney Baloyo and other subordinates.
"As the present chief PNP I don't think his credibility is affected. But of course, the past is another matter – we still can't determine if that has value or not. But we are talking about the present situation," he said when asked if Albayalde's credibility was affected by the controversy.
Sen. Panfilo Lacson, a former PNP chief, said Albayalde must be allowed to finish his term.
He said there was no evidence so far presented before the committee that would "implicate him directly or otherwise in the misconduct committed by his men six years ago."
"He has a little over a month to wind up his duties as chief of PNP and his remaining days will be mostly spent doing exit calls to his troops in the field and probably meet with some foreign counterparts based here and abroad. I don't think it's a practical move for him to retire early," Lacson said.
Gordon, for his part, wants Albayalde to consider resigning even with barely a month left before retirement.
Gordon described Albayalde as "kinda shifty" based on his demeanor during the hearing on Tuesday.
"I'm not forcing anybody on retirement. Retirement is voluntary act of anybody. But if I were him, 'ah, I made a mistake because of this hearing'," Gordon said.
Gordon and Drilon shared the same view that Albayalde's call to then Pampanga provincial police director Aaron Aquino asking about the dismissal proceedings against his former subordinates was telling and totally inappropriate.
However, while Gordon thinks the phone call to Aquino, now PDEA chief, was enough to recommend the filing of charges against Albayalde, Drilon thought otherwise.
Sotto, Drilon, Lacson and Gordon, however, are all in agreement that Magalong was more credible than Albayalde.
Sotto said he knew Magalong since 2008 when he was still chairman of the Dangerous Drugs Board, even as he stressed the issue was dug up practically by accident by the committee.
"I know Mayor Magalong too well to vouch for his integrity. I put his character to test a few times during the time that he was with the PNP, even before I headed the police organization in late 1999 and he passed them all with flying colors. I have no reason to doubt his motive in testifying before the Senate committee, which he did not volunteer to appear and testify in the first place," Lacson said.
Senior deputy minority leader and Iloilo 1st district Rep. Janette Garin, for her part, called for an inquiry into the activities of "ninja cops."
"Yes, we will call for investigation on this here in Congress. Upon resumption of session next month, this will be a good issue to look into," she revealed during a weekly forum of the minority bloc.
"We want to find out why this is happening and why was this allowed. We will dig deeper to know who are involved," Garin suggested.
The policemen tagged as ninja cops were Lt. Col. Rodney Raymundo Louie Baloyo, Capt. Joven de Guzman, M/Sgts. Jules Lacap Maniago, Donald Castro Roque, Ronald Bayas Santos, Rommel Munoz Vital, Alcindor Mangiduyos Tinio, Dante Mercado Dizon, Eligio Dayos Valeroso; S/Sgts. Dindo Singian Dizon, Gilbert Angeles de Vera, Romeo Encarnacion Guerrero and Cpl. Anthony Loleng Lacsamana.
Though still with their respective units, they have been placed on floating status, according to PNP spokesman Bernard Banac in a Viber message.
DILG's call
In the case of the ninja cops and other police officers found involved in illegal drugs, President Duterte said he would await findings from the DILG before making a decision.
"When I decide on the basis of the report of Secretary Año, I can dismiss, discharge, terminate any and all of them. So I will wait for that," the President told reporters before leaving for Russia last Tuesday. He said he still considers the PNP "very good" as an institution.
"But we will be fair... You know, PNP is not that bad. By and large, we have a very good PNP working for our country. The scalawags, the ninja cops, have been there in Manila, one or two in Davao and everywhere," he added.
Duterte said while the Senate is conducting its probe on the alleged ties of some police officials with drug syndicates, he cannot adopt its findings as his own. He noted that the Senate cannot impose sanctions on erring policemen.
"We are not totally bound by the investigation of other departments. Though I would say that most of the testimony or declarations given in the Senate were under oath, I suppose that everybody was telling the truth there. So it needs time," the President said.
"But procedural due process must be followed," he added.
The President, nevertheless, said the DILG would proceed after the Senate completes its investigation "in obedience to the separation of powers and respect for each other's departments."
"The ninja cops here in Greater Manila Area are known for their ferocity, viciousness and toxicity. I am sure the investigations will bare these things right," he added.
Asked whether the issue has affected his confidence in Albayalde, Duterte replied: "I would not preempt Secretary Año. But I leave it to him to decide.
"If you really want to know, and this does not bind Secretary Año of what might be his conclusion... Albayalde happened to be the provincial police director at that time... If you have to insist that his only link there was the policemen were under his command, up to that point. I don't know if Secretary Año would... I do not want to preempt. But I would say that this is not a brief for Albayalde," he added.
Duterte said dismissing top officials is a serious thing that requires "good reason" and "enough proof."
"Our emotions, our disappointments and anger do not come to play in investigations," Duterte said.
"Año, I'm sure, would be in his proper equanimity when he begins the investigation."
Meanwhile, one of the policemen at the Senate hearing on Tuesday was also investigated for "coercing" jailed Chinese national Ding Wonkun into admitting ownership of seized drugs and money.
A document obtained by The STAR dated April 11, 2014 showed then Chief Inspector Bienvenido Reydado was placed under investigation for committing irregularities in an anti-drug operation. The document was signed by then Senior Supt. Benjamin Habitan Silo Jr. of the CIDG.
Reydado was mentioned by Major Baloyo as the reason for his being linked by Magalong to ninja cops. – Alexis Romero, Paolo Romero, Edu Punay, Edith Regalado, Cecille Suerte Felipe