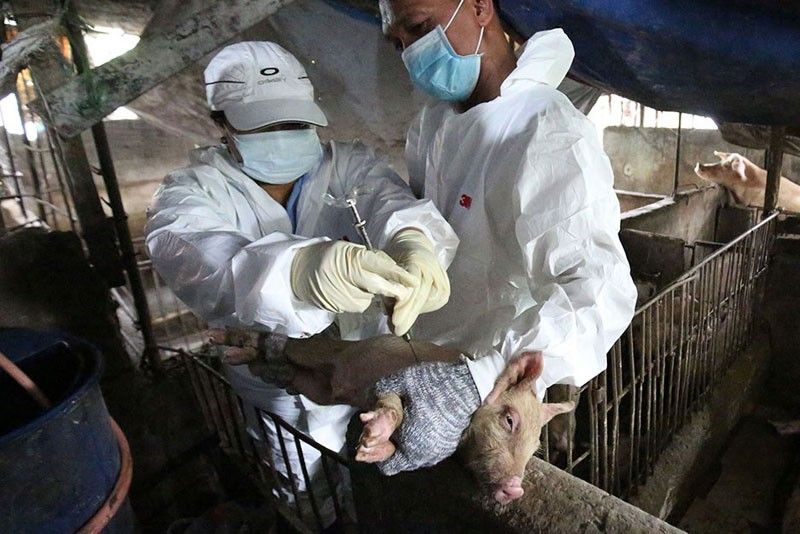 Agriculture Secretary William Dar said his department can only provide loans for affected hog raisers, but not reimbursement for pigs that died of the disease or were culled.
Michael Varcas
DA chief: No funds to cover pig deaths
MANILA, Philippines — After losing their pigs to African swine fever (ASF) or forced culling, hog raisers are left with not much help from the government, which has admitted a lack of funds to help them recover their losses.
Agriculture Secretary William Dar said his department can only provide loans for affected hog raisers, but not reimbursement for pigs that died of the disease or were culled.
"At this point, our fund is really not enough to give what we call indemnification, which is the actual value of the pigs," Dar said.
"We made a projected level of investment of indemnification. So much is needed, billions and billions of pesos. And we just cannot shoulder the actual cost of every pig that is being depopulated," he added.
This developed as another barangay in Antipolo was confirmed positive for ASF cases.
Currently, the DA is giving P3,000 to every affected hog raiser. But the actual average market value could reach as high as P10,000.
"What we can do is to lend them P30,000 in loan assistance per backyard hog raiser, zero interest and payable in three years," Dar said.
"We are also encouraging the local government units if they can add to the P3,000, say an additional P3,000 – I think that's fair enough," he said.
So far, Dar said around 15,000 hogs are now affected, including those in areas still under quarantine.
"That is only 0.0003 percent of the total population of 12.8 million hogs," he stressed.
The DA continues to work with authorities to man checkpoints and surveillance areas to avoid the further spread of the virus.
"A threat to food security is also threat to national security," he pointed out.
The DA also appealed to the provinces of Bohol and Cebu to stop the ban on the movement of pork and processed pork products.
Dar made the appeal after Cebu Gov. Gwendolyn Garcia and Bohol Gov. Arthur Yap issued separate directives banning the entry of pork and processed pork products to their provinces.
Bohol and Cebu are huge markets for pork, processed meat products and food items as the two provinces are major tourist destinations.
The DA continues to assure the public that the situation is under proper management as it is closely working with LGUs and private swine industry leaders to control and contain the threat of ASF.
While the disease does not pose any hazard or risk to humans and other farm and domesticated animals, the ASF virus is highly infectious among pigs and can easily spread from one farm to another if not properly managed.
The DA is also reminding consumers to buy only pork bearing the seal of the DA-National Meat Inspection Service, and from reputable meat shops.
The ASF, authorities said, could potentially wipe out the P260-billion hog industry. Overall, including related industries, the sector is worth P416 billion.
Another in Antipolo
Meanwhile, authorities reported another case of ASF in an unnamed barangay in Antipolo, bringing to 12 the total number of sites that tested positive for ASF infestation.
"From the initial laboratory test, yes, it is positive. And we are now implementing the 1-7-10 protocol; we will continue to collect blood samples," Dar told reporters.
"We just got the report two days ago," he said without naming the barangay.
It was the second area in Antipolo and the 12th nationwide to test positive for ASF.
The other barangays are San Isidro, San Jose, Macabud, Geronimo, San Rafael and Mascap in Rodriguez; San Mateo in Rizal; Barangay Cupang in Antipolo; Barangay Pritil in Guiguinto, Bulacan; and Barangay Bagong Silangan and Payatas in Quezon City.
"Those mentioned earlier are contained and controlled already and we don't see any recurrence of the virus," Dar said.
"We are hoping that if everyone cooperates, this will not spread in a much faster velocity," he added.
Dar noted it was the non-cooperation of hog raisers that led to the spread of ASF virus.
"Those who kept their pigs when we started depopulating in some areas of Rodriguez, that's it. Now it's spreading," he said.
"If our backyard hog raisers will not cooperate, it's 100 percent that the disease will linger. We are asking our raisers that if there are abnormal deaths in their area to report immediately to our veterinarians so they can undergo laboratory testing," he added.
Dar also fired back at those questioning his transparency in disclosing details about the real status of ASF in the country.
"These are internal strategies, we tell the world that we have been affected but we don't tell where these are so that we can do the work. It is a mechanism so the pathogens from the areas will not be transferred by people," Dar said.