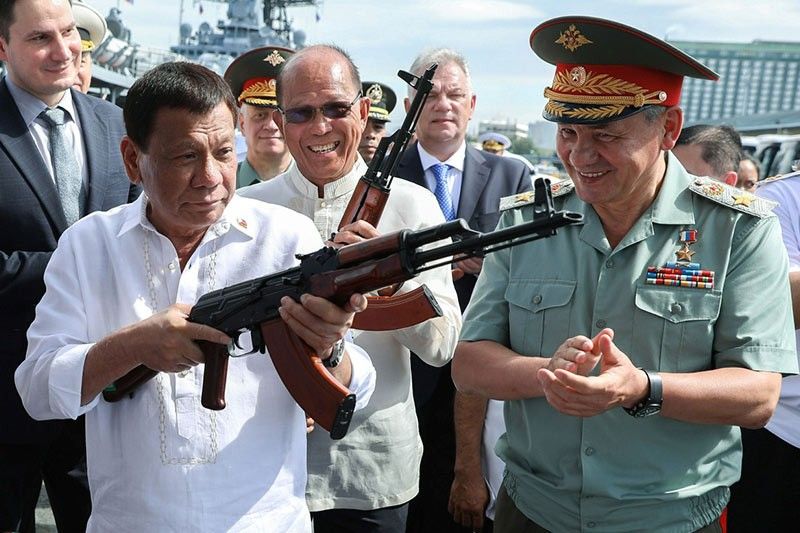 President Rodrigo Duterte inspects the AK-74M Kalashnikov Rifles donated by the Russian Federation during the ceremonial turnover at Pier 15 in Port Area, Manila on Oct. 25, 2017. Also in the photo are Defense Secretary Delfin Lorenzana and Russian Federation Minister of Defense Sergey Shoygu.
Robinson Niñal Jr./Presidential Photo
Palace: Halting aid talks with nations backing UN drug war probe won't impact economy
MANILA, Philippines — President Rodrigo Duterte's order to suspend the talks on and the signing of loan and grant agreements with countries that backed the Iceland-led United Nations resolution that sought a review of his anti-drug campaign won't have much impact on the Philippine economy, Malacañang said Monday.
Quoting Finance Secretary Carlos Dominguez III, presidential spokesperson Salvador Panelo said the suspension would not affect loans or grants that are already being implemented.
"At the outset, we assure the nation and its citizenry that this directive will not have a negative and significant impact on the country," Panelo said in a press briefing Monday.
READ: Here's a possible consequence of Philippines' suspension of aid from backers of UN drug war probe
Panelo said except for three financial offers from France, Germany and Spain, all proposed deals with countries that either co-sponsored or voted in favor of the resolution are technical assistance grants and would not significantly affect the government's infrastructure program.
France and Germany are sponsors of the resolution but were not among the 18 countries that voted in favor of it. Spain was one of the countries that voted favorably for the adoption of the resolution.
The loan offered by France aims to fund the Metro Manla Bus Rapid Transit project. Panelo said multilateral development financial institutions and other bilateral partners of the Philippines have signified their intention to finance the 21 million euro needed for the project.
"The rates offered by said countries, if ever, are certainly no better than the rates already offered by multilateral development financial institutions, as well as bilateral development partners," the presidential spokesman said.
READ: Philippines shuns aid from countries in Iceland resolution
Also to be affected are a $46.58 million financing offered by Germany and a $200,000 financing offer from Spain.
Eighteen countries, some of them hosts to sizable populations of Filipino workers, voted in favor of an Iceland-led resolution calling for a "comprehensive report" on the human rights situation in the Philippines, including the deaths linked to the war on illegal drugs. Fourteen countries objected to the resolution while 15 others abstained from the voting.
The 18 countries who backed resolution were Argentina, Australia, Austria Bahamas, Bulgaria, Croatia, Czech Republic, Denmark, Fiji, Iceland, Italy, Mexico, Peru, Slovakia, Spain, Ukraine, United Kingdom, and Uruguay.
Those who opposed the resolution are the Philippines, Angola, Bahrain, Cameroon, China, Cuba, Egypt, Eritrea, Hungary, India, Iraq, Qatar, Somalia and Saudi Arabia while those who abstained were Afghanistan, Bangladesh, Brazil, Burkina Faso, Chile, Democratic Republic of Congo, Japan, Nepal, Nigeria, Pakistan, Rwanda, Senegal, South Africa, Togo and Tunisia.
Duterte has lambasted Iceland for pushing for the resolution and maintained that he does not endorse extrajudicial killings.
READ: Philippines among countries with rising reprisals against rights activists
Last month, Malacañang issued a memorandum directing agencies to suspend negotiations for and signing of all loan grant agreements with the governments of countries that co-sponsored and voted in favor of the resolution.
In the memorandum, Executive Secretary Salvador Medialdea said the directive was issued due to the administration's "strong rejection" of the resolution, which he said was carried through by the votes of a minority of the members of the United Nations Human Rights Council last July 11.
Critics have called Duterte's directive as a "knee jerk reaction," noting that the country needs financial resources for its development projects.
READ: Duterte mulls cutting ties with Iceland
But Panelo maintained that Duterte would not compromise the Philippines' dignity over any amount of foreign loan, aid or grant.
"Contrary to the opinion of critics and detractors of the president that such move is 'ill-advised,' 'heartless,' or based on 'false pride,' the position of (President Duterte) has always been clear and consistent," the presidential spokesperson said.
"In fact, the president has rejected in previous occasions offers of assistance with any condition that would interfere with our domestic policies. This policy remains unchanged. And it will not waver," he added.
Palace: Duterte 'forgot' order on financial deals
Last Friday, Panelo denied that Duterte had signed an order suspending the talks on and the signing of financial deals with countries that were in favor of the resolution. Three days later, Panelo confirmed that Duterte did issue such directive, which was contained in a memorandum signed by Medialdea.
Asked why he initially denied that Duterte signed such document, Panelo claimed the President had forgotten about the order when he spoke to him.
"I asked him (Duterte) about it, he said, 'I did call at the height of the Iceland resolution.' But somehow because of work, probably when I asked him about it, he momentarily forgot it. But he said, I maintain that memorandum. I instructed him to do that at the height of the Iceland resolution. So I asked him, do you still maintain that? Yes," the President told ABS-CBN News Channel Monday.
"It was not I who is denying. When I asked him he said, 'no, I did not.' Apparently, as I said, he might have forgotten momentarily. So, when I asked him again he said, 'yes I remember calling the (executive) secretary about it,'" he added.
"That is more on lapse in memory a few minutes, because when I asked him again, he said, 'yes I did.' But what is important is that memo exists and it is maintained. "
READ: More than 'ice': A look at Iceland's feats in world rankings and role at UN rights council
Panelo said Duterte had felt that the Iceland-led resolution is "offensive" to the Philippines. He said Iceland could not condemn the Philippines' anti-drug crackdown when it allows abortion of unborn children up to less than six months old.
"That Iceland resolution presupposes that we're not doing anything about the complaints, about abuses, which is not true. We've been prosecuting, in fact, every death arising from police operation on drugs is automatically subject to administrative and criminal prosecution because the SOP (standard operating procedure) there is when there is death arising from any raid involving the police, immediately they are subjected to administrative and criminal prosecution," he said.
"But the problem is some are complaining about police abuse but do not file (complaints) formally. If they file, there is no evidence."
Panelo said existing foreign grants worth $377.43 million would not be affected by the order. Among the countries that provided the grants were Australia, Italy, Spain, France and Germany.