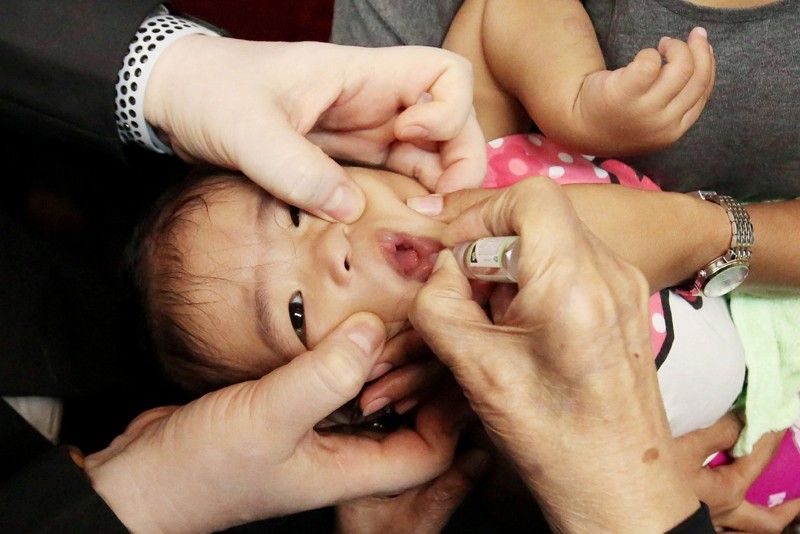 An infant receives an oral polio vaccine from a health worker yesterday during the 'End Polio Now' campaign launched in Quezon City by the Department of Health and Rotary International.
Michael Varcas
Poliovirus strain 2 possibly a mutation; 2nd case reported
MANILA, Philippines — The re-emergence of poliovirus in the country 19 years after its eradication globally might have been caused by mutation of the vaccine-derived polio Type 2, according to an expert from the Philippine Society of Microbiology and Infectious Diseases (PSMID).
This developed as the Department of Health confirmed yesterday another polio case – in Laguna – involving a five-year-old boy. On Thursday, the DOH reported the first case of vaccine-derived poliovirus (VDPV) afflicting a three-year-old girl from Lanao del Sur.
"Yes it is possible. And that will be a problem... This is another issue because if Type 2 is circulating, then we have to revisit. We might have to re-introduce trivalent oral polio (vaccine)," said former PSMID president Rontgene Solante in an interview.
But he stressed his observation must be validated by the DOH by scaling up its surveillance system primarily in communities affected.
Before the eradication of Type 2 poliovirus, Solante said three strains were found circulating including Types 1 and 3. This resulted in the introduction of "bivalent" oral polio virus (OPV) for Types 1 and 3.
He added if Type 2 has indeed re-emerged, there might be a need to use the "trivalent" vaccine once again.
With the development, Solante said there is now urgent need for all children below five years old to be vaccinated against polio to curb the outbreak.
"If our vaccination rate is good, we can eradicate an infection or disease. Even the unvaccinated will be protected if our vaccination coverage is 90 to 95 percent," he maintained.
In its website, the Atlanta-based Center for Disease Prevention and Control defines VDPV as a strain of the weakened poliovirus initially included in the oral polio virus "that has changed over time and behaves more like wide or natural occurring virus." It was in 2005 when the VDPV Type 2 was eliminated globally.
In a joint statement, WHO Representative in the Philippines Rabindra Abeyasinghe said they are "working closely with the DOH to strengthen surveillance and swiftly respond to this outbreak."
Meanwhile, Health Secretary Francisco Duque III said the boy's condition was confirmed after samples taken from him were sent to the Japan National Institute for Infectious Diseases. The boy was found afflicted with VDP Type 2.
To confirm polio case, a sample of throat secretion, stool or a colorless fluid around the brain and spinal cord are taken and examined for poliovirus.
MOA with Rotary
Yesterday, Duque also signed a memorandum of agreement (MOA) with Rotary International's 10 Districts on heightening polio awareness.
Duque said the accord has come "in this most opportune time" when the country is facing the re-emergence of poliovirus.
"We fervently hope that through our collective and synergistic efforts, we can control and quell the re-emergence of such fatal virus that could potentially affect our children. We have done it before, I believe we could do it again," he said.
"We continue to urge parents and caregivers of children below five years old, health workers, and local chief executives to take part in the synchronized polio vaccination to be scheduled in their communities," he noted.
Duque added this is the only way to stop the spread of the "debilitating, and sometimes fatal, disease."
On the latest polio case, the DOH reported that the five-year-old boy was an "immunocompromised child who is suffering from multiple pediatric diseases."
The boy experienced an onset of paralysis last Aug. 25. He had been discharged from the hospital and is able to walk but is closely being monitored for residual symptoms.
Polio symptoms include neck and back stiffness, difficulty in swallowing and breathing, and abnormal reflexes.
The health chief has also urged the public to practice good personal hygiene. Prior to the re-circulation of polio in the Philippines, only three countries are reporting polio cases – Pakistan, Afghanistan and Nigeria.
Senators, for their part, urged the DOH to revive the Oplan Alis Disease and intensify its information drive to promote vaccination, and good hygiene and sanitation practices in response to the outbreak of polio and the resurgence of other preventable diseases. – With Paolo Romero, Jess Diaz, Christina Mendez