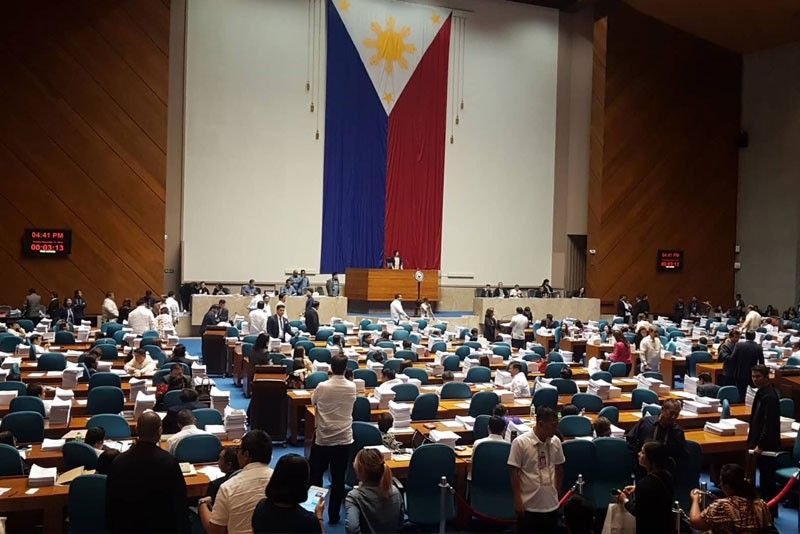 The approval by a vote of 257-6 was the quickest ever by the chamber.
PCC.gov.ph
Voting 257-6, House approves P4.1-trillion budget for 2020
MANILA, Philippines — Three days after President Duterte certified it as urgent, the House of Representatives voted overwhelmingly last night not only to approve on second reading the P4.1-trillion national budget for 2020, but also to make it simultaneous with its approval on third and final reading.
The approval by a vote of 257-6 was the quickest ever by the chamber.
Budget deliberations started on Aug. 22. There was just over a week of individual committee hearings for government agencies followed by about two more weeks of plenary debates.
House Bill 4228, or the General Appropriations Bill for the 18th Congress, contains the entire government's detailed proposed budget for next year – from the executive, legislative departments to the judiciary and independent constitutional bodies.
Rep. Joey Salceda, chairman of the House ways and means committee, assured the general public that next year's spending bill is free from the so-called "pork" funds or post-enactment allocations which the Supreme Court has invalidated.
"The old pork barrel system is gone. The proposed 2020 national budget is pork-free, and there is likewise no more such thing as illegal parking of funds or insertions," the Albay congressman said.
House Majority Leader Martin Romualdez made the same assurances. "We assure the Filipino taxpayers that the 2020 budget will be a reflection not only of the President's vision, but also of the people's will."
"As envisioned by the President, the 2020 national budget seeks to move the nation forward towards its aspired-for destination – a more peaceful and progressive Philippines," the Leyte congressman said.
"We, in Congress, support the initiatives of the Duterte administration to empower the poor through increased subsidies and grants aimed at ending the intergenerational cycle of poverty in the country," Romualdez added.