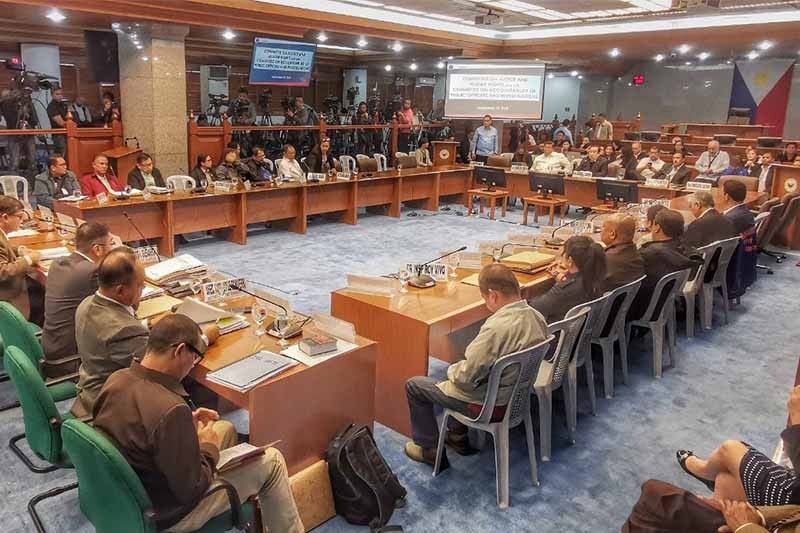 The Senate resumed its legislative inquiry into the Good Conduct and Time Allowance law controversy on Thursday, September 19.
Senate PRIB/Joseph Vidal
Modernization of monitoring in Bilibid pushed at Senate
(Philstar.com) - September 19, 2019 - 2:54pm
MANILA, Philippines — Amid the continuing illegal drug trade inside the national penitentiary, senators pushed for management modernization at the New Bilibid Prison.
During the resumption of the Senate inquiry into the Good Conduct and Time Allowance law Thursday, Baguio City Mayor Benjamin Magalong, former chief of the Criminal Investigation and Detection Group, told the Senate that the problem at the Bureau of Corrections is "structural and systemic."
Magalong is one of the invited resource persons in the legislative inquiry. In 2014, he prepared a special operations intelligence plan to contain the malpractices in the Bilibid.
To curb corrupt practices of BuCor officials inside Bilibid, he said that an organizational and management audit might help.
"Place someone who is really strong in leadership and in terms of integrity, and finally provide them the management tools," Magalong said.
The former CIDG chief said that the government might acquire a modern security camera system that uses artificial intelligence for surveillance and monitoring of inmates. The technology will help keep track the activities and whereabouts of inmates.
"It will probably cost us P300 million, P400 million, but look at those benefits. The benefit will offset the cost... That is what prisons in other countries are using," he said in Filipino.
Guevarra: Full computerization of BuCor
Following Magalong's suggestion, Senate Minority Leader Franklin Drilon referred to Justice Secretary Menardo Guevarra to "quickly review" the proposal and "recommend to us the acquisition of this equipment."
"I am sure everybody in the Senate, given what we have heard so far [will] enthusiastically vote to increase you budget to an extent of a capital outlay needed to purchase this equipment," Drilon said.
The senator added: "We can find fiscal space in the budget to accommodate a project of this importance."
Guevarra told the Senate panels that among the first guidelines he told newly appointed BuCor Director General Gerald Bantag is the full computerization of the BuCor.
Guevarra met with Bantag on Wednesday morning. He gave three recommendations that include cleaning up the GCTA mess and stopping the illegal drug trade inside the walls of Bilibid.
Drilon, however, said he would propose that the justice secretary lead in the purchase of the equipment.
The Senate Committees on Justice and Human Rights, Public Order and Dangerous Drugs, and Finance filed Senate Bill No. 1055 that proposes the establishment of a separate facility for prisoners of heinous crimes.
The Senate inquiry continued in an executive session as it continues to delve into corruption allegations inside the BuCor. — Kristine Joy Patag