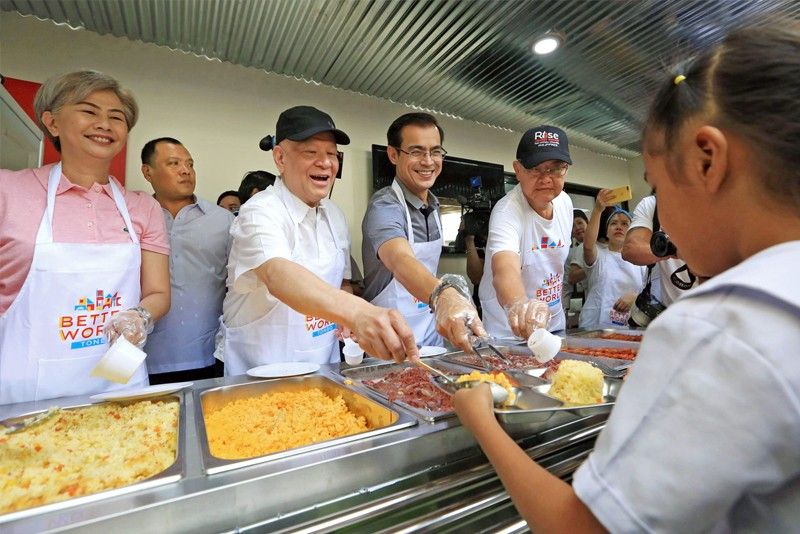 San Miguel Corp. president and chief operating officer Ramon Ang and Manila Mayor Isko Moreno lead the serving of meals to Manila residents during the opening of Better World Tondo along Road 10 yesterday. Also in photo are Manila Vice Mayor Honey Lacuna and San Miguel Foods president Francisco Alejo III. The Tondo community center, formerly an idle beer warehouse, provides the poorest barangays of Manila access to food as well as the tools to help them improve their lives.
Edd Gumban
A better world: SMC opens food bank, learning hub in Tondo
MANILA, Philippines — Diversified conglomerate San Miguel Corp. (SMC) yesterday opened the first-of-its-kind learning facility and food bank right in the heart of Tondo, Manila to serve the poorest barangays in the city.
The move is part of SMC's bigger push to help government and is in response to Manila Mayor Isko Moreno's call on the country's tycoons and conglomerates to invest in and help develop the city.
Moreno and SMC president and chief operating officer Ramon Ang led the unveiling of the Tondo facility – formerly an idle beer warehouse – located at 422 Mel Lopez Blvd. (formerly Radial Rd. 10).
The Better World Tondo center aims to provide the poorest barangays of Manila access to food as well as the tools to allow them to improve their lives. They will be provided with canned goods, fresh produce such as vegetables as well as cooked food.
"Better World Tondo was a concept we've had for some time. We want to be able to collaborate with businesses and companies to collect excess food, store them in a food bank, to be served to those in need by community volunteers. It's food rescue to address hunger, which is still a major problem for many sectors of our society," Ang said.
More than a food bank, he said the center is a learning facility that aims to help improve the lives of children of Tondo.
"We don't want it to be called a food center. We want to call it an educational center," the SMC official said.
He said the beneficiaries can supplement what they learn in school through skills building and values formation.
He added the most vulnerable members of the community would be prioritized: children, the elderly, the disabled and single parents.
Ang said SMC would put up additional centers as needed – in areas to be identified by the local government.
"We want to change Manila for the better not because we know better than the others but look at us. We really need all the help and attention that we can get," Moreno said.
"I'm speaking based on my personal experience. Hungry children lose their focus on studies. We are thankful that there are companies in the private sector, like San Miguel, who are ready to help the government in its effort to improve the lives of the people. As what President (Ramon) Magsaysay said, and I quote, that those who have less in life, must have more in law," Moreno said.
SMC has collaborated with the group Rise Against Hunger-Philippines to help in managing the collection, banking and serving of surplus food.
These will be sourced from food manufacturers, hotels, restaurants and convenience stores. San Miguel Foods is a major donor, along with the Spam brand, Makati Diamond Residences and Manila Diamond Hotel.
Another partner, AHA! Learning Center will provide after-school programs for children focusing on values formation and skills building.