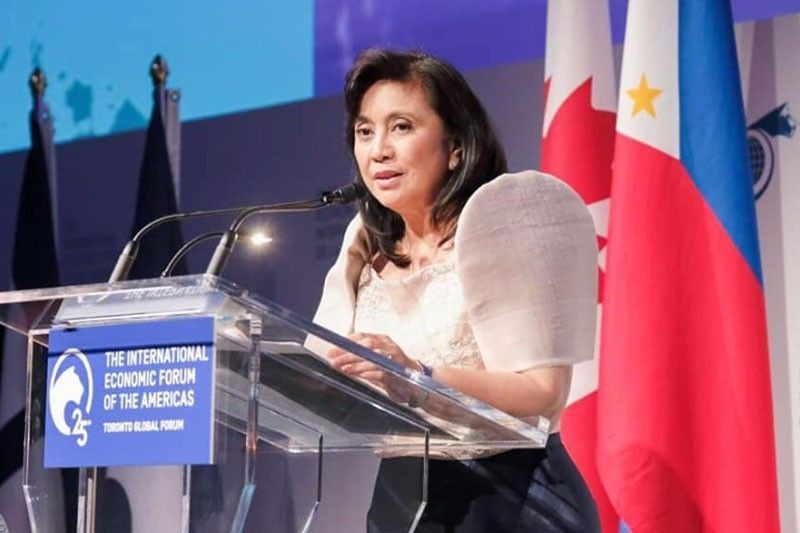 In this Sept. 5, 2019 photo, Vice President Leni Robredo speaks at the 13th Toronto Global Forum in Canada.
OVP/Released
Robredo urges Panelo to stop issuing 'own interpretation' of Duterte's statements
(Philstar.com) - September 15, 2019 - 5:44pm
MANILA, Philippines — Vice President Leni Robredo on Sunday called out presidential spokesperson Salvador Panelo for his contradicting statements with President Rodrigo Duterte on whether the administration would "ignore" the South China Sea arbitral ruling.
Robredo said Panelo, also the chief presidential legal counsel, should first be better informed of what Duterte exactly stated before he presents his own "interpretation" to avoid contradicting each other.
She urged the presidential spokesman to stop this "practice" of issuing a contradicting clarification, referring to Panelo's differing explanation of Duterte's pronouncement that he would drop the arbitral ruling to pursue joint exploration with China.
"Litong-lito talaga ako, kasi ang sinasabi ni pangulo, iba sa sinasabi niya. Nagsabi si pangulo na i-set aside iyong arbitral ruling; ang sabi niya, hindi iyon iyong gustong sabihin," Robredo said on her weekly radio show, BISErbisyong LENI.
(I am really confused, because the president said, he said something different. The president said he would set aside the arbitral ruling; he (Panelo) said that's not what the president meant.)
"[T]alagang litong-lito tayo, kaya tayo bumoboses. Kasi hindi naman puwedeng matapos sa kalituhan dahil sa mga pahayag na hindi nakakabuti sa ating lahat," she added.
(We are really confused, that's why I am speaking up. Because it doesn't have to end with confusion because the statements are not doing us any good.)
Earlier, Panelo also chided Robredo for her alleged "misplaced and flamboyant remarks" after she expressed dismay over Duterte's plan to "ignore" the arbitral ruling for a joint oil and gas exploration deal with China.
READ: Robredo hits Duterte's 'disappointing, irresponsible' remarks on arbitral ruling
Panelo said Robredo is only "finding fault in every word the president says." He also acussed the vice president and her team of failing to comprehend "the complexities of our current situation with China."
Robredo, however, said she is not just opposing the president but also making sure that she would follow her mandate as vice president.
She said that it is her instincts as a lawyer and mother that led her to raise concerns over Duterte's "alarming" remarks.
READ: Robredo, VP advisers can't comprehend Philippines-China situation — Palace
Robredo furthered that Duterte's statements "has grave effects on our rights and interests in the West Philippine Sea."
"Mayroon tayong obligasyon na kapag may masamang pahayag o may masamang nangyayari, kailangan tayong magboses. Kahit pa sila magalit sa atin," Robredo said.
(We have an obligation to speak up if there is a maligning statement or if something bad is happening, even if they get mad at us.)
"Itong statement na ito [ng pangulo], ang implications saka ang repercussions nito napakalaki, hindi lang sa atin, pero sa future generations. Isipin mo, pinaglaban na natin tapos ginive up natin iyong binigay na sa atin — iyong may declaration na atin, igi-give up natin just for a deal with China?" she added.
(This statement of the president has great implications and repercussions not just for us but the future generations. Can you imagine, we fought for it then we give up what was awarded to us — the declaration that's ours, we will give up just for a deal with China?)
Duterte earlier said China has agreed to a 60-40 sharing scheme in the possible joint oil and gas exploration in the West Philippine Sea.
During his bilateral meeting with Chinese President Xi Jinping last month, Duterte said he raised the arbitral ruling. Xi, however, refused to acknowledge the ruling that invalidated Beijing's nine-dash line claim over the South China Sea in 2016. — Rosette Adel