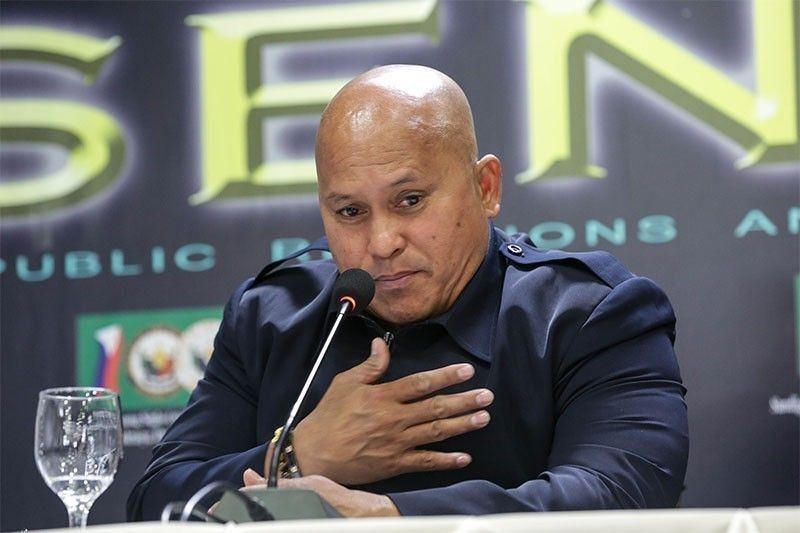 Ronald "Bato" dela Rosa during the Kapihan sa Senado forum last July 4, 2019.
The STAR/Mong Pintolo
Ex-BuCor chief Bato denies existence of 'tilapia' scheme during his term
(Philstar.com) - September 15, 2019 - 2:56pm
MANILA, Philippines — Sen. Bato Dela Rosa, a former Bureau of Corrections chief, denied that inmates had access to prostitution inside the New Bilibid Prison during his term.
Dela Rosa managed BuCor from April 2018 to October 2018.
"Wala nga po 'yan. Panahon pa noong nakalipas na pamunuan ang tilapia na 'yan," a transcript of Dela Rosa's radio interview read.
(That didn't exist. Tilapia existed under previous leaders' terms.)
Prostitutes or entertainers are referred to as "tilapia" according to former BuCor officials who testified before the Senate last Thursday.
Dela Rosa was reacting to former BuCor officer-in-charge Rafael Ragos's revelation that high-profile inmates enjoy the privilege of having access to "tilapia" visitors inside their cells.
READ: BuCor confirms Bilibid corruption: Inmates have access to contraband, prostitution
Ragos, who served BuCor from November 2012 to March 2013, claimed that women are being allowed to stay overnight inside the prison in exchange for cash.
"Dancers, entertainers, after a while nagiging girlfriend, asawa (they become their girlfriend and eventually wife). P30,000 [is the rate] magdamag (for overnight stay)," Ragos said, adding that among the entertainers who visited high-profile inmates were the Mocha Girls, supporters of President Rodrigo Duterte.
Dela Rosa claimed that during his time, inmates who displayed good behavior are rewarded with a one-day conjugal visit each month.
He said that only the registered common-law wife of inmates are authorized to enter Bilibid for the conjugal visit.
"'Yun lang ang makapapasok (They are the only ones who can get in)," Dela Rosa said.
Aside from entry of prostitutes and entertainers, several other corruption activities were revealed during the Senate probe into the Good Conduct Time Allowance law.
BuCor officials and an inmate claimed prisoners bribe prison guards to sneak in contrabands such as cellphones and cigarettes, among others.
Ragos also revealed the presence of the kidnap for ransom scheme as well as gambling.
Dela Rosa, for his part, denied involvement in these corrupt activities at the corrections bureau.
"Klaruhin ko 'yung sinasabi na pagpasok ng bagong director may pasalubong. Never 'yan nangyari sa aking panahon. Kahit na pugutan niyo ako ng leeg, hindi 'yan nangyari," he was quoted as saying.
(I would just clarify the claims that every new director receives a bribe. That never happened during my term. Even if you cut my head off, that didn't happen.)
The Senate Committee on Justice and Human Rights as well as committees on Constitutional Amendments and Revision of Codes; Public Order and Dangerous Drugs; and Finance are investigating some BuCor officials and the alleged corruption inside Bilibid following the revelation of a supposed "GCTA for sale" scheme where the early release of inmates are processed in exchange for cash. — Rosette Adel