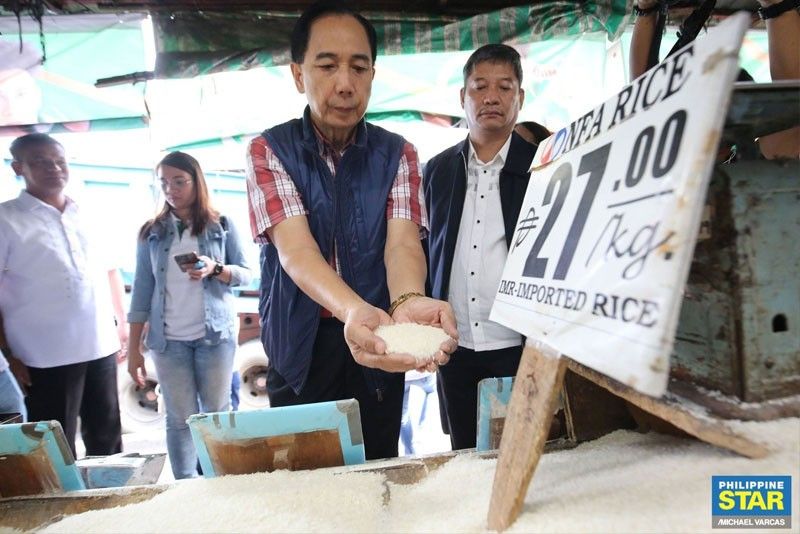 Earlier this week, the National Food Authority (NFA) Council – after a meeting – agreed to implement measures to bring down retail prices of rice.
File
DTI mulls price caps on rice
MANILA, Philippines — The Department of Trade and Industry (DTI) is considering setting price caps on rice, as retail prices have not gone down despite a surge in imports.
"We are evaluating first the price movements and suppliers while we check as well the docs (documents) of importers and customers," Trade Secretary Ramon Lopez said.
While the DTI is studying putting price caps on rice, he said prices monitored in public markets showed commercial well-milled rice available at P34 to P38 per kilo. "This means consumers have choices," he said.
While there are rice varieties with higher prices, he said those are not covered by the target price range.
It has been reported that during the price monitoring activity at the Commonwealth Market in Quezon City, the Department of Agriculture found some well-milled varieties being sold up to P45 per kilo.
Earlier this week, the National Food Authority (NFA) Council – after a meeting – agreed to implement measures to bring down retail prices of rice.
Among the measures agreed upon is to fix the buying price for clean and dry palay with 14 percent moisture content at P19 per kilogram and wet palay with 30 percent moisture content at P14 per kilogram.
The NFA Council has also agreed to flood Metro Manila and other markets nationwide with 3.6 million 50-kilogram bags of rice.
Agriculture Secretary William Dar earlier said the two measures are being implemented to balance and put forward the interests of both farmers and consumers given the effect of the new rice trade regime.
Under the rice tariffication law which took effect last March 5, rice traders are allowed to import the staple from various sources without permit from the NFA, as long as they secure a sanitary and phytosanitary import clearance from the Bureau of Plant Industry of the Department of Agriculture and pay the appropriate tariff.
The law is intended to help ensure stable supply and address high rice prices seen last year.
P37 billion for palay purchase
With the main rice harvest season starting next week, Sen. Imee Marcos, meanwhile, is urging government to immediately release P37 billion for the purchase of palay from local rice farmers already hurting from depressed farmgate prices due to cheaper rice imports.
Marcos filed Senate Joint Resolution No. 4 on Friday, urging the immediate purchase of palay by the Department of Agriculture and the NFA, using funds from subsidy programs of the departments of social welfare, national defense, the interior and local government, and environment and natural resources.
"Our fear is that local rice will flood the market when harvest season begins next week, so the NFA should already be buying palay from local farmers while prices are relatively higher, or we'd be done for," Marcos said.
The DSWD has P33.9 billion that can be used to buy palay and give rice instead of cash to beneficiaries of the Pantawid Pamilyang Pilipino Program (4Ps), Marcos said.
Marcos added that P2.9 billion more from the DILG and the DND can be used to buy rice allocations for the police and military, as well as for personnel of the Bureau of Jail Management and Penology, Philippine Coast Guard and Bureau of Fire Protection.
More than two million rice farmers are reeling from the depressed farmgate prices of palay, after the NFA released from its warehouses some four million bags of imported rice into the market, Marcos said. – With Cecille Suerte Felipe, Artemio Dumlao